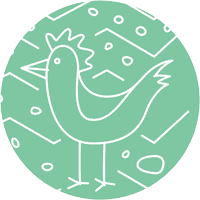 A thriving and prosperous village needs a wide variety of local employment opportunities to provide livelihoods and engage residents in community life. Providing these opportunities within the Witchcliffe Ecovillage will be an essential part of creating a sustainable community, reducing the need for people to travel elsewhere for work, and allowing more time for people to take part in family and community activities. Working locally also gives residents the added benefit of reducing their travelling costs, energy use and pollution.
At the Witchcliffe Ecovillage, we have provided for the development of a wide range of enterprises that support the goals of living sustainably. As well as the day-to-day employment and business opportunities involved in providing products and services to Ecovillage residents, we have planned for enterprises that will cater for tourists and local visitors. Bringing in tourists and the wider community will create jobs and income in providing accommodation and education services, as well as enhance retail opportunities for Ecovillage artists, makers, and growers. With the added bonus of NBN "fibre to the premise" provided to every home and commercial lot, businesses will enjoy the highest speed connectivity available.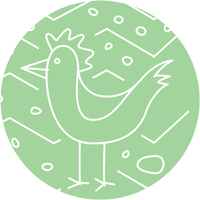 The Ecovillage project includes 15 small strata titled farm lots, ranging in size from 1 ha market garden lots, to the existing 6 ha organic cabernet vineyard. These farms are located within walking and cycling distance of the residential strata clusters and will only be available for sale to Ecovillage residents. They are required to be farmed organically, and are not zoned for housing. The cost of an Ecovillage house lot plus a 1 ha Ecovillage Ag lot package will be similar to buying a 1 ha rural residential lot in Margaret River, but will have a guaranteed, generous water allocation from the Ecovillage dams, good soils, NBN fibre to the home lot, the benefits of community living instead of isolation, connection to a renewable energy microgrid, and a convenient local market for organic produce within the Ecovillage!
The established vineyard (planted in 1999) can produce around 20,000 bottles of premium organic cabernet wine annually, and has potential to diversify wine varieties, build an onsite winery and cellar door, and retail wine directly to Ecovillage residents and tourists via the Food Hub, markets, the Boutique Hotel, and cafes and restaurants  in the Ecovillage.
If you are interested in life as an Ecovillage farmer, we'd love to hear from you!
For all enquiries, please email us at [email protected]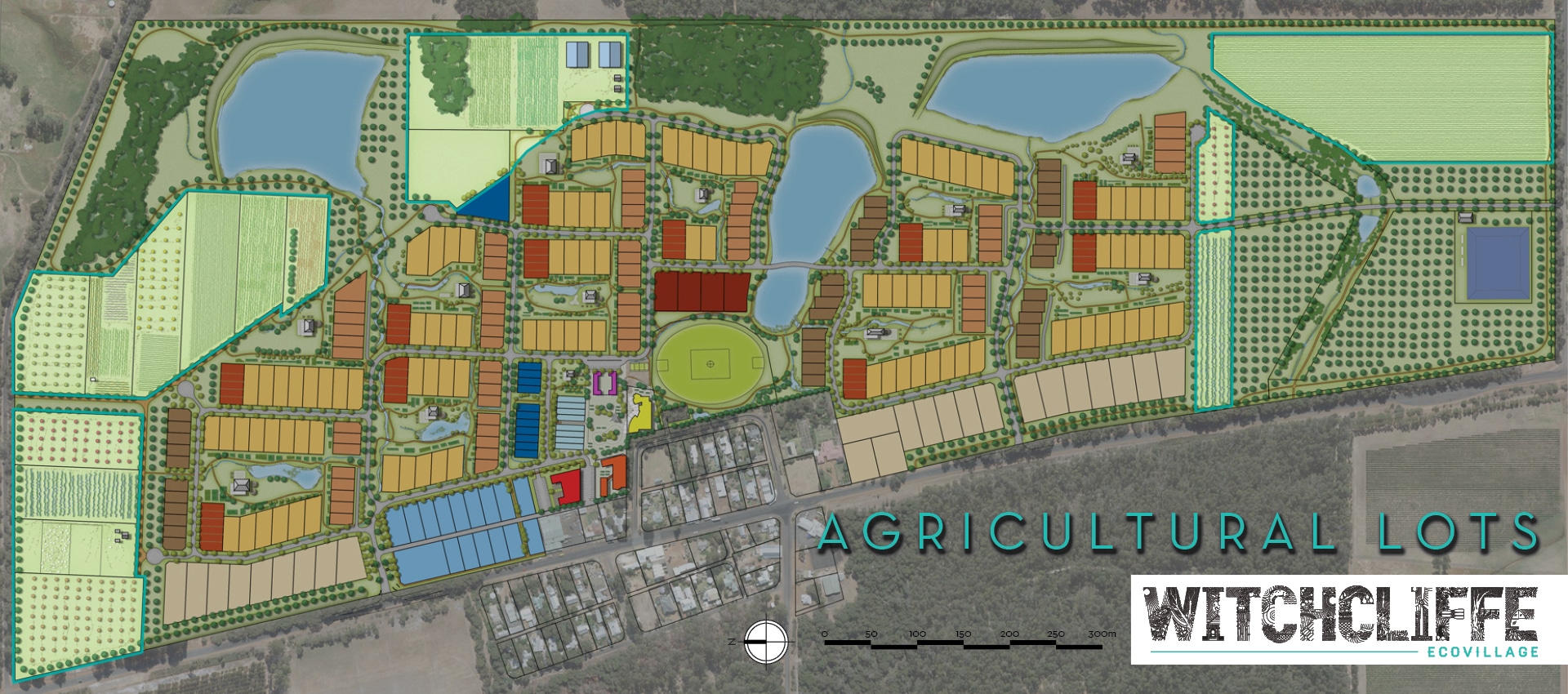 Some of the agricultural crops that would be suited to the Ecovillage farm lots are:
Market garden vegetable production;
Mixed berries: blueberries, cane berries, strawberries, etc.;
Avocado orchard;
Diversified fruit orchards;
Garlic;
Asparagus;
Beans and pulses;
Herbs and medicinals;
Bamboo (shoots and timber);
Wholesale nursery / plant production;
Nut crops such as macadamia, walnuts, almonds, etc.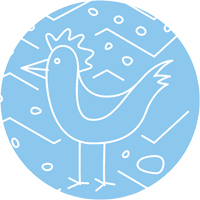 The Commercial lots are about 1000 m2 in size. Zoned Village Centre under the AMR LPS 1, they allow both residential and commercial development—so are suitable for development as either a stand alone business, or for a home behind a retail outlet, studio, workshop, food processing, etc. The Commercial lots that face Bussell Hwy will become an extension of the existing Witchcliffe townsite, and would be perfect for businesses that benefit from passing traffic and tourism.
There is one large Commercial lot (3000 m2) set aside as a potential Permaculture Centre, nursery and sustainable technology centre. This could supply Ecovillage community gardeners with seedlings, compost, tools and gardening products, hold gardening and Permaculture workshops, as well as provide and service sustainable household technology.
If you are interested in a Commercial lot to develop a sustainable business in the Ecovillage, please contact us at [email protected]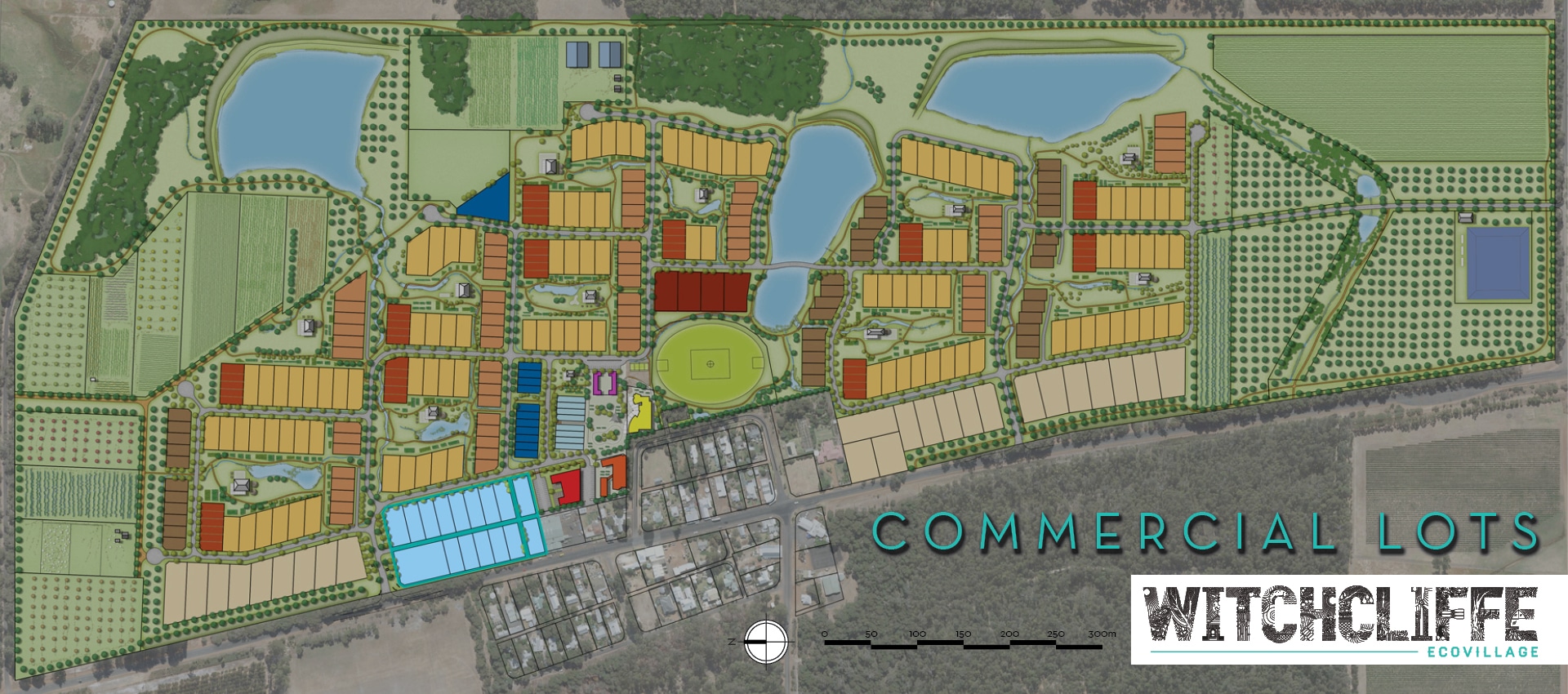 Some other sustainable business ideas for the Commercial lots include:
Bakery;
Café;
Restaurant;
Secondhand/Recycled Shop, including clothing, books, tools, etc
Yoga studio;
Repair shop;
Sprout/mushroom grower;
Tempeh/tofu maker;
Kombucha brewery;
Cheese/yoghurt/icecream maker;
Natural soap maker, natural cosmetics;
Health spa;
Pharmacy with conventional and complementary medicines;
Health services – medical, therapists, care and support;
Building services;
Education and training; and
IT Services making use of the high speed internet connections that will be available.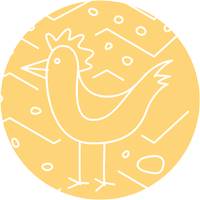 For those residents that appreciate the flexibility, low overheads and convenience that comes with working from home, the Ecovillage can offer a number of home business possibilities.
Mixed Use Cottages
These 8 lots are zoned Village Centre. They are designed to provide a lovely sun drenched home upstairs and funky shopfront, consultancy rooms or office downstairs fronting the activity of the Village Square. They would be perfect for professional services, artists or makers' studio/shops, gallery, hairdresser, naturopath, etc.
These lots are proving very popular, so if you are interested, please register here on our website to be included in our pre sale release later in 2017.
Working from home
The AMR Shire LPS 1 zone table allows residential lots to be used for low impact business operations, including home offices, home occupations (only family members employed), and small home businesses (with Shire approval.) The following businesses could be run from a residential lot within the Ecovillage, provided all Shire zoning requirements are complied with:
Eco-cleaning service;
Family day care;
Landscapers and gardeners;
Repair and household maintenance services;
In-home care visiting nurse;
Permaculture designer;
Architect/professional services;
Therapist,
Book keeper, etc.
Family and Lifestyle lots will also be able to build ancillary accommodation units for short or long term rent, providing a great alternative source of supplementary income.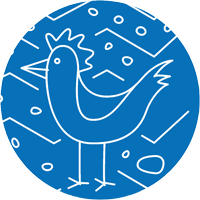 Ecovillages worldwide attract a lot of visitors, from planners, architects, and engineers to people simply interested in experiencing/living a sustainable life, so we have provided a variety of tourist accommodation options to provide local employment and business opportunities, including:
holiday houses that can double as short stay accommodation;
a dedicated strata cluster of 12 tourism cottages; and
a green titled casual tourism site for chalets/glamping/caravans.
Tourism businesses will be required to comply with Eco-tourism certification requirements to maintain Ecovillage sustainability standards and give visitors a taste of authentic Ecovillage life.
As well as owner operators for these enterprises, the Ecovillage will require businesses to help service the Ecovillage short stay accommodation: eco-cleaners, gardeners, etc.
If you are interested in running or servicing an eco-tourism operation in the Ecovillage, please contact us at [email protected]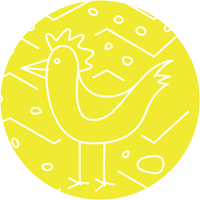 The Community Centre will be constructed by the developer as part of Stage 1 of the Ecovillage. It will be a built strata development, with the following businesses for sale or lease:
Wholefoods café, overlooking the Village Square and playground;
Function centre for weddings, celebrations, workshops, and conferences; and
Childcare centre.
There will also be a large multi-purpose space available for hire for educational workshops, pilates and yoga sessions, meditation classes, etc.
If you are interested in any of these potential strata titled businesses, please contact us at [email protected]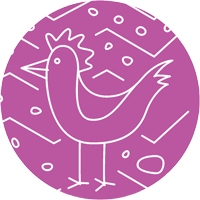 The Creative Hub will be a built strata development with office and studio spaces available for sale and lease in the later stages of the Ecovillage. It will provide an innovative, collaborative, affordable option for professionals, makers, artists, musicians (recording studio), small businesses, software designers, etc. More information will become available as the Ecovillage grows.