The  Witchcliffe Ecovillage has been designed with a variety of lot sizes and uses in order to encourage a diverse community, with couples and singles of all ages, established families, retirees, and young people moving into their first homes as renters or first home owners. A range of different lot products will encourage those who want to work from home, artists and artisans who want to create, and those who wish to run a small business or organic farm enterprise. All homes in the Witchcliffe Ecovillage will be required to be 100% energy neutral with solar panels and battery storage; 100% self sufficient in water with rainwater tanks; solar passive, energy and water efficient; made of local and alternative materials to reduce embodied energy; and complementary to the existing rural character of Witchcliffe.
Dedicated affordable housing and aged and dependent care housing will also be available to eligible low-income households and over 55's. All lots will be survey strata titled in small strata clusters, with design guidelines to help homeowners achieve maximum sustainability in their home designs. The developer and local building companies will offer sustainable house and land packages, with designs and details available soon.
Stage 1 of the Ecovillage will begin in the centre of the development. It will include the Village Square and the public oval, 3 central residential community garden clusters with Cottage, Family and Affordable lots, as well as selected Lifestyle lots, Short Stay Cottage lots, and Commercial lots. It is anticipated that construction of Stage 1 will begin in October 2019. Pricing for lots  will be made available when pre-sales marketing begins in early 2019.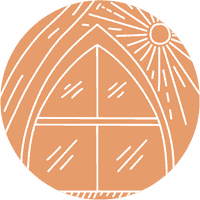 Cottage lots will range in size from 450-525m2, have full solar access to living areas and front onto community gardens.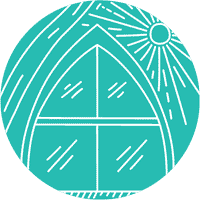 Mixed use lots are 240 m2, with living above and retail outlet, studio or professional office downstairs fronting onto the Village Square.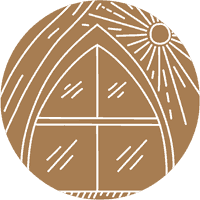 Cottage plus Short Stay lots will range in size from 300-680m2 and will be available in Stage 2. They are zoned for both residential and holiday home use.
These small home sites are suited to first home‐buyers, small families and empty nesters looking for a vibrant community and a relaxed lifestyle. With garage and  utilities to the south, and living to the north, these blocks are designed to capture  and maximise the sun. There's room for easy care courtyard gardens and play  spaces, with direct access into the community gardens and child friendly path  networks. The shared cluster gardens will be beautiful productive places with  orchards, chicken runs, ponds, meeting places and picnic spots, as well as  allotment style vegetable growing beds for each house.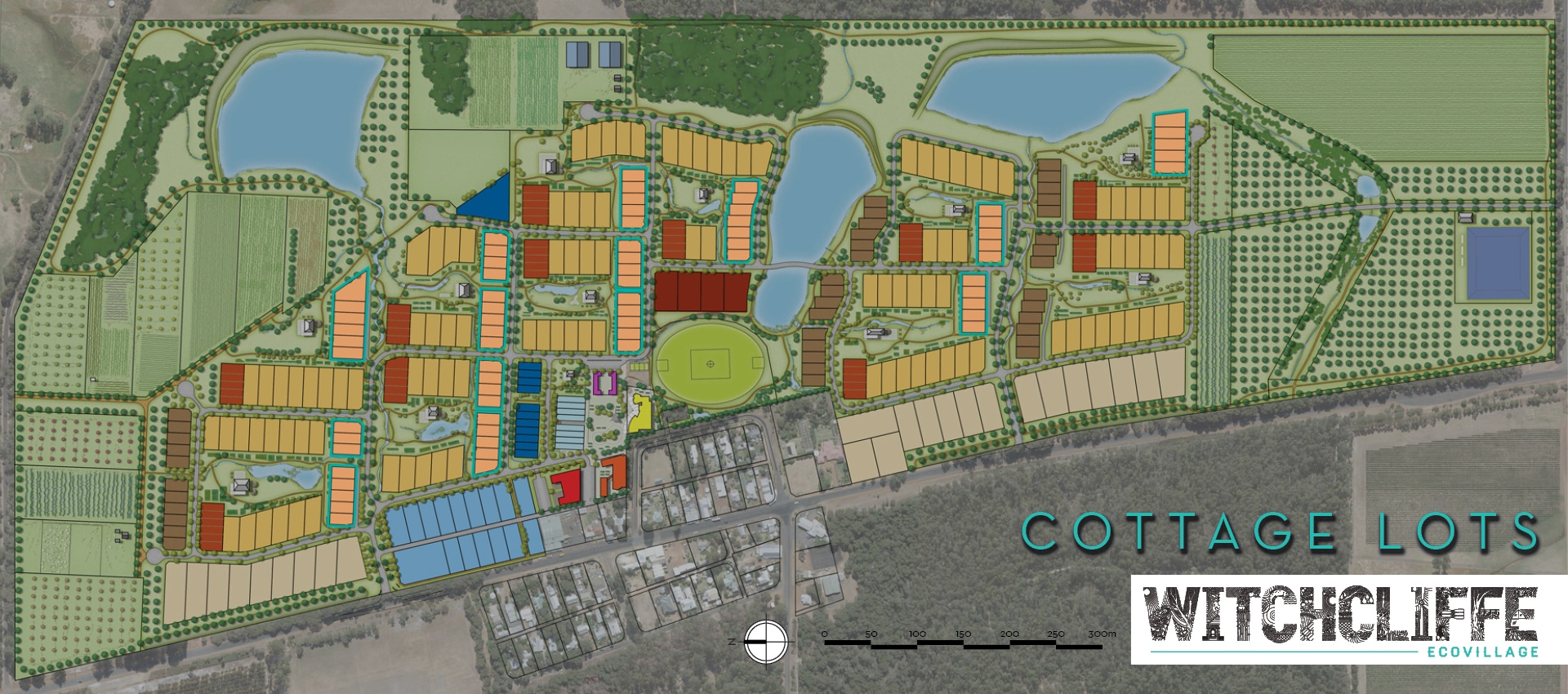 The perfect holiday home! Overlooking some of the prettiest views in the  Ecovillage, these lots will have all of the sustainability features of the cottage lots,  except direct access to a community garden, but with the added bonus of short  term stay zoning. Owners can enjoy their ecovillage retreat at their leisure, with  the ability to generate some income with short‐term stay rental accommodation,  managed through the Ecovillage holiday home agency. Low care gardens and  solar passive house design will ensure that holidays are comfortable and relaxed,  with time to enjoy all that ecovillage life has to offer. These lots will be available  for permanent residents as well, making them perfect for tree change retirement  plans!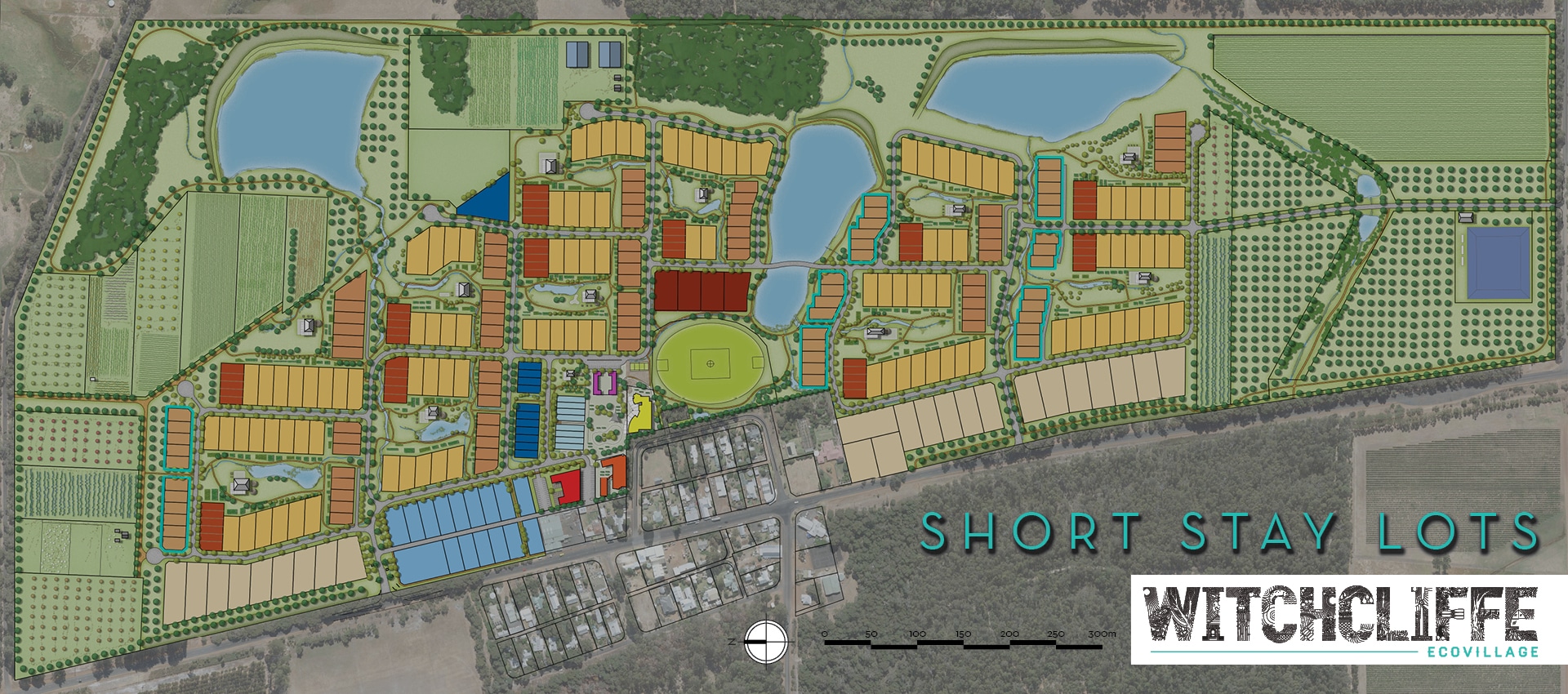 Just 8 special lots in the heart of the ecovillage fronting onto the Village Square,  these are designed for the artists, professionals and makers of the ecovillage.  Suitable for a funky shopfront, studio, consulting rooms, or offices downstairs,  and European style sun drenched living upstairs, these lots would suit singles,  couples or small families. There's room for a private courtyard to the north, and  access via the Square to a beautiful shared productive community garden to the  east of the lots, with allotment style veggie beds, herb garden, fruit trees, and  chickens.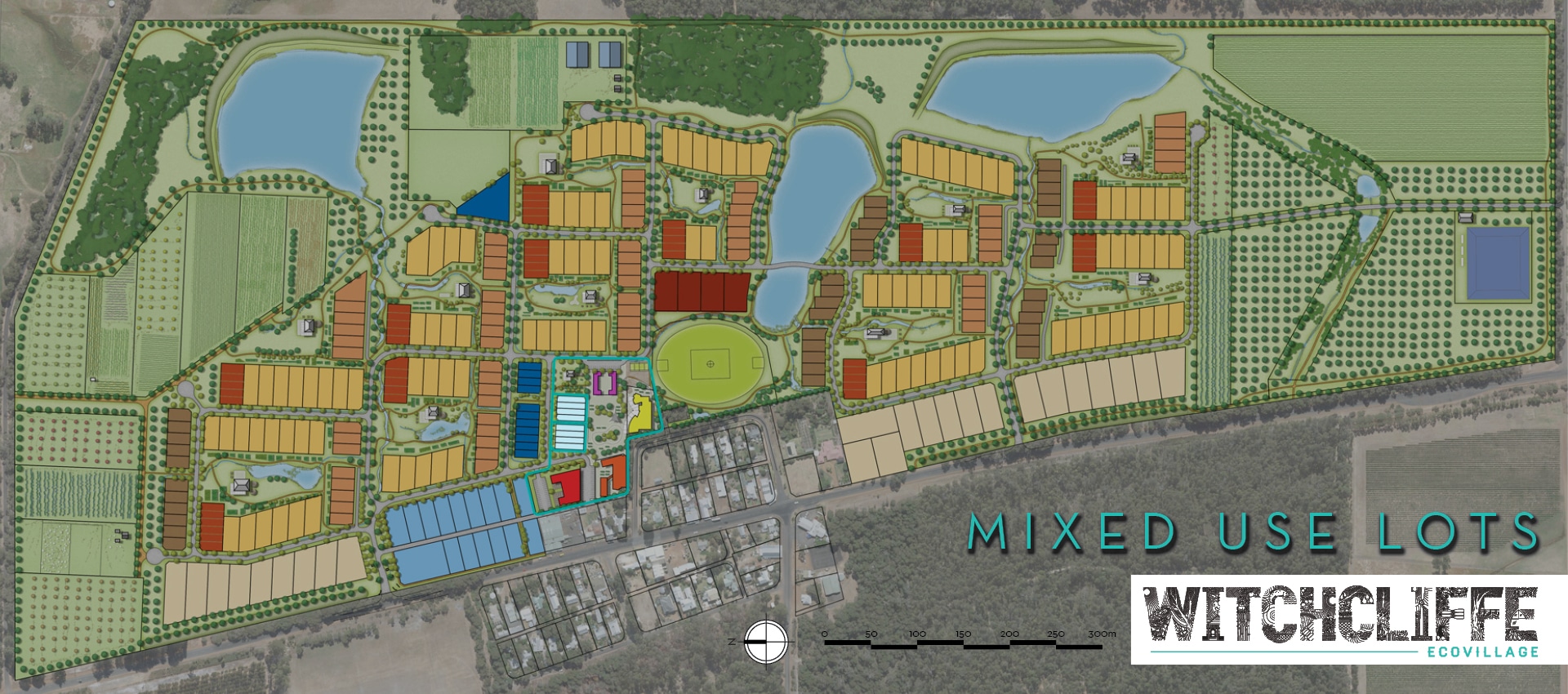 These lots are perfect for the small to medium family who want to immerse themselves in ecovillage life. Opening directly into the landscaped community gardens and child‐friendly path networks, the family lots are oriented east‐west, with building envelopes to ensure each home has optimum solar access, and plenty of room for gardens, play areas and a garden shed. There's even room for a sunny granny flat for extended family, guests, or a handy rental income. The shared cluster gardens will be beautiful productive places with orchards, chicken runs, ponds, meeting places and picnic spots, as well as allotment style vegetable growing beds for each house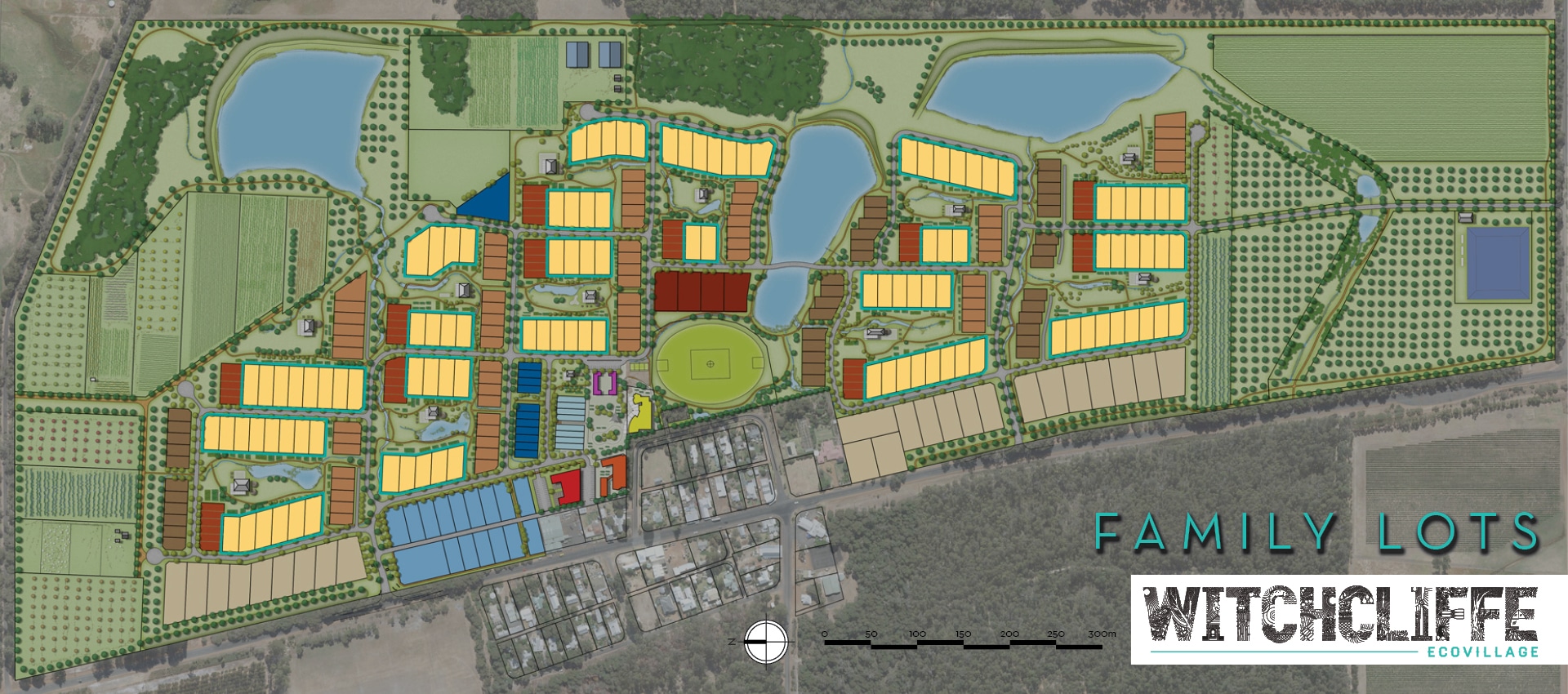 Lifestyle Lots For those who need a bit more space—large and extended families, a contractor  with a few tools, or someone running a home business. Ample space on these lots  for private orchard gardens and vegetable beds, a shade house and a shed.  Lifestyle lots don't connect to a community garden, but have all the sustainability  features of the ecovillage, with access to community open space, walk trails and  infrastructure. Accessed via a quiet street within the Ecovillage, these lots are  buffered from Bussell Hwy by an earth bund, dense plantings, and mature trees.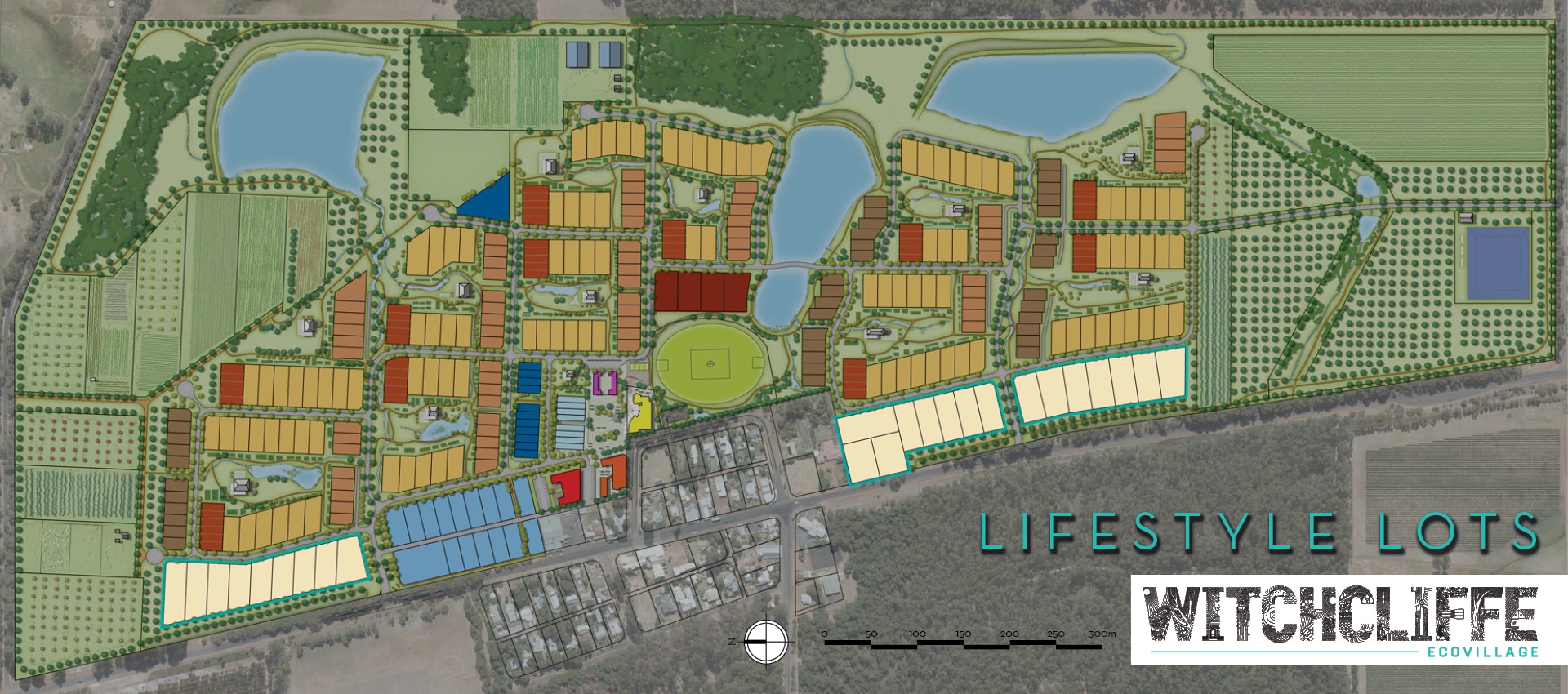 As a premium holiday destination, Margaret River real estate has historically maintained regionally high property and rental values, placing housing stress on many low to mid income households. Although not a planning requirement, each stage of the Witchcliffe Ecovillage will include a dedicated developer funded affordable housing component, as well as providing opportunities for affordable living initiatives to reduce the cost of living throughout the whole ecovillage. We will create Affordable Housing lots and small house and land packages which will be available at a discount to low to mid income households, with the eligibility approval process and measures to protect the future affordability of these blocks to be decided closer to subdivision. The Witchcliffe Ecovillage will offer these affordable lots at a price as close as possible to the benchmark of affordability recommended by the Augusta Margaret River Shire's Affordability Strategy, whereby an affordable house is made available at 40% below median market price.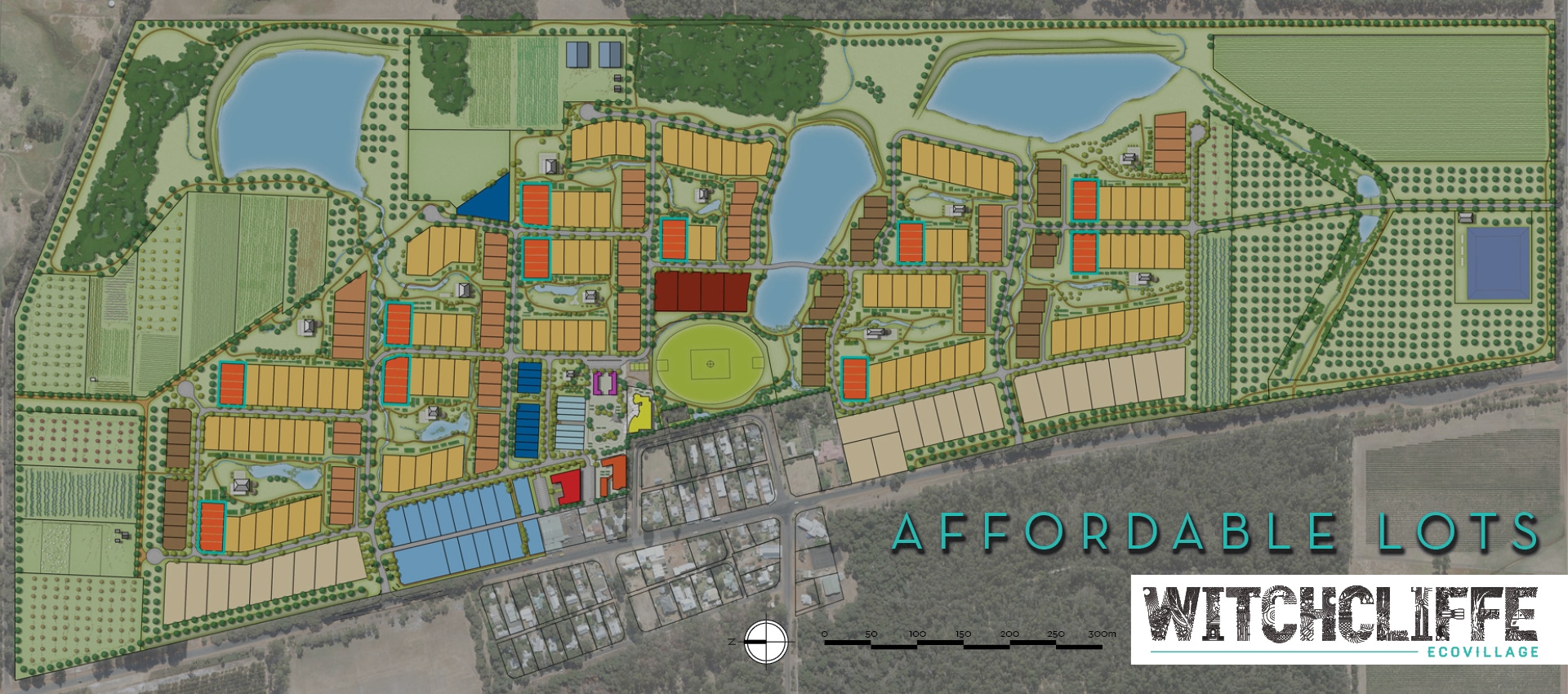 Aged and Dependent Care Lots
Located just to the east of the oval, tennis courts and Village Square, these 4 lots will be subdivided by the developer to create 20 special purpose dwelling lots, limited to ownership by over 65's and people with special needs. These cottage size lots (270 m2) are designed to be easy care, with small north facing courtyard gardens and shared raised beds for veggies and herbs. Right in the heart of the community and a short walk to all amenities, these lots are designed for small homes (100m2 maximum floorplan) built with all of the Ecovillage sustainability features, and will also conform to Australian standards of accessibility.