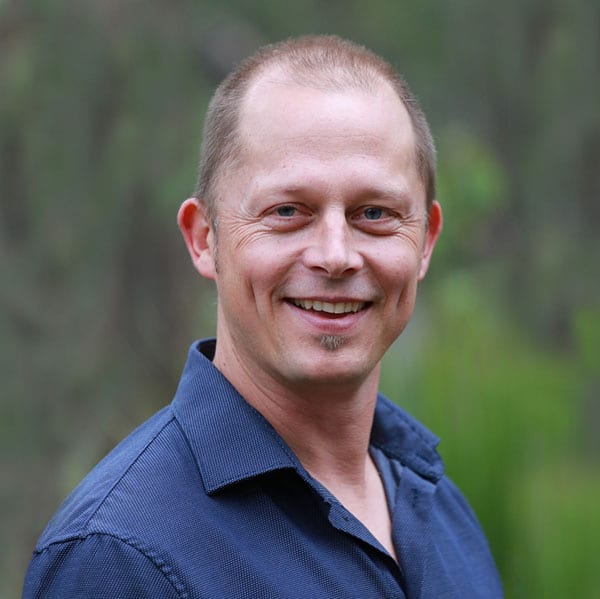 Jeff Thierfelder
Project Manager, Architecture and Planning
With two decades of experience in architecture and town planning, Jeff's technical skill set and passion for sustainable development fit perfectly with the Witchcliffe team. Hailing originally from Oregon in the USA, he is thrilled to be living in the beautiful SW region and working on the Witchcliffe Ecovillage, a project he considers to be the pinnacle of his design aspirations.
Jeff spent nearly a decade at university, gaining a broad background in design, policy and social sciences. Jeff earned a Master of Architecture from the University of Oregon, one of the top sustainable design programs in the US, and a Master of Urban and Regional Planning from Portland State University. He also has a graduate certificate in real estate development, a permaculture design certificate, and undergraduate degrees in economics and international studies.
In an effort to address the 'epidemic of loneliness' that seems to be the scourge of modern society, Jeff has long promoted projects that encourage social interaction between people (a specific objective of ecovillages). Jeff worked on two collaborative living projects in the Perth Hills: Somerville Ecovillage and the Chidlow Eco-Retirement Village.
Jeff has successfully run his own consultancy on two occasions, and has held senior positions with leading town planning, architecture, and development companies. His passive solar residential designs have garnered a number of HIA Greensmart awards, including Custom Built Home of the Year (National, 2012). Jeff was also lead urban designer for the WGV Estate in Whitegum Valley, a cutting-edge infill project that won the Australian Urban Design Award (National, 2016).
Beyond work, Jeff enjoys a semi-rural lifestyle with his wife Jo (Communications and Marketing Manager), two young sons, one old dog, and 11 chickens. A recent transplant to the Margaret River area, Jeff is looking forward to taking advantage of the region's excellent recreational and food / drink opportunities. Don't be surprised if you bump into him at a local long-table lunch or on the river in a kayak!