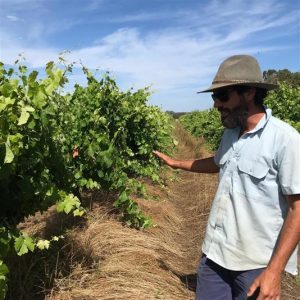 Tell me a bit about yourself.
I'm from an Italian-Australian family with both sets of grandparents moving from Sicily to Australia at the start of the 1950's. My parents were public school teachers and I grew up in the Wheatbelt for my first 10 years before moving to Perth to finish my schooling. My best mate from school and I decided we should study winemaking at university. I finished my degree at the University of Adelaide (the old Roseworthy course) in 2005. After that, I lived and gained experience working all over the world including in the USA, Argentina, Italy and all over Australia. I returned back to WA from Mount Etna in Sicily after a couple of years there. I love the Margaret River region and think its potential for natural wine wasn't being realised, so here I am!
How did you become interested in natural winemaking?
While I was working in Northern California during 2008, I was exposed to some wines and techniques I had yet to come across. The wines I tasted were grown organically and on top of that had had absolutely nothing added: they were amazing! It was a turning point for me and the seed was sown for my future time on Mount Etna in Sicily.
What is natural wine and what are its benefits?
There is no set or legal definition of natural wine but here are my guidelines. Grapes grown organically and made into wine with absolutely no additions (no preservatives), no fining and no filtration. The wines are delicious and typically lighter in alcohol. They are alive with living microbes and are better for you than wines with chemical additions.
What are the challenges as compared to conventional winemaking?
The biggest challenge is educating the public and transporting and caring for the wine. The consumer has been flooded with industrial conventional processed wines for many years with the wineries aiming to produce the same taste and style year on year regardless of the vintage climatic conditions. Secondly, as natural wines are alive and without preservatives, they should ideally be kept below 18 degrees for any long periods. Heating up to 40 degrees in the back of trucks in a Perth summer or above the grill in wine racks in a restaurant simply doesn't work.
What is the consumer perception of natural wine and how do you view the future of the industry?
I think natural wine is what passionate food and drink people want and enjoy. All the top restaurants around the world almost exclusively pair their unique food with an equally unique wine. The natural wine industry is growing and will continue to grow. It is even more important now that the food we eat and the drinks we consume are produced with as little impact on our environment as possible.
How long have you had your own label / business?
I moved back home from Sicily at the end of 2014. I started my business, Sam Vinciullo wines, at the start of 2015 here in Margaret River. 
How has the Coronavirus pandemic affected your business?
It's been a rollercoaster! It delayed 30% of an entire vintage release (my income) overnight. It looks like the sale will still happen, but payment might be delayed by a year. With growing and making I've paid for everything years in advance, so unforeseen delays like this make it really tough. I'm hoping the remaining 70% of my markets still buy too but haven't talked numbers yet. I'm confident in my brand, product and what I do, but some things are just out of my control.
Why are you interested in living in the Ecovillage?
Because of who I am and what I believe in. To be able to live in a sustainable community in that part of the world works with me. The amount of care and planning that has got into the project means that I feel really great about creating a home and a future there.
What plans have you been discussing with Mike Hulme (owner) for 'Foxcliffe', the Ecovillage's organic vineyard?
I'm excited about helping Mike out with the Foxcliffe Vineyard. It's an exceptional block with great soils, aspect and 22-year old Cabernet vines. I also really like the idea of making natural wines more approachable to the community. One of the problems I see in the wine industry that I would like to address is wasteful packaging (problems with recycling and reusing) and food miles. With the Ecovillage vineyard being on site and organically certified, we have the opportunity to provide high quality natural wine from the tank directly to the community, i.e. people bring their clean empty bottles and we fill them at the cellar door. I can also imagine this being popular with other residents in our region. I'd also like to educate people on the benefits of organic farming and natural winemaking.
For more information or to buy Sam's wines online, visit www.samvinciullo.com