There are many different commercial opportunities within the Witchcliffe Ecovillage that need enterprising people to make them happen. We've planned for a range of varying spaces to accommodate them including a bank of commercial storefronts that will form part of greater Witchcliffe's main street precinct.
Our 14 Ecovillage commercial lots front either Bussell Highway or Wolghine Avenue, the Ecovillage's main street. The Ecovillage commercial precinct will become an extension of the existing Witchcliffe townsite and will be perfect for businesses that benefit from passing traffic and tourism. Approximately 1,000 sqm in size, they are zoned Village Centre, which allows for combined residential and commercial development. So, they are suitable for development as either a standalone business or for a home behind / above a retail outlet, studio or workshop.
watch the film - business & employment
watch the film - ECL & strata ownership
Strata Title Ownership
The 13 (potentially 15) strata commercial lots are in two separate stratas (A and B) divided by Willerin Lane, which is a Public Road Reserve. We chose to make the commercial lots Strata Title instead of Green Title for several reasons:
The owners can share in the communal ownership and management of nearly 40ha of Ecovillage Commons land and enjoy its myriad amenities. 
They will benefit from having Strata Bylaws, which will ensure businesses adhere to the sustainability principles and operational standards of the Ecovillage.
Each lot will also share an electrical switchboard and the lots will be networked together to enable the benefits of power sharing, as well as reduced energy costs that come with using CleanTech (instead of Synergy) as our energy retailer.
Commercial lot owners will formally be part of the Ecovillage, which will offer a unique and advantageous marketing and branding opportunity.
There is only one Green Title lot in the entire Ecovillage and this commercial lot fronting Bussell Hwy is separated from STRATA A by a Pedestrian Accessway. As such, we were unable to include it in the strata.
There will be strata levies for these commercial lots, but they will be minimal as they only pertain to the shared electrical switchboard, not communal buildings, as is commonly the case in many built stratas. Element 47 has been engaged to manage the energy metering and billing, so there will be no administration required from the strata council for this.
All of the Ecovillage lots are deep sewered and connected to our Ecovillage wastewater treatment plant. As such, commercial lots will have annual sewer rates that are pegged to standard Water Corp fees and will be billed by TMC Witchcliffe, our licensed wastewater treatment service provider.
Commercial Lots - what's available for sale?
Download PDF - plan & pricing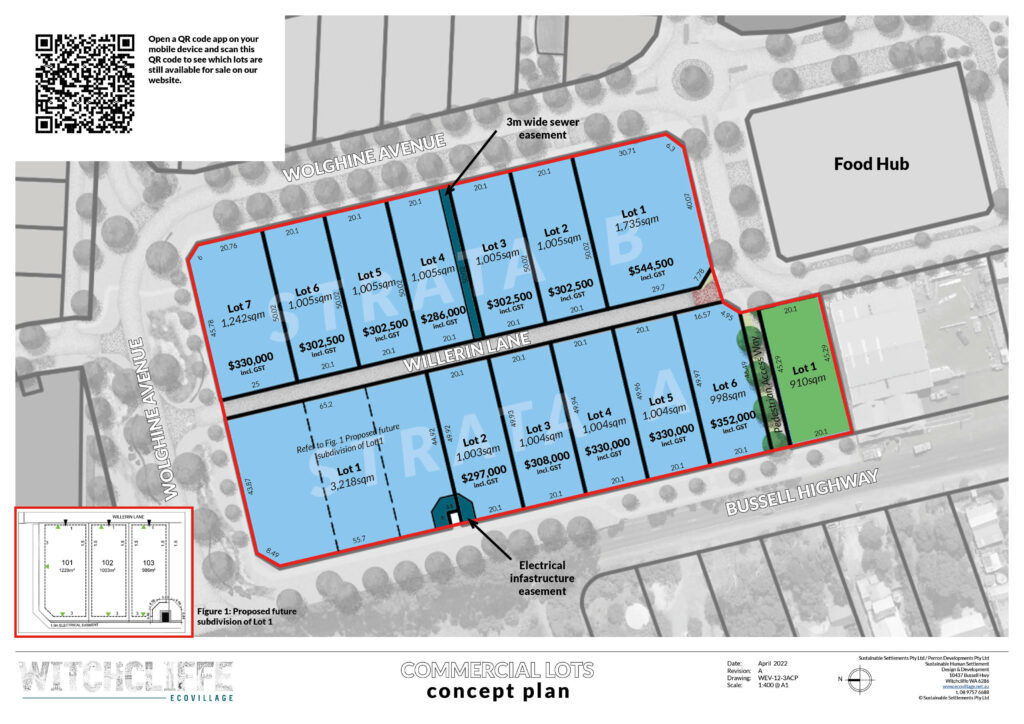 Key Milestone Dates (current as at April 2022)
We are now taking commercial lot reservations.
By May-June 2022, we are aiming to have sales contracts, strata budgets (including levies), Local Development Plans (LDPs) and the Sustainable Building Design Guidelines (BDGs) ready for prospective buyers, at which point we can formally transact on the lot sale.
We are currently drafting a set of BDGs specific to the commercial lots, which will be similar to the residential guidelines in terms of sustainability principles, but are unlikely to be as comprehensive. 
The BDGs are to be read in concert with the

LDPs

, a draft of which is currently with the AMR Shire for review.
We will keep you updated as more information comes to hand. If you would like a guided site tour, check out our Events Calendar for details. Call the Sustainable Settlements office on (08) 9757 6688 or email us on [email protected] if you have any further questions.