"A life of expanded social opportunities is a big attraction to ecovillage living, and this may be the ecovillage's greatest asset." – Gaia Education
The Witchcliffe Ecovillage has been designed to encourage the building of strong community relationships within and beyond the Ecovillage itself. Beginning with a developer-led induction and education process and community building activities in the early stages of the development, community activities will evolve organically over time to reflect the interests and passions of the future residents.
Participation in the community will be driven by individual preference with everyone giving the time and energy they can afford and want to give. We anticipate many residents catching up over a morning cuppa in their community garden, some will get involved in the management of the body  while others will prefer to help care for the conservation zones, and others will just come along to community garden parties with a plate to share.
Just imagine…
gardening, chatting, sharing and cooking in the community garden clusters
yoga and meditation classes, and sustainable living workshops in the Community Hall
market days, outdoor movies and concerts in the Village Square
planting busy bees in the conservation bushland
meeting friends and neighbours for a lazy lunch at the tavern
pasta sauce cook-offs and garden parties in the clusters
fishing, kayaking and swimming in the dams
bike riding and walking along the trail network
sports, games and activities on the playing field
and so much more.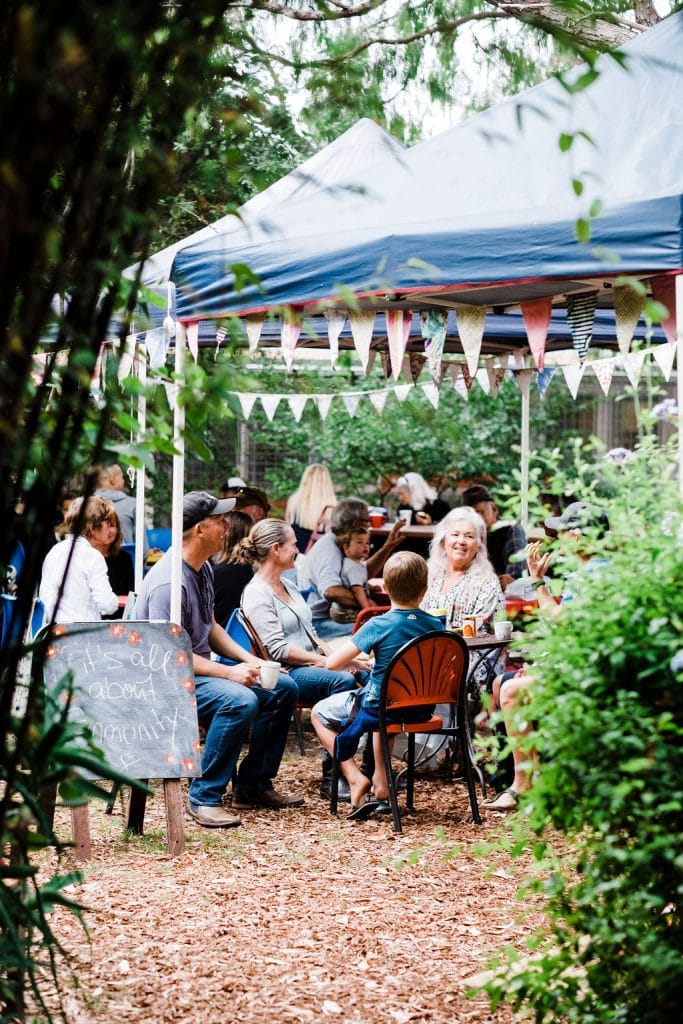 Unity In Diversity
We encourage and celebrate diversity in all its forms and are working hard to ensure the Witchcliffe Ecovillage is as inclusive as possible.
Ecovillage lots have been sized and located to suit singles, couples, small and large families, empty-nesters and extended families. Affordable housing lots are included in every residential cluster along with dedicated aged and dependent care dwellings. All central path networks will be pram and wheelchair friendly, and the Village Square will feature a nature playground with inclusive play equipment, as well as wheelchair accessible landscape features and public furniture.
The Ecovillage will also feature a native bush food garden created with the guidance from the local Wadandi traditional owners, to acknowledge and celebrate Wadandi cultural knowledge, art and environmental care.
Ecovillage community online
We are in a digital age and there are now many tools to help a community connect and communicate easily and efficiently.The Witchcliffe Ecovillage website has the capability to support a private Ecovillage community portal, which we envisage may be built once the community reaches a critical mass when Stage 1 is fully built out.
In the meantime, we have created a Private Ecovillage Community Facebook Group for residents only. Invitations are sent once buyers have settled on their lots. This online community will facilitate future neighbours getting to know one another before they are physically living in the Ecovillage and help people coordinate activities within clusters and the wider Ecovillage. Of course, participation in this Facebook Group is entirely optional.
Visit the Witchcliffe Ecovillage on Facebook, Instagram and Youtube to see what we're up to and start a conversation. Maybe you'll meet your future neighbour!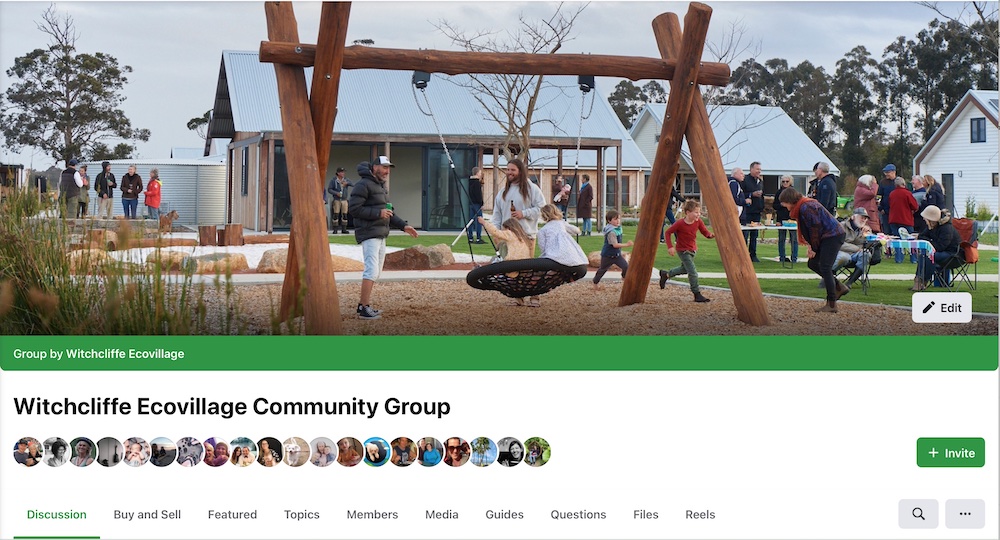 Residents of the Ecovillage are invited to join the private WEV Facebook Community Group.