Education for a sustainable life means teaching the life skills needed to live lightly and consciously on the earth, and nurturing the knowledge and innovation needed to create a strong, sustainable future.
Sustainable Living Courses & Workshops
As an international model for sustainable development, the Witchcliffe Ecovillage has enormous educational potential, providing sustainability workshops and courses for residents and the wider community, opportunities for postgraduate monitoring and research projects, and permaculture design certificate courses.
To make the transition to a more sustainable life, future residents will need to learn about how energy, water, food, waste and community activities are managed within the Ecovillage, and how to best design and maintain their sustainable home.
New residents are offered the opportunity to attend a two-part 'Creating Communities' workshop facilitated by Dr Louise Duxbury and paid for by Sustainable Settlements. The intention of this valuable workshop is to develop common language and practices for living in community and it has been very well received by Ecovillage residents.
Local Schools
Parents with children in the Ecovillage are spoiled for choice in the Margaret River area with a wide selection of excellent public, private and alternative primary, and secondary schools all close by. A regional school bus service is available from a stop on Bussell Highway in town to transport students to and from Witchcliffe.
Visit our Community Links page for information on all the local schools servicing the Witchcliffe area or download our Project Overview Handbook 2020.
Permaculture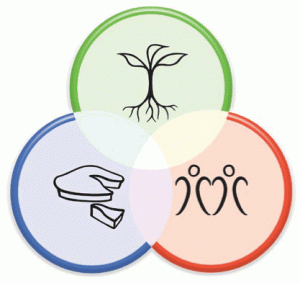 We like to think that the development of a truly sustainable ecovillage is the highest expression of the permaculture ethics "earth care, people care, fair share." 
Future residents are encouraged to read up on permaculture, watch some of the excellent videos available online, or complete an Introduction to Permaculture Design Course (PDC). Fair Harvest in Margaret River runs an excellent PDC every summer.