By Melinda Marshall, Operations Manager, Co-Operation Housing
The Kyloring Housing Co-operative is a proposed over 55s cohousing community that will be located centrally within the Witchcliffe Ecovillage. It is a resident-led, not for profit development, which means that the future residents are the developers and as such there is no developer profit, resulting in homes that are provided at cost price.
It also means that, unlike other over 55s developments, it is the future residents and not the village operator, who decide on the design and future management of the community.
So far, nine potential future residents have signed up to be a part of the project and they have been hard at work over the last few months designing the site layout, dwellings and shared facilities with H & H Architects. The plans are currently being finalised, so they are ready to be submitted to the Shire for planning approval.
The site layout they have designed includes 25 one- and two-bedroom dwellings and a shared 'common house', which includes a variety of entertainment and activity spaces along with guest accommodation. The site has been deliberately designed to encourage the formation of community while ensuring private outdoor space for all dwellings.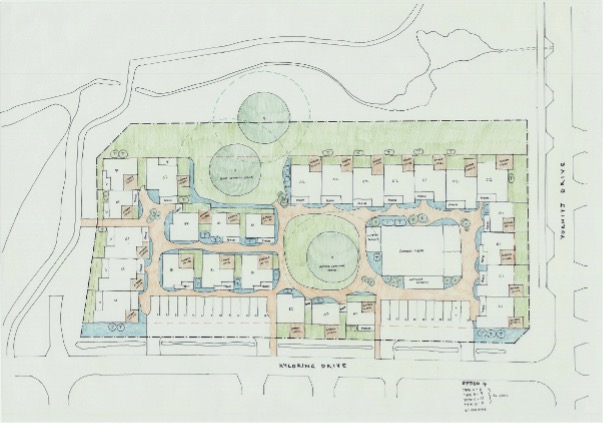 The layout of the project was also carefully considered to accommodate the three existing trees that are a feature of the site, with buildings positioned a large distance away from the trees so development will not negatively affect their health. Communal native and productive gardens are also proposed to be a part of the extensive landscaping.
While the main design phase of the project is complete, there are still plenty of opportunities for prospective residents to contribute to the development of this innovative future community.
If you would like to know more about the project, come along to the next online information session, which is being held on 7 June from 6.30pm to 7.30pm. To attend book your place via Humanitix and we will send you the Zoom link.
Alternatively, if you already know it's an opportunity you want to delve into a little deeper, sign up to be an Explorer. For just $150 you will gain access to all the information you need, like costings, membership and the development process, to help you decide if Kyloring is right for you. You will also be able to attend all meetings and most importantly get to know your future neighbours. It is easy to become an Explorer, just follow this link to the Kyloring website, sign up and pay your fee. https://www.kyloring.coop/explore/
For more information visit the Kyloring website and sign up for future news about the project or follow us on Facebook and Linkedin.