Shelle and I recently had the great honour of being invited to Byron Bay by their Shire Council as the keynote speakers at its Affordable Housing Summit. It was a wonderful opportunity for us to visit the region and see our oldest daughter Amala, who's been living and working there for the past two years. We had an absolutely wonderful working holiday and made the most of the opportunity to learn and make connections. 
The reason Byron Shire wanted us to attend the summit was because of the effort we've made to include at least 15% affordable housing within a new residential community that includes a huge amount of social and sustainability infrastructure.
They introduced us an ethical developer, which was such an honour, and made us both feel so proud of what we've achieved to date. In fact, we had to pinch ourselves on several occasions due to feeling so celebrated for the project and our perseverance. The response to my presentation at the forum, which included planners, architects, Councillors, academics, developers and community leaders, was amazing, with several telling us they think it's one of the leading master planned developments in Australia.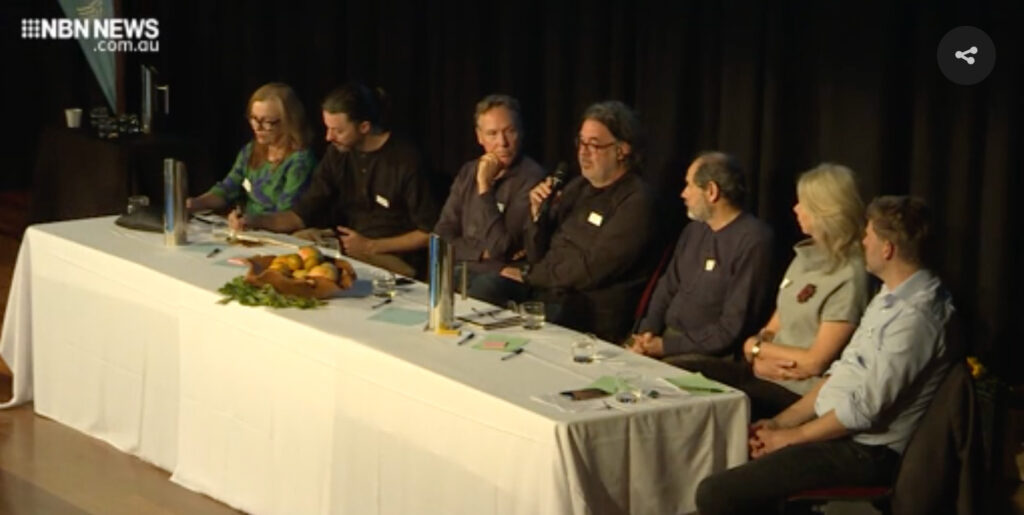 We came home completely re-invigorated, but also re-inspired after seeing so many great projects and businesses that have a lot of relevance for the Ecovillage, particularly our commercial and village square precincts. One project we loved is called Habitat in Byron Bay. Check out https://www.habitatbyronbay.com. I have to say, after reading through some of their town planning policies, they've done some great work, especially in the retention of regional character.
The biggest issue they face over there is housing affordability, and OMG, is it expensive! The equivalent of our 450sqm cottage lots that we sell for around $200,000 are a minimum $1.4 million in the latest Byron Bay subdivision (Harvest) on the west side of town. Prices are considerably higher in existing Byron residential areas and at least $700,000 in small towns in the Byron hinterland.
Blue and white collar workers are leaving the region in droves as they simply can't afford to buy or rent there anymore, which is having massive social and commercial ramifications, with many businesses struggling to stay open due to the loss of staff. Having said this, the quality of food and service in the cafes and restaurants was superb, even in little towns and villages. The tourism experience really is brilliant on all levels.
The town's been divided into those who bought many years ago and those who didn't. Many of those who didn't have been forced to leave, so it's a very emotional situation, which really came through at the forum. Everyone's impacted, having to say goodbye to many close friends and family who have lived in the region for decades.
The issue stems from the fact the region is so incredibly desirable to live and holiday in that investors from Sydney, Melbourne and Brisbane keep moving in or buying holiday homes, which they then short stay lease. Around 30% of all homes in Byron Bay are short stay accommodation, which makes up around 80% of all rental accommodation. On top of this, 12% of all homes are vacant holiday homes. If you're interested in reading further, here's a link: https://www.byron.nsw.gov.au/Community/Community-support/Housing-Affordability-Initiatives/Byron-Shire-Housing-Forum
While the summit was attended by both local and state government planners, the dinosaur in the room was the Federal Government, as what's needed more than anything is taxation changes around capital gains tax incentives for investors in property and direct investment in social housing. But they also really wanted to acknowledge the role the developer plays in this as well, which is why we were there.
I also have to acknowledge the huge amount of pain this region has been through over the past few years with fires, Covid and floods, and the huge amount of suffering and homelessness this has created. We visited Lismore, as this is where our daughter works with a not-for-profit medical group, and it was both devastating and surreal to see the damage from the floods, and how high the flood waters reached.
The forum included several leading planning and architectural consultants from NSW and Victoria, so we've made some great contacts. It was amazing to hear so many of these folk say they've been following us and our journey for years and have studied every square inch of our project through all the info we provide on our website.
We gave appropriate acknowledgment to our hard working team and our wonderful partners at the Perron Group. We made it quite clear that behind an endeavour such as the Witchcliffe Ecovillage sat a very ethical and patient partner, with patient capital, which is another huge challenge in the Australian land development industry. Our project would never have been possible through bank finance alone.
It was great to hear that some superannuation companies are starting to show interest in making changes to investment rules to enable them to invest in long term ethical / sustainable developments, and apparently banks are listening as well. It feels like crisis is creating change, and there's acknowledgment that such change is essential to converting our industry and communities to the sustainable future the country and world requires.
In many ways, the trip made me feel like we were closing out a circle, as it was to this beautiful region that I travelled from Perth 28 years ago to attend a course on Sustainable Human Settlement Design and Development with town planner, Peter Cumings and Permaculture legend, Robyn Francis. It was held at what was then Robyn's newly founded Djangbung (indigenous for Platypus) Gardens Permaculture Education Centre, and it was from this course that my 28-year obsession to build the Witchcliffe Ecovillage began.
It was so great to catch up with both Peter and his partner Eshana who are currently building a wonderful small eco-hamlet called Jagera https://www.ecocommunity.org.au in Maclean, about an hour south of Byron Bay. They gave us a wonderful tour of Maclean and the beautiful land that the Jagera community will be built on, which was such a treat. The following day we visited Robyn Francis for lunch at Djangbung Gardens, which was amazing to see after so long. Robyn gave us a wonderful tour of the gardens and the adjoining town of Nimbin, which is still as wild and wonderful as it was in the nineties!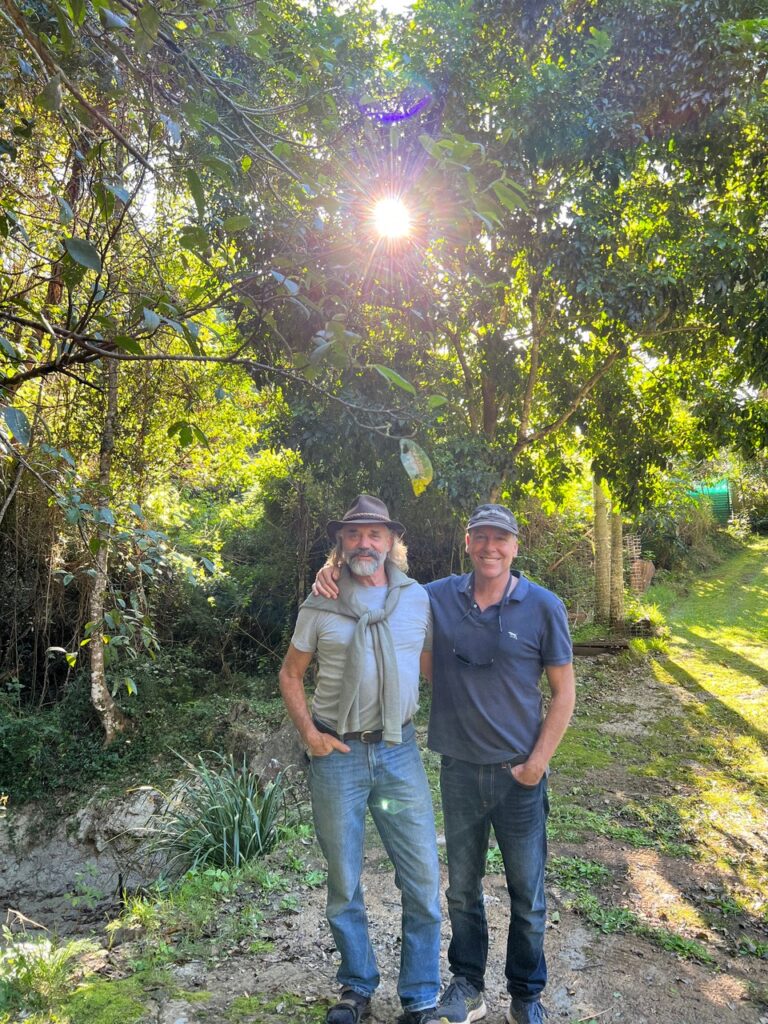 What an incredible effort Robyn, Pete and Eshana have made over all of these years, in an effort to create a more caring and sustainable world. They were all very good friends and collaborators with the late Bill Mollison who must have gone to his grave so proud of the inspiration he gave to such wonderful, hard working, people.
We also visited Paul Recher at his incredible farm, Fruit Spirit, in Doroughby. I had the privilege of staying at Fruit Spirit when I was enroute to the Human Settlement course with Robyn and Pete. Paul is a wildly wonderful and eccentric botanist, originally from New York and he purchased the property as a rundown dairy farm around 40 years ago. His passion is fruit trees and bamboo, of which he has the most extraordinary diversity of species, most of which has been propagated from seed brought in from all over the world.
Fruit Spirit was a stunning property when I visited it 28 years ago, and now it's basically a rainforest! We all think it's been wet here over the past month, but how's this: earlier in the year when northern NSW was being hit with torrential rains and flooding, Paul's property received 1600mm in 14 hours. We were glad to see that due to the rainforest he's created on Fruit Spirit, there was almost no erosion to be seen, unlike the roads and cleared properties in the region.
Another interesting visit was The Farm in Byron Bay, which gave us many ideas for the potential opportunities on our Agricultural lots and the Food Hub. It's of a different scale, and a lot more touristy than our Ag lots will be, but it's a successful example of how productive grouped small agricultural holdings can be, with lots of value-adding and shared infrastructure. Small grouped farm plots (without the prohibitive land costs and overheads of a large farm) enables small scale operators to be highly productive and collaborative within a supportive farming community, and this is just what we envisage on our Ag lots.
Michelle and I came back with a renewed sense of enthusiasm to start the process of finding suitable operators and designers for the village square commercial zone (tavern, backpackers, mixed use and café) and a real sense of the importance of our commitment to affordable housing. This has me all fired up about exploring more affordable housing options for our growing community, especially with the recent increases in building costs, for which I'm confident I'll have some exciting news later in the year.