Landscape Update – August 2022
The blustery, cold weather did nothing to dampen spirits for the milestone event at the Ecovillage earlier this month where key members of the WEV team officially handed over the three beautiful Stage 1 community gardens to their Strata Councils. Special thanks to Chad Elton (landscaping), Grant Johnston (building) and renewable energy expert, Jey Shivakumar, from Cossill & Webley for making the trip down from Perth to ensure our residents are full bottle on the management of the microgrid and battery.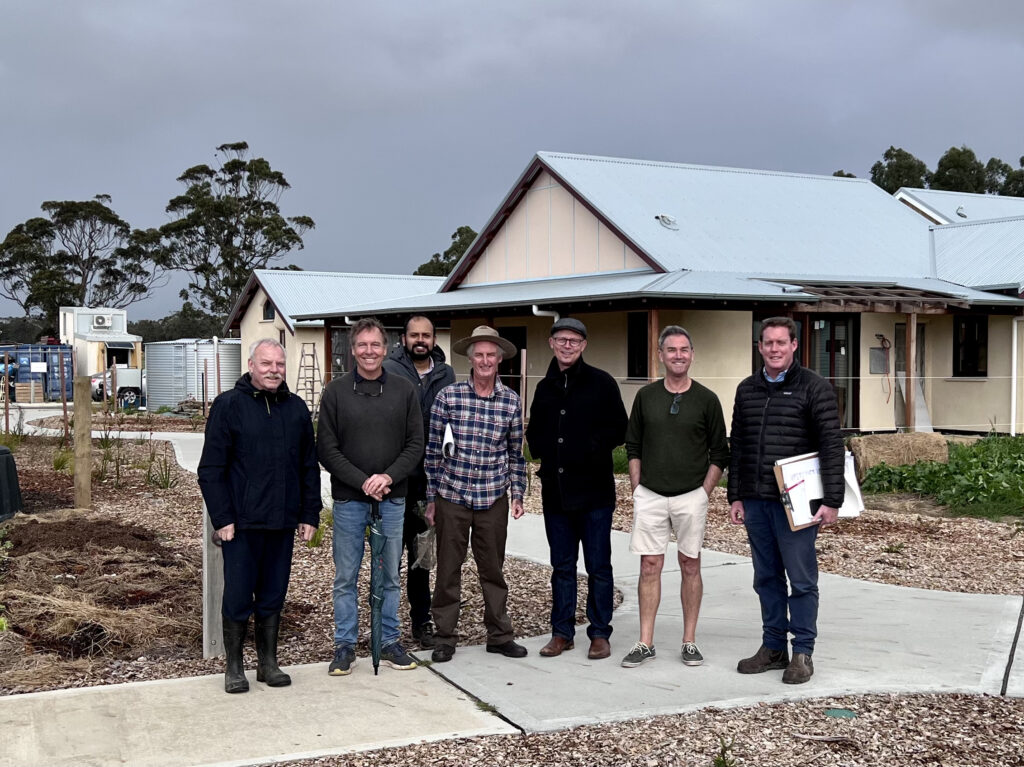 Ecovillage residents had been looking forward to this day for months. All the landscaping and infrastructure work has been completed including:
covered orchards filled with fruit trees
play equipment (a giant swing in Cluster 1A, a slide through a rock garden in Cluster 1B and monkey bars in Cluster 1C)
reticulation
lawn, trees and shrubs
community buildings
microgrid, Telsa batteries (with Tritium EV chargers to be installed later this year)
Residents of clusters 1A, 1B and 1C have now taken over the management of these magnificent communal spaces and are making them their own. Exciting times indeed!
WEV landscape contractor, LD Total, has paused to allow the worst of the winter weather to pass before it will turn its focus to completion of the community gardens in Clusters 2A and 2B in spring. Stage 3 gardens will follow and are expected to be completed before the end of the year.
Revegetation experts, Tranen, will soon start work on the area next to the playing field and the riparian edges of the central and southern dams, planting native species to provide habitat for insects, waterbirds, and animals. Already we are seeing an increase in the wildlife throughout the Ecovillage as more trees, shrubs and plantings are established. It's exciting to see flocks of Baudin's White Tailed Black Cockatoo's (Mannitj) that seem to have recently taken up residence in the eucalypts near the playing field, and lines of tiny ducklings swarming after their mothers throughout the Ecovillage. It's becoming a bird haven!