Buyers come out of hibernation
Ask any real estate agent and they'll tell you buyers come out of hibernation in spring. That's certainly the case in South West WA where the end of winter is highly anticipated and celebrated by locals. The Ecovillage sales team has definitely registered a spike in sales enquiries and lot reservations in the last two months.
We have sold / reserved well over two thirds of Stage 4 (44 of 61 lots). As of 8 December, Stage 4 only has the following lots left:
6 x Family lots in Cluster 4B
6 x Family lots and 1 Cottage lot in Cluster 4A
5 x Short Stay lots in 4D
Our affordable Groupie lots have proven very popular and are now sold out in Stage 4. So those who meet the Groupie Eligibility Criteria (income and asset capped) and are keen on one of these wonderful lots are going to have to wait until we release Stage 5.
Stage 5 will be released to the market when Stage 4 is almost sold out, so it depends on how quickly the remaining lots sell. However, we are anticipating releasing Stage 5 to a ballot application, just as we did with Stage 4, in around March 2023. There will be plenty more information to come about this, well in advance of the ballot. All you need to do is Register Your Interest on our website, which will ensure you're kept up to date with everything happening at the Ecovillage.
Commercial lot titles issued
We now have lot titles for the 14 commercial lots that form part of our exciting commercial precinct including:
Strata Comm 1 (6 – 8 lots) – facing Bussell Highway
Strata Comm 2 (7 lots) – facing Wolghine Avenue
Several of these lots are already reserved with contracts underway. In the new year, we plan to create an Expression of Interest document curating a "business wish list" for a village centre that meets the daily needs of the Ecovillage and wider Witchcliffe / regional community. For the entrepreneurially minded, this will hopefully provide some inspiration as to businesses that will be supported and welcomed into this unique 'Village Centre' zoned precinct. 
Keen to know more? Start by reading through the Commercial Lots page, which has links to the Commercial Precinct Building Design Guidelines and the Local Development Plans. Then give us a call at the Sales Office on (08) 9757 6688 or [email protected].
Agricultural lots snapped up
All 12 of the beautiful 1ha Agricultural lots in 3D have been reserved by Ecovillagers for a mix of commercial and personal uses, following confirmation from the AMR Shire on the list of permissible uses. In addition to purely agricultural uses, including value adding of produce grown on site, farm produce shop, associated ag workshop and office, they can also host an artist studio or garden centre.
There's just nothing comparable in the region to these beautiful 1ha lots, which include abundant clean water from the Ecovillage dams pumped to a new 50,000L zincalume irrigation tank on each lot, kangaroo fencing, NBN fibre connection and 3-phase power to each lot.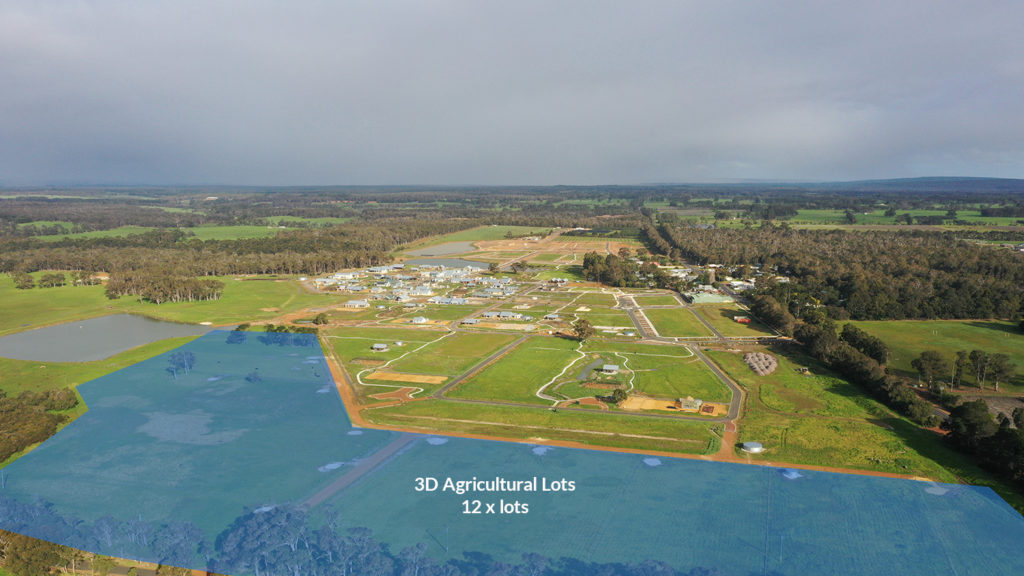 By end of January 2023, we will have the strata bylaws, Local Development Plans and sales contracts ready to go. If you missed out but are still interested in purchasing an Agricultural lot, it's worth getting in touch with us to put your name down in case any lot reservations change. Email us on [email protected]
When bigger is better: 3E Garden Lots
Do you want a bit more space and privacy, need a large workshop, or wonder how you're going to fit your boat / caravan / trailer on an average sized lot? Our Garden lots may be the answer for you. Ranging in size from 1,533sqm to 2,170sqm, these lots in 3E located at the northern end of the Ecovillage are open for reservation and off-the-plan sale (no lot titles yet). All up, there are only 16 Garden lots in the Ecovillage (nine in Stage 3 and seven in Stage 5).
Unlike many lots of a similar size in the region, these Ecovillage survey strata freehold lots benefit from:
deep sewerage connection to our community wastewater treatment plant.
access to cheap, high quality, irrigation water from our dams to facilitate productive gardens.
renewable energy infrastructure including a shared electrical microgrid with single point connection to Western Power.
membership in Ecovillage Commons Ltd (not for profit company) and use of its land and amenities (dams, conservation areas, avocado orchards, etc).
There's not many of them, so if you are interested, check out what's available on our website and contact us at [email protected]