By Jan & Laurence Hansen, residents of Cluster 1C
We were both born in the UK, Laurence in London and I was raised in North Staffordshire, in the Midlands. Although Laurence was very much a city boy who loved sports, he joined the scouts and went on every outdoor activity into the countryside that he could. I was 'horse mad' from a young age and lived in a small village with a riding school. I spent my every waking hour, when not in school (and often when I should have been) helping out around the stables and later escorting people on rides into the countryside.
Laurence fell into the geology / geophysics field when he saw an ad for a computer operator in a local geophysical company. This led to him working full time and completing his Geology degree at nights at the University of London. He then went on to do a Masters in Ecology, spending many happy weekends in North Wales doing field work. His beloved old Morris Traveller (top speed 50 mph, downhill with a tail wind) got him there and back, albeit rather slowly. After working his way up to company director, he decided that he would prefer to stay in the technical side rather than in management, so he's remained a hands-on geophysicist for all his career. He has largely retired but still dabbles in "interesting projects" for friends.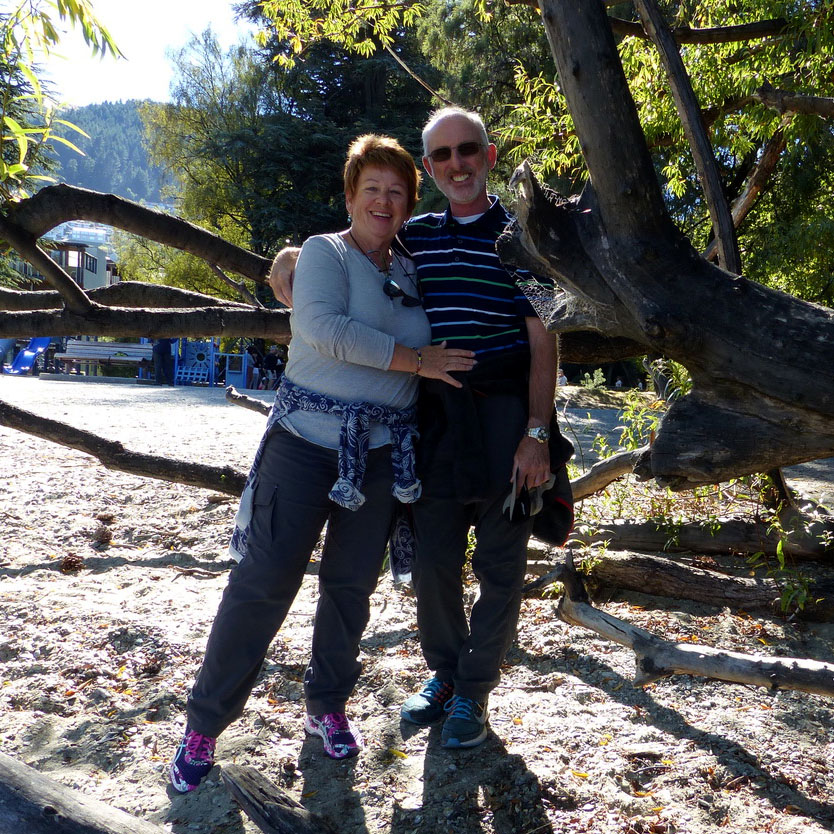 I became a Registered nurse, midwife and theatre sister and had several jobs around the UK. I became bored easily and hopped from place to place, always where there was glorious countryside nearby where I could walk and ride. One day I saw an ad for a job in the newspaper at Sir Charles Gairdner Hospital in Perth and I jumped at it. I was initially intending to stay for just one year and 37 years later, I'm still here!
Laurence moved to Perth in 1982 to start up a new company here as a geophysicist and we met in 1988, marrying three months later. We have two children, a son and daughter, and two grandchildren who are two and five years old. Perth was good to us offering the opportunity for outdoor activities such as hockey, bush walking, sailing and golf.
I had a career change when my children were young, completing a Social Work degree at UWA. Not wanting to waste the knowledge I had from nursing, I chose to work in the field of spinal rehabilitation and enjoyed every moment of the 18 years I spent doing that.
We have a shared interest in ecology and sustainability and have built two passive solar homes previously. As we were both getting towards retirement age, we were considering our options for the future and wanted to move away from Perth. We had previously owned the 100 year old "Post Office' in the hamlet of Greenhills near to York, which we used as a weekender. Although lovely, the community was too small – just a pub and four homes. Our retirement location wish list included:
Rural area, but not isolated.
A place with a sense of community.
Within four hours of Perth.
Room to garden and 'breathe'.
Opportunity to learn new things.
Sustainability at its core.
I was searching online for this sort of thing when up popped the Witchcliffe Ecovillage website. It ticked all our boxes and more besides! This was several years ago before it was given the go-ahead and we avidly watched the progress, dropping in on Mike and Michelle whenever we were in the area. We jumped in and bought a block as soon as we could.
The design and building process has run very smoothly and we feel very lucky in this regard as we know many people have had problems totally out of their control. Our aim was to build a home that would be future proofed to cater for us in old age. It has room enough for a live-in carer if necessary and also room for family and friends to holiday with us. We just love it: our home, the location and the people we meet every day. Taking our old dog, Jack, for a quick 10-minute stroll usually takes half an hour or more, as I always find someone to chat to!
Now the hard but exciting work begins as we design our garden and learn to wrangle the hard-packed soil into something more manageable. A big job, yes, but we feel so supported by the Ecovillage's professional team and the residents already established here who are so keen to pass on their knowledge. What an awesome vision from the developers and what a beautiful community to now be a part of.
Thank you,
Jan & Laurence