When we talk about modern intergenerational living, one extended family within the Ecovillage instantly springs to mind. We couldn't be more thrilled to have welcomed five individual adult members of the Dunlop / Moore tribe who have each bought lots in various stages of the Witchcliffe Ecovillage.
Setting an example for all of us are fighting fit, octogenarian matriarchs, Pat Dunlop and Jan Moore, who have both relocated from NSW to buy and build homes in Cluster 3A. You may be forgiven for thinking you are seeing double as these identical twin sisters can often be seen walking the Ecovillage footpaths arm in arm.
Pat's adult children – Jenny, Karen and Lindy Dunlop – have also embraced Ecovillage life.
Jenny has gone all in and built a home for herself in Cluster 2B as well as reserved a Groupie lot as an investment in Cluster 5B. She is a full-time User Researcher who works from home.
Karen recently moved over from Melbourne and will start building in Cluster 4B soon. Music is Karen's profession, passion and hobby. She teaches the flute, along with the musicianship and theory that goes with it. She'd like to learn the basics on a few other instruments once settled in the village.
Lindy and her partner Bob moved to the Ecovillage from the UK and are now residents of Cluster 1A. Bob is a retired charity director and has spent most of his life in social work. Lindy has recently started a new job as an editor with the Royal Australian College of General Practitioners.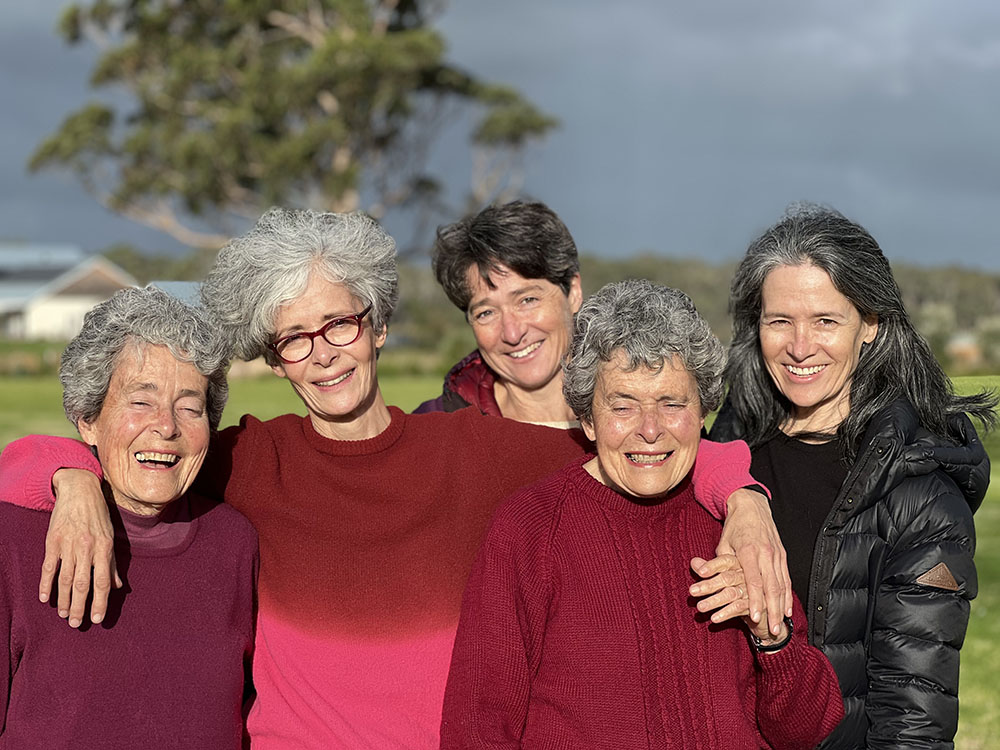 Questions & Answers
Who, when and how did you first discover the Ecovillage?
JENNY:            I discovered the Ecovillage a few years ago. I returned from the UK around the time there was a lot of press coverage about abuse in aged care. I don't have kids and I got worried: "Who is going to protect me from abuse when I'm older?" I searched for retirement options that weren't owned by large corporations and I chanced on the Ecovillage with a retirement option in the middle of it. "Eco-village types won't abuse the elderly," I thought. As I read more about WEV, I thought the whole concept sounded really good and I decided I didn't need to wait until retirement to be part of it.
KAREN: I learned about the Ecovillage from Jenny. It was Jenny who became aware of it, visited it and did all the research. The rest of my family followed suit. I was going to remain in Melbourne, but a few of life's events afforded me the opportunity to think about where I wanted to be, and it wasn't hard to realise that I wanted to leave my high rise and have my feet firmly on the ground with the rest of my family.
PAT: After Jenny and Lindy both decided they would move here, I gave it serious consideration. I discussed it with my sister and we both thought there would be much more for us to do here than in a retirement village. I was delighted when my daughter, Karen, also decided to join us.
Tell us about your first impression of the Ecovillage and its founders, Mike and Michelle, and the relationship you've now developed here.
JENNY: I met Mike and Michelle on the first tour they did of the Ecovillage, before any work had started while it was still a blank slate of cleared land. Mike told us about the history and the vision, which was very inspiring. I feel like I just clicked with Michelle right from when I met her. She and I and another lady on the tour had such a lovely conversation and it just felt like this would be a lovely place to live and lovely people to hang out with.
KAREN: Viewing the WEV website, I was impressed with how thorough the planning for sustainability and community was. No greenwashing here! This was a genuine response to how things can be improved. Chatting with Michelle via zoom I had a sense of warmth, care, positivity and generosity.
PAT: I went to lunch with Michelle last April and she was delightful and very helpful. My first impressions of the Ecovillage were that it was in a beautiful area and that it had a lot of water tanks.
How did the conversation come about that resulted in so many members of your extended family coming to live here?
JENNY: I like to say: "I toppled my family like dominos one by one" but that is tongue in cheek. We all have our own reasons of course, but being able to come together as a family is definitely one of them for all of us.
KAREN: From my perspective, it was an accumulation of conversations rather than one conversation. We have a genuine interest in sustainability and a desire to live without harming, so it was easy for the conversation to continue and to be passed from one to another until it felt like the move was an obvious thing to do.
LINDY: There wasn't a specific conversation. Jen told all of us about it individually, and we all decided separately that we would like to live in the village, without knowing that we would all be moving.
What are the main reasons you decided to move here?
JENNY: For me – it was the vision of being able to live in a sustainable community. I really believe we need to develop alternative ways of living that don't destroy the world and that we all individually have to take as much responsibility to do that as we can to model better ways of living. I thought the Ecovillage seemed like the best opportunity in Australia to do that. So as much as I would prefer this kind of community existed on the east coast, I decided to come west.
KAREN: I feel anxious about our future; about our mental health and climate change. I don't believe we can wait any longer for meaningful change in legislation to protect our environment. The Ecovillage shows that good change is possible, and that we don't need to wait for legislation to make that happen.
LINDY: We thought it would be an opportunity to actually do something differently, with a structure and neighbourly knowledge that would support that. I also thought I would have at least one sister living near me.
Most of you have moved considerable distances to come to regional WA. What was the biggest challenge to overcome in moving here?
JENNY: It's been so so so much harder than I expected and it's mostly due to Covid, increased building costs and delayed building times. Most of us needed to sell our homes first to fund our builds, which meant we've all been living out of boxes in temporary accommodation for ages, much longer than we expected and planned for. I also felt really responsible for moving two octogenarians across the continent. I managed a lot of the logistics for the twins – co-ordinating their builds, downsizing their belongings, getting them and their furniture and cars across the country – at the same time as working full time.
KAREN: Transporting and storage is expensive, and there's always something that you know is in storage, but you need it now!
PAT: The biggest challenge was the delay to the start of the house build because I had to sell my house to fund the build, so this meant I wasn't in my own home for a long time. It was also hard to leave my friends, some of whom I've known almost all my life. My dearest friend said: "When we are young, it's all about friends, but when we are old, it's all about family".
LINDY: Getting Bob's residency visa, and the Covid travel restrictions. Selling our house in the UK, and having a house built here, in a timescale that didn't leave us homeless at either end.
Do you think the Ecovillage will / has changed your life? How?
JENNY: Hah, see above. I'm still hell bent on sorting logistics, but I think we're almost there. I am so looking forward to being able to just walk around and meet folk, enjoy the beautiful changing skyscapes we have in the village and planning my EUA.
KAREN: I know it will change my life. I also know it will change it in ways I can't anticipate. I'm excited.
PAT: I am already enjoying the friendliness of people that I meet and all the different things on offer, such as the Young@Heart musicians on Monday mornings.
LINDY: We were hoping to enjoy spending time 'at home' more than we did in our tiny UK house, and we do, chatting with neighbours and reversing the balance of plants to sand.