The morning cool of Djeran has arrived and clever gardeners are frantically busy in this season preparing soil, propagating, germinating, planting and staying up late making tomato passata and pickles from the last vestiges of vegies picked from spent summer gardens. A lovely problem to have, I'm sure you'll agree.
From those of us who are not yet living here (yes, I'm one of them), there's a fair bit of house and garden envy of those 60 households who are lucky enough to call the Ecovillage home. It's a challenging housing market in which to build, there's no doubt. But it's a reward, I believe, is worthy of the perseverance, compromise, time, and effort it's taking to bring to fruition. I just can't wait to be living in this amazing community!
Ecovillage in the media
I must admit to getting quite a buzz from seeing articles on the Witchcliffe Ecovillage appear in high profile national magazines such as Australian Geographic – Feb 2023 and when TV cameras interview residents in our cluster community gardens 7NEWS Regional WA – Feb 2023. Both of these media opportunities fell in our lap, so often it's with little effort on our part that word is getting out about our unique, beautiful, sustainable community.
Coming up, renewable technologies magazine Renew (sister magazine to Sanctuary) will publish an article written by yours truly (Jo Thierfelder) in April. Hot off the press today, the RAC published a comprehensive and well written feature article on the Ecovillage on its website this week, ahead of a June print publication in its fantastic Horizons Magazine.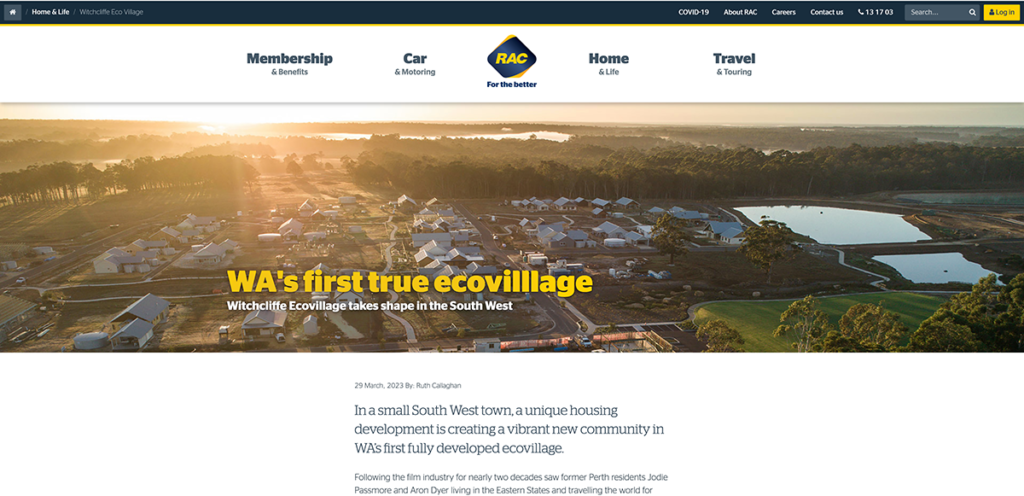 Also, Australian Traveller magazine approached us for imagery and words for its May 2023 "100 Emerging Destinations" issue, which will feature Witchcliffe town and the Ecovillage.
My colleague and resident / owner of "Cubby House" Jodie Passmore, and I were recently heard on the online airwaves for Renew's Sustainable House Day 2023, speaking on the panel for "Creating sustainable housing: Eco-communities and co-housing". More than 550 people listened in to the session and there was plenty of insightful questions and positive feedback. Renew is posting all of the podcast sessions and featured homes on its Youtube channel.
For the first time, the Witchcliffe Ecovillage will take its place in our quality local tourism magazine Tales and Trails, which is published by the Margaret River Busselton Tourism Association, owner of www.margaretriver.com. Look out for an article and full-page ad in the next Autumn / Winter 2023 edition, which will be published this month.
Ecovillage film: Version 2.0
There may have been a sense in the Ecovillage film we published in September 2021 that the Ecovillage and its community had yet to fully emerge; that it was more plans and civil works than established homes, productive gardens and real people. Not anymore. With five community gardens in Stages 1 and 2 now handed over to their respective strata councils and more than 60 households living here, the Witchcliffe Ecovillage can now call itself well and truly established.
Hence, we felt the need to update our flagship Ecovillage film with new footage of our developing streetscapes, unique residential architecture, maturing gardens and friendly community. We've re-engaged filmmaker Michael Fletcher to shoot new footage in May. Version 2.0 will also include updated information on our renewable energy system and other developments. Look out for the film's release around mid-year.
New staff join the Ecovillage team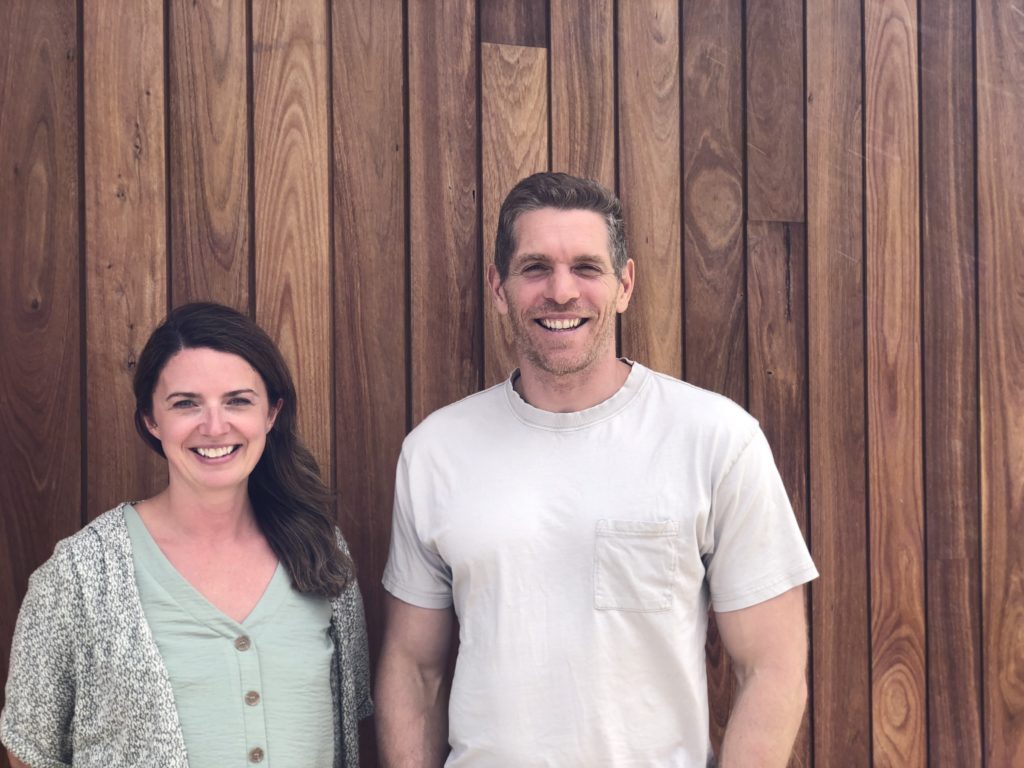 While we may be releasing our last tranche of lots, the amount of work for our small professional team in the Ecovillage office certainly hasn't slowed. To help manage and redistribute the workload, we have brought on two new staff members in Niall Casey and Clare Hamilton who are stepping in to help with energy and infrastructure management, and town planning and design, respectively.
Niall is an electrical engineer by profession and has plenty of high-level project management experience, which makes him a great fit to take a deep dive into our renewable energy systems that are in the process of coming on stream. Niall is also a resident of Cluster 2B and is pretty happy about his new work commute.
Clare is a town planner and artist who has deep local knowledge and connections in the AMR Shire, as well as excellent project management skills and experience. In her three day a week role, she will be taking over management of our planning clearances and helping Jeff with the design review process.