Did you know that thanks to the Ecovillage, Witchcliffe was recently listed No. 2 in the '100 Emerging Destinations & Experiences' list by drool-worthy national print magazine, Australian Traveller? Forget what you thought about little 'ole Witchcliffe, the humble little sister to Margaret River, and reconsider your property investments. Read on!
Short Stay lots
If, like many, your life is bound to the city, but you've fallen in love with the laidback "down south" lifestyle and the easy sustainability of the Witchcliffe Ecovillage, we'd like to propose a solution to your conundrum. Have you considered the lock-up-and-leave flexibility + added rental income of one of our Short Stay lots?
Under the AMR Shire Planning Policy, these convenient, multi-purpose lots are zoned 'Residential with an Additional Use' and allow:
Permanent residential
Short Stay rental (under three months)
Long Term rental (more than three months)
Holiday Homes
There are 55 Short Stay lots spread across the Ecovillage site in several groups, and each have unique benefits:
Only a handful of affordable 360sqm lots remain in 3C, which enjoy a beautiful outlook over the future olive grove and our lush agricultural lots.
If it's water views you're after, we've got your covered. Currently, five bigger lots (547-680sqm) are still available in 4D, which look north over the central dam and are but a hop, skip, jump from the village centre.
If you plan on spending a bit of time in the Ecovillage and like the idea of being part of a residential cluster and sharing its community garden, there are five Short Stay lots that form part of Cluster 5B. These terraced lots have spectacular views of the southern dam and vineyard to the south. All the other short stay lots are designed with hands-off investors in mind and sit outside residential clusters, so their owners don't have gardens to look after and aren't required to contribute to communal strata activities.
Finally, we have a bank of sun-soaked, north-facing short stay lots in 5C that run parallel to Cluster 5A along Mulal Avenue that leads straight down to the southern dam. (These will be for sale later in the year.)
We've made an effort to provide a range of size and price points for these unique lots. All short stay lots will have solar power, household batteries, rainwater tanks and lovely, warm, passive solar homes to enable tourists to experience eco-living at its best.
Spoil your family and friends with a holiday home in whimsical Witchcliffe that works hard for you as a profit-making asset when you're not there. Give the Ecovillage sales team a call on 08 9757 6688 or email [email protected] and ask us about short-term vacation rental data for the Augusta Margaret River Shire to decide if this is a smart investment for you.
Tourism lots
The Ecovillage is generating a lot of interest from prospective buyers from all over the country and the world who need somewhere to stay when they visit. Unfortunately, we are having to regularly turn away these short stay accommodation enquiries for the Ecovillage as we don't yet have any built accommodation available. It certainly underscores the incredible opportunity that awaits the savvy investor to capitalize on this growing ecotourism market.
Our 10 'Tourism' zoned lots are the perfect dedicated short stay property to add to your investment portfolio. The Tourism lots don't allow permanent residential like their short stay cousins and so are conveniently located within shouting distance of Wolghine Square, our future community pub and café, Food Hub, commercial precinct, nature playground and more. Tourists and visitors will be in the thick of the action, so they get the most out of their Ecovillage experience while staying in beautiful, new, carbon negative, energy efficient accommodation.
Facing north in a row along Kulbardi (Magpie) Way, these 10 lots present an exclusive opportunity for investor/s to buy several (or all) of these lots and, through a holistic design solution, create a beautiful streetscape interface on this prominent thoroughfare.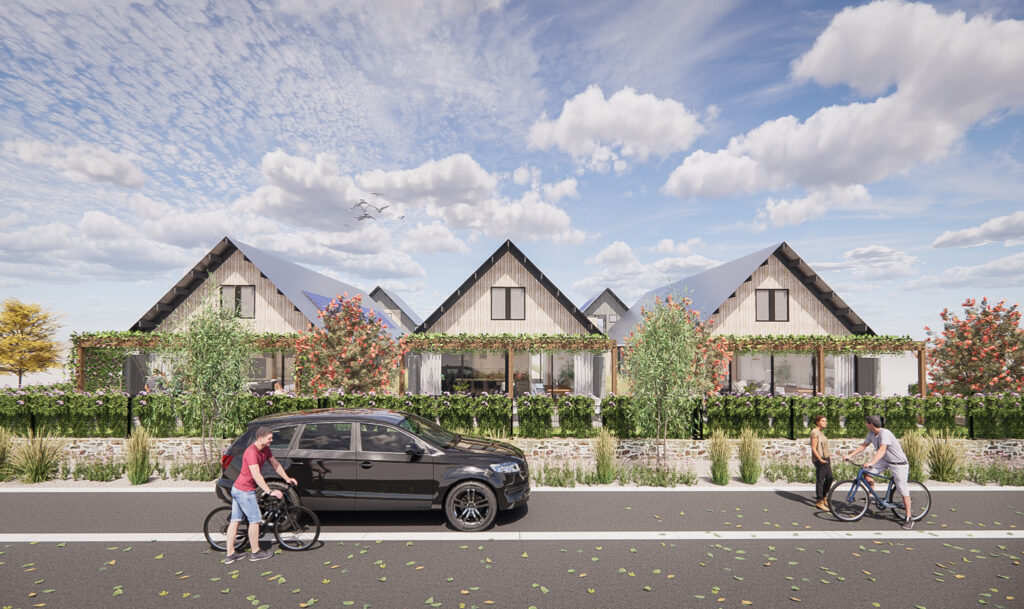 Closing the loop on this investment scenario, our property management agency, Village Homes Realty, will offer full-service professional management of these properties in accordance with our Ecovillage ethos and bylaws.
It's not hard to put together a compelling case for investment in eco-friendly short stay accommodation in the South West. The region's current visitor numbers continue to exceed pre-Covid numbers* with an optimistic outlook for the future. Combined with the Margaret River region's ECO Destination certification and the unparalleled sustainability credentials of the unique Witchcliffe Ecovillage, and you have a solid income-generating, ethical, green investment.
"Incorporating conscious, sustainable habits into our everyday lives is more important than ever and this doesn't have to stop when you are on holiday. Eco Certification makes it easy for travellers to find high-quality nature-based experiences run by genuine tourism operators who are truly committed to sustainable practices, making your holiday even more rewarding."
– margaretriver.com
* Source: Tourism Research Australia – National Visitor Surveys
Commercial lots
Any way you slice it, the Ecovillage has you covered when it comes to ethical investment and economic opportunities. For sustainably minded entrepreneurs, look no further than the Ecovillage commercial precinct where unique opportunities exist for all manner of businesses within the broad scope of 'Village Centre' zoning. Think retail, commercial office or light manufacturing uses for a start.
Our goal is to have most of our daily needs met within the village centre and Witchcliffe, so some curation of the businesses within the commercial precinct, mixed use lots and future Food and Creative Hubs is a wise idea. With this in mind, we have started a list (by no means exhaustive) of businesses we know would be well supported by the community.
We would love to hear from business owners / entrepreneurs interested in establishing any of the following:
Bakery
Bulk dry foods / laundry / body care, recycling station, zero waste household store
Wholefoods / health store
Restaurants / cafes
Providore / fromagerie
Kombucha brewery
Newsagency
Beautician / hairdresser
Allied Health and Wellness Centre
Art studio / gallery
Books / gifts / tourism focus
Permaculture / Sustainable technology centre
Yoga / Pilates / Gym
Vet clinic
This is but a snapshot of the types of businesses we would welcome in the Ecovillage and are open to your creative ideas and energy in this space. Please contact us on [email protected] if you are interested to know more.