Landscape Update – May 2022
The landscape team has been working on Stages 4 and 5 in the office and the sales plans for Stage 4 are now live on our website. We learned a lot from the Stage 1 to 3 works and are very excited to see how the community gardens and landscaping elements in Stage 4 will develop.
Community gardens in Cluster 1A, 1B and 1C are coming along now. Three large Tipuana tipu trees planted on the fringes of the central lawn areas in the community gardens are helping to soften and green up this space. Uralba Stone have been on site over the past month and have completed the fire pit stonewalls for Clusters 1A and 1C and are currently constructing the walls in Cluster 1B. They will then continue on with Cluster 2A, 2B, 3A and 3B.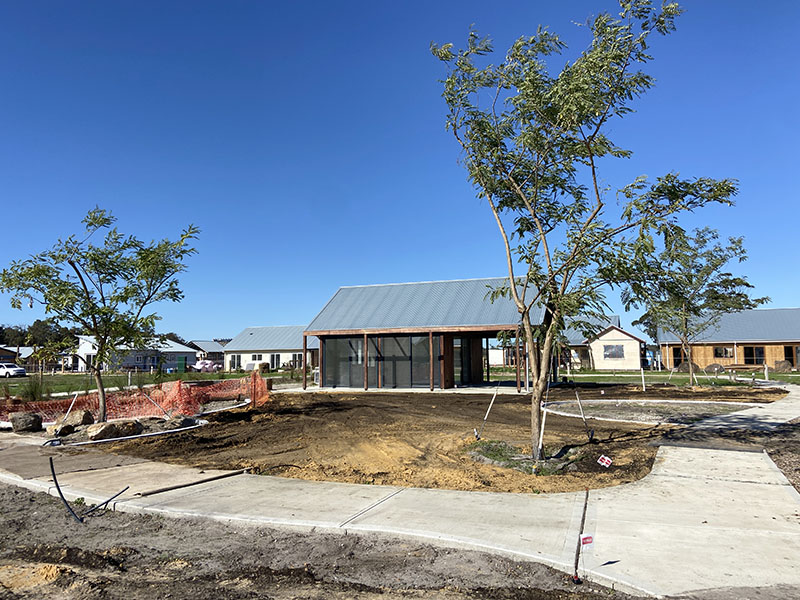 The verge planting for these clusters is now complete and LD Total will move into the internal cluster planting where we have a mix of predominantly low growing native flowering plants and fruiting trees.  South West Orchard Builders are powering along with the vertical posts up for the orchards in 1A, 1B and 1C. Next step is the horizontal timbers and once all the structural component is complete, LD Total will commence with the fruit tree planting within the structure. Like many construction materials in the current climate, the orchard netting is ordered but will be some time until it is available.
We appreciate everyone's patience during these times and are looking forward to the community being able to enjoy their cluster gardens in the near future.