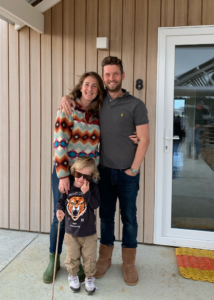 It's given Michelle and I so much enjoyment to see the Ecovillage coming to life over the past year.
It's a great feeling walking and riding around the streets and footpaths seeing the stormwater swales and basins working, dams overflowing, and so many homes under construction. It is also lovely to see members of the community coming together: helping each other out, minding each other's kids, assembling IKEA furniture together, sharing meals and impromptu gatherings in the Village Square.
We had a wonderful evening last week visiting the Clough family, our first Ecovillage residents, who have moved into their beautiful new 'Foxcliffe' home on Mannitj Avenue. Their house was built in record time by Tallwood Custom Built Homes and achieved a thermal rating of 8.8/10. It's a beautiful home, inside and out, and Rachel and Andy have put their stamp on the design, adding an office and a stylish dining banquette without increasing the home's footprint or changing its thermal performance.
It was a cold night and although we'd had around 10 days of grey, wet and windy weather, we were warm and relaxed inside. It was 11 degrees, but the internal temperature of the home was 22 degrees, without any heating. In fact, the house doesn't even have a heater, as it's so thermally efficient they won't need one. Ideal internal temperature for human habitation is between 18-24 degrees.
It was wonderful for Shelle and I to experience this after so many years of telling people that we don't need artificial heating or cooling if we orientate our blocks and homes correctly, and design good solar passive homes with sufficient insulation, double glazing and cross ventilation.
The other large energy consumer in our homes in the South West is heating hot water. After considerable research, including a detailed life cycle analysis report, we decided to specify the Reclaim heat pump in all WEV designed homes. This will only use around 2.1kWh/day to heat 315L of water. It's the best heat pump for our Ecovillage homes due to its incredible efficiency, great warranty / longevity, and its ability to use a built-in timer to ensure it comes on in the middle of the day when our solar panels are all producing excess solar power, even in winter. It also uses CO2 as its refrigerant, which is drastically less carbon intensive than the other commonly used heat pump refrigerant on the market.
Heating water and heating and cooling our homes are our biggest household energy users, and yet with simple design, working with nature, and careful consideration of appliances, they have been eliminated. How easy would it be to mandate this across the whole country!
By following these three simple recommendations – solar passive design, our recommended heat pump for hot water and solar PV on the roof – the Cloughs have significantly reduced their carbon footprint and their costs of living.
Welcome and well done, Andrew, Rachel and Jesse! We can't wait to join you in living a sustainable Ecovillage life.