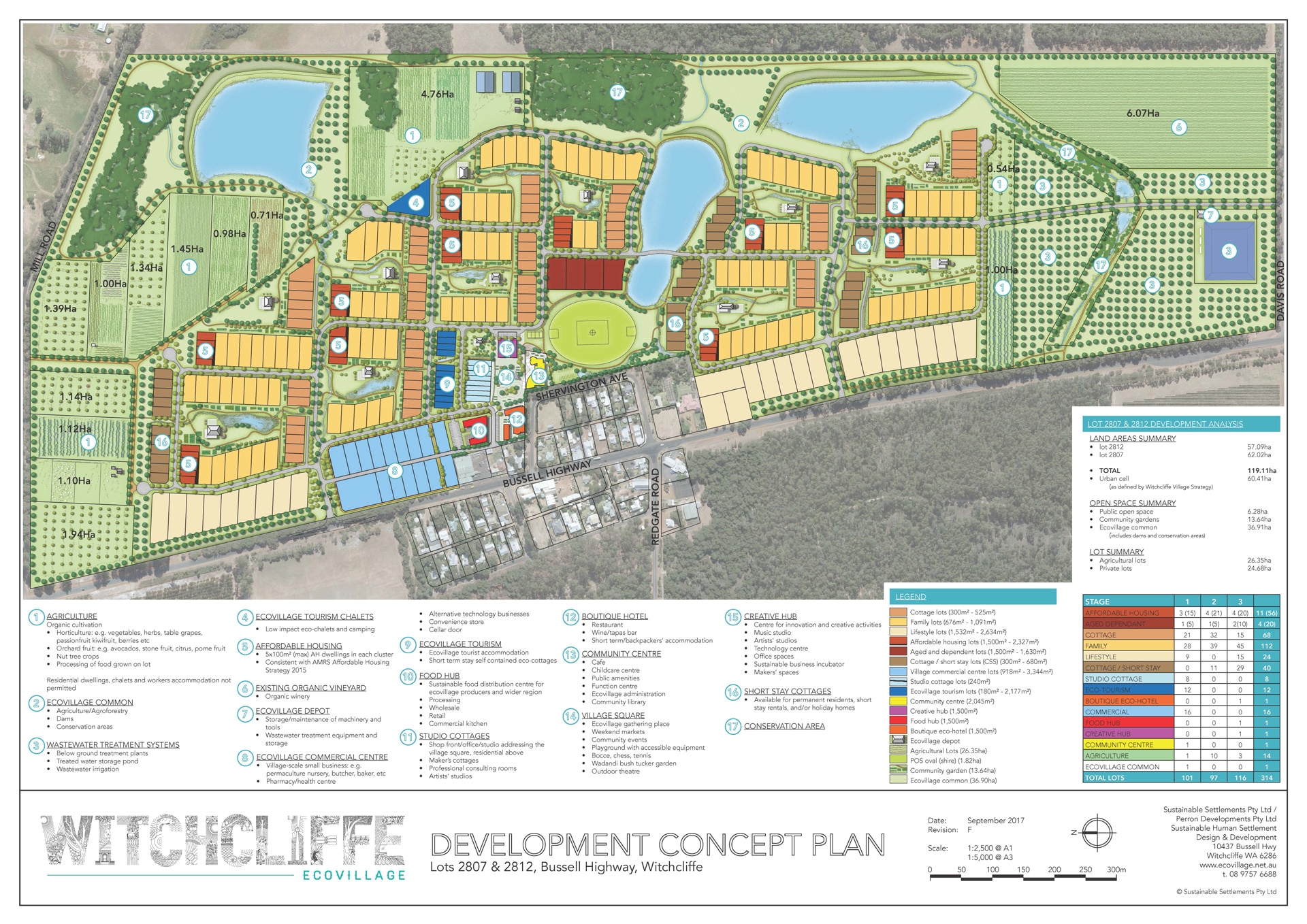 Download the Concept Plan (PDF)
A huge amount of work has gone into developing the Witchcliffe Ecovillage Project. The Development Concept Plan has evolved substantially over the past seven years of planning. Due to the level of efficiency, sustainability, livability and affordability we wanted to achieve, all of the driving features of the plan are incredibly inter-related: lot dimensions and orientations, size and shape of each residential cluster and community garden, road and pedestrian path networks, storm water management, wastewater recycling, renewable energy systems, agricultural and enterprise opportunities, and so on. Every feature of the project has been considered holistically and researched thoroughly to ensure we will achieve the most sustainable outcomes possible.
The urban/residential portion of the site is approximately 60 hectares of the whole site. The remaining 60 hectares is to be used for intensive organic food production. An adjoining farm with another 30 hectares has also been purchased to increase the land available for agricultural enterprises.
The urban portion of the plan includes 11 clusters of homes (each surrounding a central community garden), two groups of large 2000-3000m2 residential lots, a commercial precinct, and public Village Square. All homes in each cluster will front landscaped open space that will include vegetable and herb gardens, orchards, play equipment, cycle/pedestrian paths, community shed, chook pen, etc.
Each cluster consists of Cottage, Family and Affordable home lots to encourage a diversity of age and socio economic circumstances.
All Family lots are on an east – west axis, with building envelopes that guarantee maximum solar access to each home.
All Cottage and Affordable lots are on the north – south axis, with vehicle access from the south side, to guarantee maximum solar access to north facing living areas.
Roads are designed for vehicle access only, with pedestrian and cycle paths located within the community open space to encourage maximum pedestrian activity between clusters and into the village centre.  The plan includes a centrally located full sized oval and community activity area with tennis court, boule and playgrounds.
Adjacent to the existing Witchcliffe town centre we have planned a Village Square for community and public activities, surrounded by four commercial/community buildings, including the Community Centre, with cafe, creche, strata administration office, function room, and activity room for yoga, meditation, dance, music, etc.
Timeline
PAST
Aug 2017 – Scheme Amendment Gazetted by Minister
Aug 2017 – Structure Plan Approved by WAPC
May 2017 – Lodge Subdivision & Development Applications for Stage 1
Feb  2017 – Western Australia Planning Commission Assess Scheme Amendment & Structure Plan
Nov 2016 – Augusta Margaret River Shire Council approve Witchcliffe Ecovillage Structure Plan and LPS Amendment 29
June 2016 – AMRSC advertise Structure Plan
Jan 2016 – Lodge Witchcliffe Ecovillage Structure Plan with AMRSC for consideration
Nov 2014 – AMRSC advertise Witchcliffe Ecovillage LPS Amendment 29
Oct 2014 – Lodge  Witchcliffe Ecovillage Local Planning Scheme Amendment 29
Mar 2013 – WAPC endorsement of LPS & WVS
Feb 2012 – AMRSC endorsement to proceed with review of LPS & WVS
Feb 2012 – AMRSC give 'in principle' endorsement of plan & approval to advertise Witchcliffe Village Strategy and Local Planning Scheme amendments concurrently
Feb 2011 – Developer holds preliminary community presentations to gauge support for an ecovillage in Witchcliffe
FUTURE
Jan 2018 – Building Dams, Drainage, Earth Bunds and Community Centre
May 2018 – Start Stage 1 pre-sales
Sept 2018 – Start Stage 2 pre-sale
Oct 2018 – Start Construction of Stages 1 & 2
Apr 2019 – Stage 1 Titles available
Apr 2019 – Stage 2 Titles available
May 2019 – Start Stage 3 pre-sales
Apr 2020 – Stage 3 Titles available
If you would like more info, or if you would like digital copies of our planning documents, please contact [email protected]