Clusters 5A and 5B on sale soon
Interest in and awareness of the Ecovillage continues to grow and while lot sales have understandably slowed from their earlier peak, we have fewer than a dozen lots left in Stage 4. Groupie lots have proven to be popular, and we have been sold out of this lot type for a while.
We will release our last residential clusters 5A and 5B at the end of April, which will bring another 42 lots to the market:
Cluster 5A comprises five Groupie, nine Family and eight Cottage lots;
Cluster 5B has nine Cottage, three Family, three Groupies and five Residential / Short Stay lots.
CLUSTER 5A
Abutting the community avocado orchard on its southern edge, Cluster 5A features three mature Marri (2) and Jarrah (1) trees. Its central 8,000sqm strata-owned community garden will have all the usual goodness that we provide to residents, including:
A beautiful community meeting house with kitchenette, ablutions, storage and rainwater tanks
Covered orchard with an integrated chicken coop
Lawn, playground and a hand-crafted granite firepit
Vegetated stormwater swale system and pond
Reticulated landscaping and trees throughout
Interconnected concrete path network
The lot pricing in Cluster 5A will be similar to that of Cluster 4A and represents fantastic value for land of this size in Margaret River, especially when you add in all the communally owned features in each strata cluster and Ecovillage Commons, not to mention connection to state-of-the-art renewable energy infrastructure, deep sewerage and so many more benefits.
TREES! We should mention trees, as we're planting hundreds of them throughout the Ecovillage. We will start planting street trees in Stages 4-5 in May, which will transform the landscape that currently looks so dry and bare after summer and civil works. All of our street trees and community gardens are reticulated from our beautiful dams so they will be well watered during the drier months and mature quickly. With the first rains upon us now, everything will be green again in no time.
CLUSTER 5B
Cluster 5B lot pricing will reflect its premium positioning and is arguably home to some of the best lots in the entire Ecovillage. With their breathtaking water views over the 380m-long southern dam, and forest to the north and the organic vineyard to the south, these spectacular 20 lots are unlike any other. Five Residential / Short Stay lots are included in this strata due to electrical infrastructure requirements.
This cluster will include all the amenities of its neighbour, except instead of the large, covered orchard, which we felt might obscure sought-after water views, we will individually net certain fruit trees within the community garden.
We will set "Offers From" pricing on prime Cottage lots 1, 15 and Short Stay lot 20 on the eastern edge of the cluster, for which we invite Expressions of Interest from prospective buyers nominating their best price. The EOI closing date for these lots will be confirmed upon release, following which we will collate offers and make a decision.
We are already registering ripples of FOMO in anticipation of Stage 5 lots, however, sales contracts will not be ready to sign until approximately July and lot titles will not be issued until August-September, so buyers have plenty of time to digest all the Ecovillage documentation, apply for finance, talk to builders and plan their design.
As always, if you would like to be kept in the loop about all things Witchcliffe Ecovillage, particularly sales release updates, please make sure you've registered your interest and keep an eye on our website and socials.
Hooray for Stage 4 titles!
A collective sign of relief was issued along with the lot titles for Clusters 4A and 4B on 21 March. It had been a long time coming due to a grindingly slow clearance process by Western Power. However, we are now thrilled to finally put that behind us and look forward to 34 lots moving swiftly through to settlement for their new owners, at which point we will officially welcome these lovely new residents into our Ecovillage community.
Many of these people have used the time waiting for titles wisely and have made good progress formalising house designs, negotiating with builders and getting their plans ready to go. We can't wait to see on-site action out in Stage 4 sooner rather than later.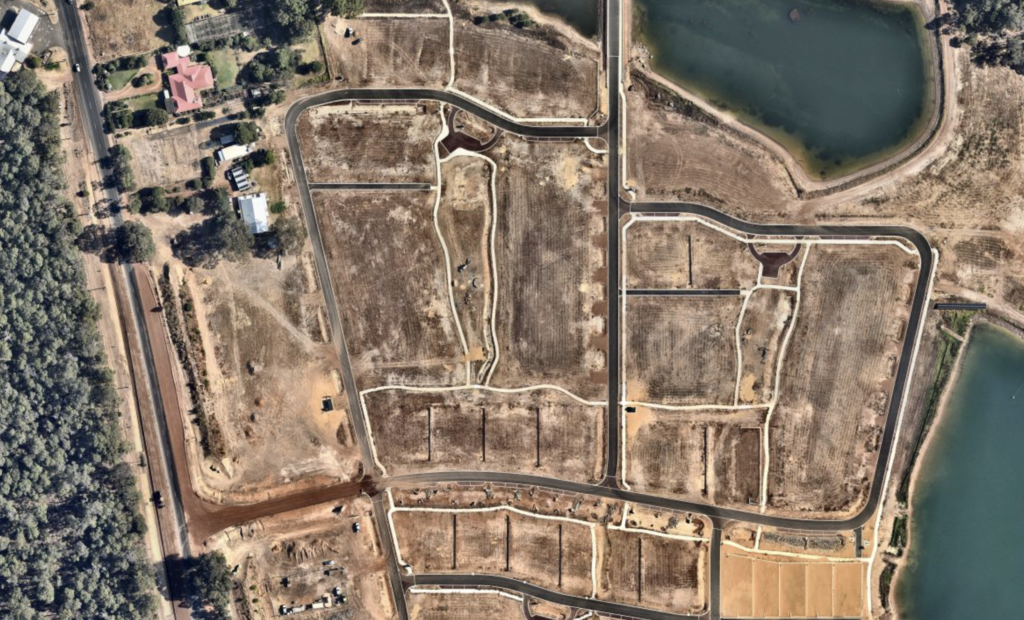 Stage 2 community garden handover to strata councils
Earlier this month, we formally handed over Cluster 2A and 2B community gardens to their respective Strata Councils. It's almost like watching your child head off on their first day of school: a proud, exciting, slightly trepidatious moment for which you've done a lot of work to prepare. These strata clusters are now running their own show, making decisions, problem solving, managing and maintaining their community gardens and its infrastructure.
As in Stage 1, the residents already living within Clusters 2A and 2B are deeply engaged with the community and are throwing themselves into their EUA gardens with vigor. It's a beautiful thing, watching these communities go through the natural process of "forming, storming, norming and performing", as our Creating Communities workshop facilitator, Dr Louise Duxbury says. Different clusters are at different stages and continue to evolve as more residents' homes are completed and they move into the Ecovillage.
Vineyard and Agricultural lots (3D)
From the beginning, our limited number of Agricultural lots in 3D were highly sought after and were reserved by Ecovillage residents before they even hit the market. While all are currently reserved, if you're desperate to get your hands on one, do let us know so we can put your name down should any not proceed to contract, as we are nearly ready to sign buyers up.
The 8.56ha vineyard has been organic since first planted by Cape Mentelle 25 years ago, and has been certified organic for several years now. It has ideal gravel loam soils with magnificent north facing aspect. It's made up of a combination of 25 year old cabernet sauvignon, and recent plantings of two Rhone Valley shiraz varieties, Malbec and Chardonnay (GinGin variety), all from select high quality vineyard stock. When Mike first bought the property in 2010, the founder of Cape Mentelle, David Hohnen told him: "I always knew it would become an extension of the town one day, but I have to tell you, for my style aspirations of an elegant cabernet, it's the best block I've ever seen. I searched for years for it!" The vineyard agricultural lot will be coming to the market in the second half of this year, so if you have interest in this lot, please let us know.
Visit the website for more information about and current sales of the Agricultural lots or call the sales office on 08 9757 6688.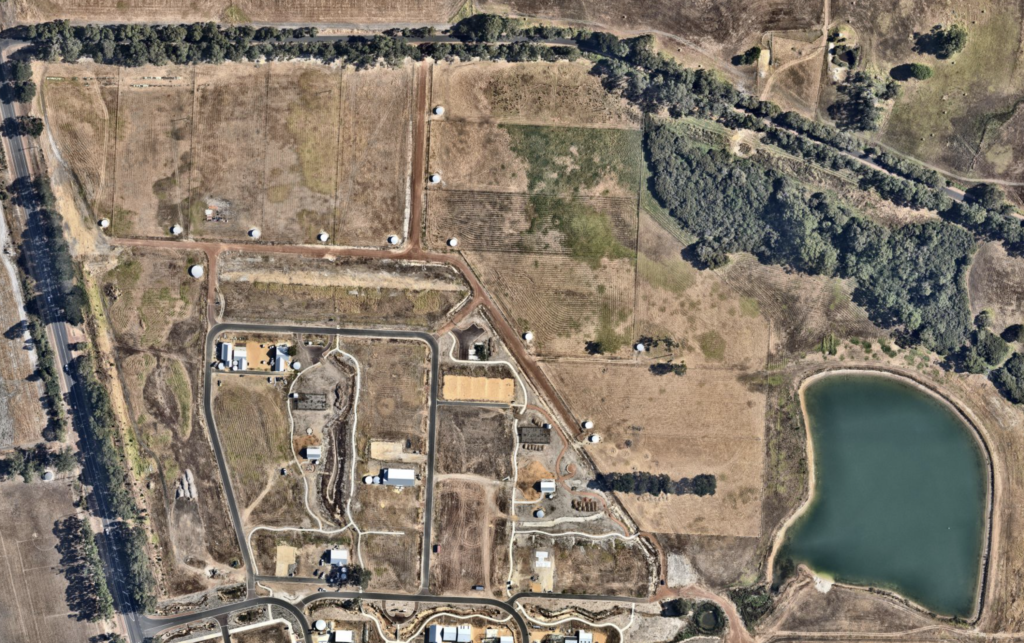 Live, invest, holiday: Short Stay Lots
Like your favourite pair of blue jeans, our Residential / Short Stay lots are suitable for any occasion. Call it home as your permanent address, make a savvy investment in a short- or long-term rental, or create your perfect holiday home for blissful Down South weekenders: our lots in bucolic 3C and waterside 4D lots can do it all.
There are five lots left in both 3C and 4D, respectively, but they offer a different outlook, size and vibe. If you're after cute and compact with views over the Agricultural lots, then our 360sqm lots in 3C are for you. If the idea of waking up to water views sounds romantic and you need room for a family or a party, then the 547-680sqm lots in 4D are perfect.
We haven't hit the marketing trail properly with these lots but we'll be advertising for investors in the Perth market soon.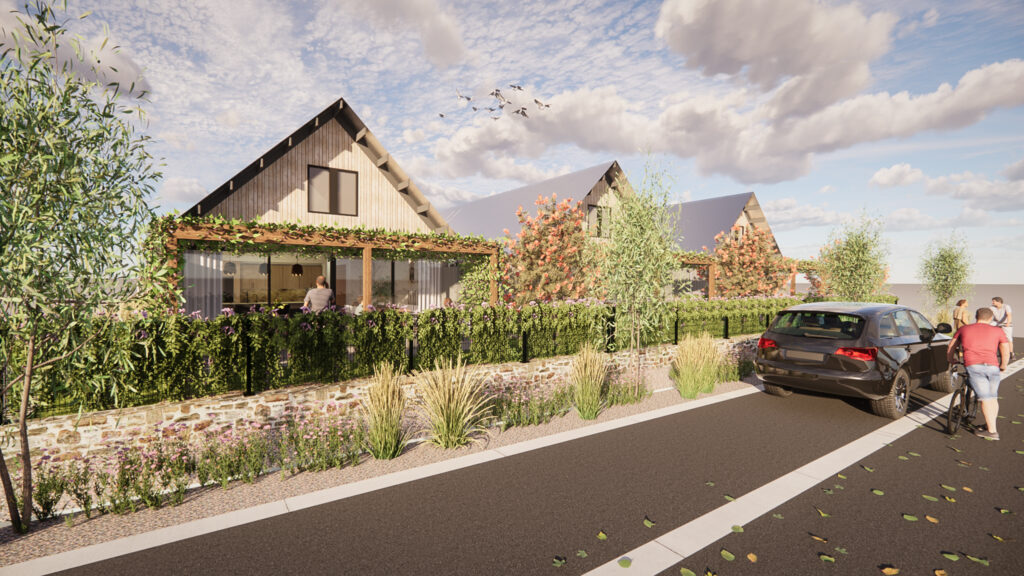 Sales tours every Friday afternoon
We welcome everyone interested in the Ecovillage to our relaxed, small group sales tours, which are held every Friday afternoon from 2:30pm. We meet at the beautiful new Ecovillage Community Centre and home of the WEV Sales Office for a chat about the project and an informal Q&A, before heading out to Stage 4-5 for a look at the lots for sale.
We strongly encourage you to watch the Ecovillage film before you come along to a sales tour so you start out with a bit of background on this unique and complex project. We can then cover more ground and answer all your specific questions with plenty of time. (I like to tailor my presentation to my audience's knowledge and can talk for as long or as little as we need.)
If you would like to attend a sales tour, please register at [email protected]
Don't forget, you are welcome to drive or walk your way around the whole Ecovillage now, including wandering through the thriving, privately owned community gardens in Clusters 1A, 1B, 1C, 2A and 2B. Remember though, we have a living breathing community here, so please respect our residents' homes and gardens, and stay on the (public easement) footpaths.
Advertising on realestate.com.au
From 1 March, you have been able to find all the Ecovillage lots for sale on www.realestate.com.au along with some subtle advertising for our beautiful, sustainable community. Of course, we'll always keep the LOT SALES menu of the Ecovillage website up to date too where you can find PLANS for each cluster and current lots for sale marked with a flashing green dot.