By Laurie Bycroft and Anu Grace, Ecovillage caretakers
It's all quiet here tonight. The land is busy soaking in the steady, sweet rain of the past two days. The garden is in summer lush with sunflowers grinning wide enough to make a blind man see and heady zinnias drooping off fat stems. And tomatoes like large ladies' bottoms (yes, they look big in this!)
How lucky we are to be allowed to live and work here temporarily as caretakers of the Ecovillage's productive gardens and menagerie. We are developing the language of our co-habitants: the chickens, the baby doll sheep, the fat, glossy guinea pigs that keep munching and getting pregnant, the duk duks, the black cockies that roost above our head and the kookas who really like the post above the orchard dam. Oh, the dam! Don't tell anyone but sometimes I go as soon as the sun peeps and my secret pleasure is to lap to one side and back, barely disturbing the black swans who think they own it. The morning sun glints. Precious water.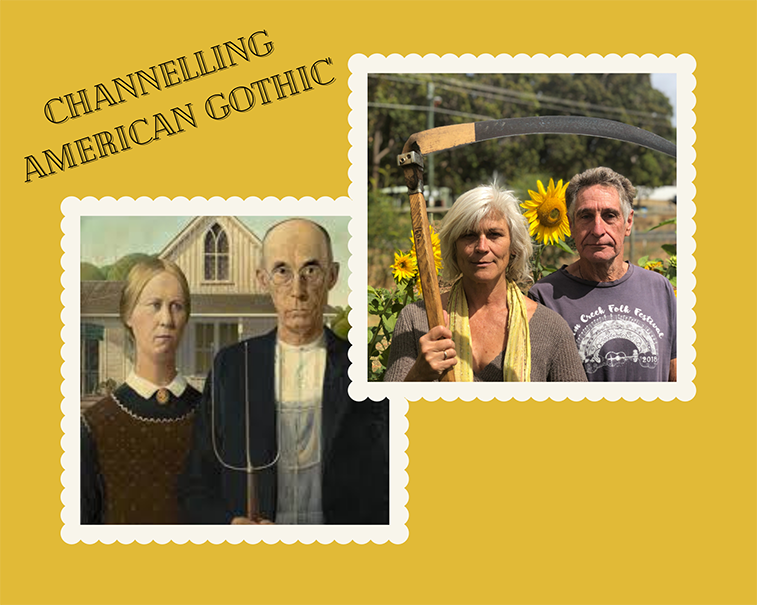 The Ecovillage site is a mass of crawling machinery involved in intricate and wiry trickery below and above ground. I don't need to know, I only watch it grow: sand pads, road outlines, a curving footpath here, wee bridges there, and the middle dam is being drained to allow construction of a bridge to nowhere. But nowhere is almost now here. We're so close to building, ticking the boxes of lengthy compliance processes and putting the final touches on building plans. This ain't any old village and I am enjoying trusting in a well-thought-out process beyond anything we could have conceived.
Six months we've been 'bewitchied' and our former life in Queensland seems like a faraway dream, not without a sense of grieving for the past and all we have loved and left. But I've already found my tribe here – amazing really – I've looked for these people for a long time! We felt this place, first, as a magnetic pull from across the Nullarbor. An excitement, a quickening. We'd sold our Townsville villa, bought a bus and committed to the road as touring musicians for a few years with an eye for a more sustainable home base. We had one gig in Alice Springs, headed the long straight road inland from Townsville to the Desert Song Festival to run a Ukestra – a community ukulele orchestra – our travel passport and meal ticket. From there, we were booked out with a month's work in WA – I had never thought of coming to WA. It wasn't on my radar at all. We knew nothing. So, Alice to WA it was. A definite calling.
We found Fair Harvest and the buzzing got stronger. We then found Witchcliffe online and met Michelle. We recognised immediately the integrity and groundedness of this project, the realness, the NEED.
And COVID was yet to strike! We headed back across the Nullarbor to complete our circumnavigation, wanting to explore all our options. We found ourselves dodging and weaving heatwaves, fires, smoke, floods. And then we were in Melbourne, mixing a new album as COVID began to dawn. We headed for Mum's place in Byron and just after the QLD border closed, we moved up to Townsville where a friend invited us to park up our bus in exchange for turning her garden into a food forest.
We knew our mobile life was over for a time and Witchcliffe seemed more attractive than ever. We said 'yes', coughed up the deposit and, bingo, here we are, at the beginning of creating sanctuary: water, food, community, tribe, work, music! It's the people, really. The people who are here and who are coming to live here, this is really the exciting part. We've all chosen a new kind of living, integrated with food, water, land, animals and us: a growing mandala of humanness.