If you follow the Ecovillage on Instagram or Facebook, you will have already seen two of the three hand-drawn conceptual illustrations we recently commissioned from talented architect, Niall Browne of @coveneybrowndesign.
Artist's impression of the future Village Square

The first concept is a street-level perspective of the Village Square looking from the piazza in front of the Food Hub towards the tavern with the backpackers' accommodation on the right. You can almost feel the laidback social vibe of the space with people strolling along the leafy pathways, browsing in the retail stores and studios that front the Square, and picnicking on the shady lawn or decked areas before an outdoor movie.
Ground level perspective of a community garden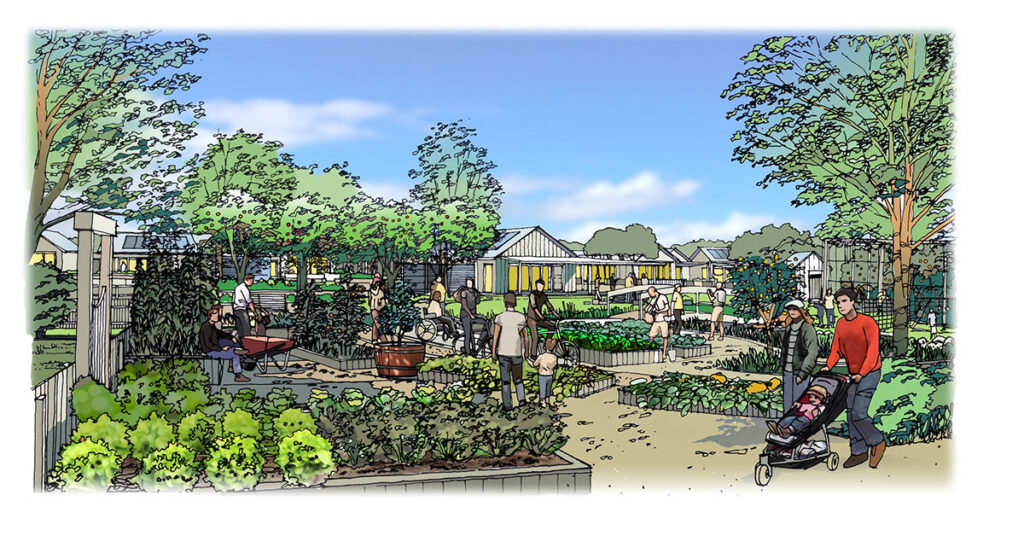 Bird's eye view of residential cluster 1A
The final illustration gives a bird's eye view of a fully established residential cluster showing well-built sustainable homes surrounding the central community garden, intersected by trails and fringed by mature, productive street trees. Solar panels and rainwater tanks feature heavily of course, and you can also see the rain garden pond, netted orchard and EV charging stations with electric cars in the drive-through utility area.