The act of keeping a garden is like taking part in another world. I get a lot of joy out of growing food organically. There's something about the connection and exhilaration felt when you experience the richness of life on offer.
It all requires regular tending but the reward is great. Aside from the exercise, fresh air, sunshine (and rain), there's the satisfaction that comes from pulling off a successful harvest, the unbeatable taste of home grown fruit and veg and the health benefits that come with eating clean, fresh, nutritious food. Gardeners are happier and live longer, it's a fact!
I've started a few gardens in my time. The demo garden at the Ecovillage is up there with the best of them. It was wonderful to have the time and space to put the happening stuff that's emerging in the fields of organic gardening, regenerative agriculture, permaculture, etc into practice. I threw all I could at that patch of kikuyu and silt to see just how fast we could turn it into a productive, living food garden and it was heartening to see how well it responded. I got to familiarise myself with the conditions, run lots of trials, keep animals, set up composting systems, build a local seed bank, run seasonal workshops, collect useful data and enjoy some great produce along the way.
I am proud to say that by intentionally nurturing and managing a diverse plant, microbe and animal community, the garden ecology was able to sustain high quality production with little more than small applications of our own compost. If anything, this garden demonstrated the capacity biology has to generate fertility out of the inherent soil, water, air and sunshine and do away with the need for costly inputs and their associated environmental implications.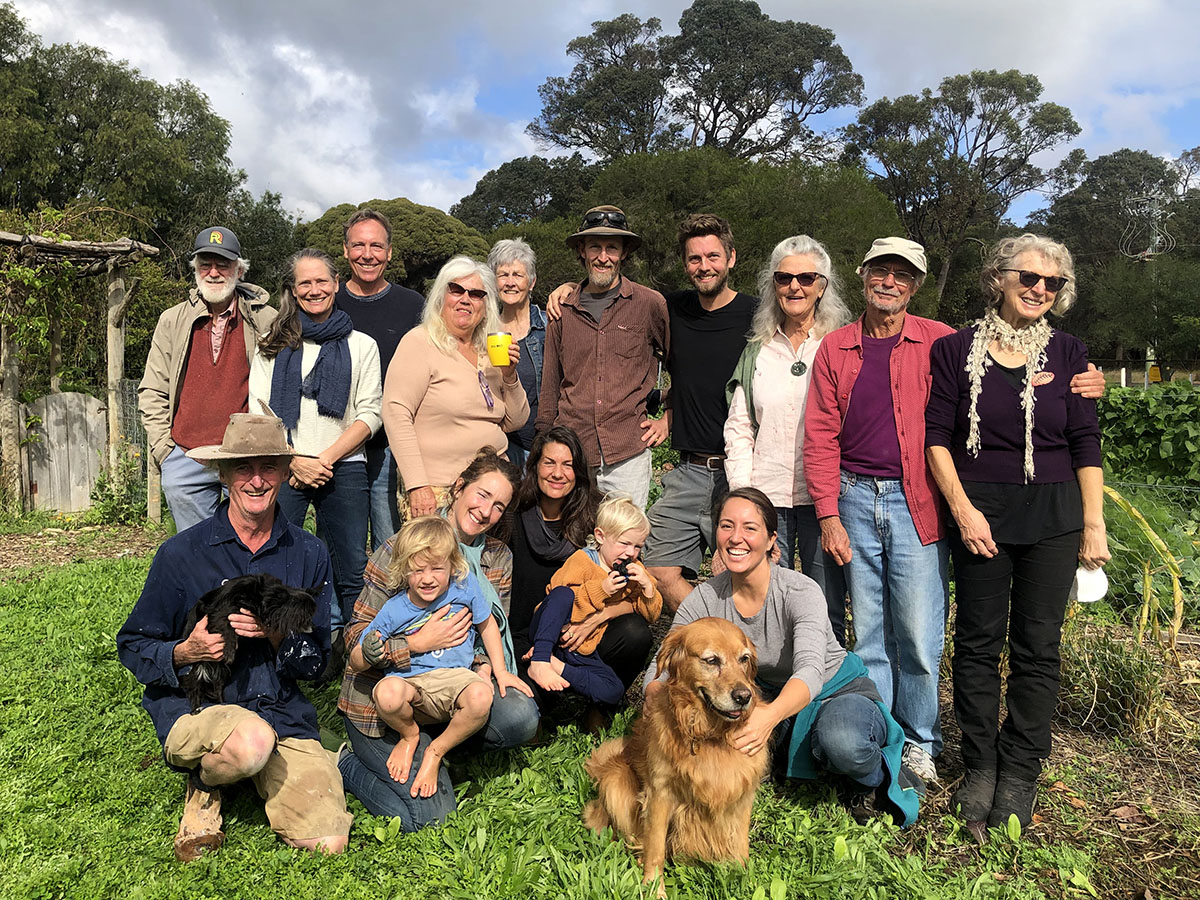 It was also a joy spending time in the garden with the first residents, getting to know it and each other and to start sharing in a gardening culture. Thank you to everyone who's been involved, your participation was much appreciated. I am really grateful for the opportunity I was given to do all this. Every garden is different, they teach you a lot and I got heaps out of this one.
A lesson I've learnt over the years is that it's better to get a new season crop underway instead of holding onto old crops for too long, even if you can get a bit more out of them. In a similar vein, with some sadness, some relief and much anticipation, the time has come to wind up our demo garden as we transfer our focus towards the household gardens that are going to be such a big part of Ecovillage life. It has been an awesome launch pad for what's to come.
Autumn is the best season to get a garden going and it feels great to be out with residents in their patches, seeing the enthusiasm and effort everyone is putting in. There are going to be some amazing gardens around the Ecovillage. We are meeting as a group every Friday morning and doing the rounds. All are welcome to come along. It's exciting to have a growing bunch of folks getting into it, knowing that many more are going to join in and that as a community, we'll get to experience the good garden life together.