Landscape Update – June 2020
We have had a very busy six months finalising the landscape drawings for construction of Stage 1, which includes community garden residential clusters 1A, 1B and 1C, streetscaping and entry statements along the main road (Road 1) into the Ecovillage, the Piazza and adjoining Village Square.
Margaret River local and architect, Jordan Pol, joined the team in February to assist with finalising the construction drawings. Jordan's background in landscape architecture and expertise in construction detailing is a great asset to the design team.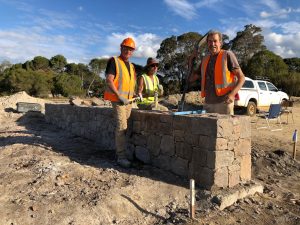 Developing up the designs for the Ecovillage Piazza has been the focus of late and one that has got everyone's creative juices flowing. The Piazza is a beautiful, tree-filled public square that connects the proposed Food Hub site to the Village Square. While the Piazza will allow vehicle access, it has been designed with pedestrians as its primary focus. The conceptual image shows the view entering the Piazza from Road 1.
Local stonemasons, Ken and Kashmir Rouw of Stone Age Construction, started work in mid-May on the feature walls along Road 1 and the Piazza. The walls are being constructed from local granite that has been stockpiled awaiting their creative touch. Renowned for their beautiful artworks throughout the region, we are excited to have Ken and Kashmir on board and look forward to seeing their stonework feature throughout the Ecovillage.
We have engaged Tranen, a revegetation and rehabilitation specialist in the South West, to begin planting out the stormwater / drainage basins and swales that run through the community gardens in mid-June. The endemic plants selected for these will cleanse and filter the water before it reaches the dams while providing habitat and creating a visual feature in the community gardens.
It is very exciting to see the spaces taking shape.