Project Developers
The Witchcliffe Ecovillage developers have been in partnership for 20 years. Stan Perron backed Mike Hulme with his first large project and after which he offered Mike a 50:50 partnership on future projects. Mike Hulme brings a complete focus on sustainable residential development, whilst Mr Perron and his loyal team at the Perron Group bring a wealth of experience and knowledge in all property related matters. The partnership is able to fund their projects without external bank involvement, which is a big part of how they are able to be as pioneering as they are.
Sustainable Settlements Pty Ltd
Sustainable Settlements Pty Ltd is a company owned by the Sheridan-Hulme Family Trust and directed by Mike Hulme. The sole purpose of this company is to design and develop sustainable human settlements. The Witchcliffe Ecovillage is the first model of just how sustainable our regional human settlements can be. Due to the complexity and huge amount of thought and effort required to plan and construct such a project, the company is only interested in focusing on one project at a time. Sustainable Settlements Pty Ltd is also the project manager of the planning, construction and marketing of the Witchcliffe Ecovillage.

L-R: Ross Robertson (CEO), Stan Perron (former Chairman), Ian Armstrong (Executive Director)
The Perron Group is a substantial, diversified private investment group with an extensive portfolio of commercial properties, land development activities, an automotive distribution business, interests in mining and other investment activities. The Perron Group has a strong commitment to sustainable practices with early adoption of green energy use, water harvesting, and recycling activities through its network of shopping centres and office buildings.
The development of new headquarter facilities for its automotive business, the State distributorship for Toyota automotive products, provided the opportunity to combine many sustainable features with an exciting architectural presentation. The Toyota WA building at Miles Road, Kewdale is designed to Five Star Green Star rating and incorporates black water recycling of waste water, 30 kilowatt capacity of electricity generation with a combined use of roof mounted photovoltaics and external wind turbines, passive solar design features and extensive use of recycled Wandoo timber used as feature flooring and wall cladding. A large graphic display in the lobby shows real time power generation plus energy and water usage to enable the occupants to adjust their behaviour to optimise efficiency. The building has received several awards for its architectural merit, sustainable features and efficient operation.
The Perron Group is proud to be a partner in the Witchcliffe Ecovillage.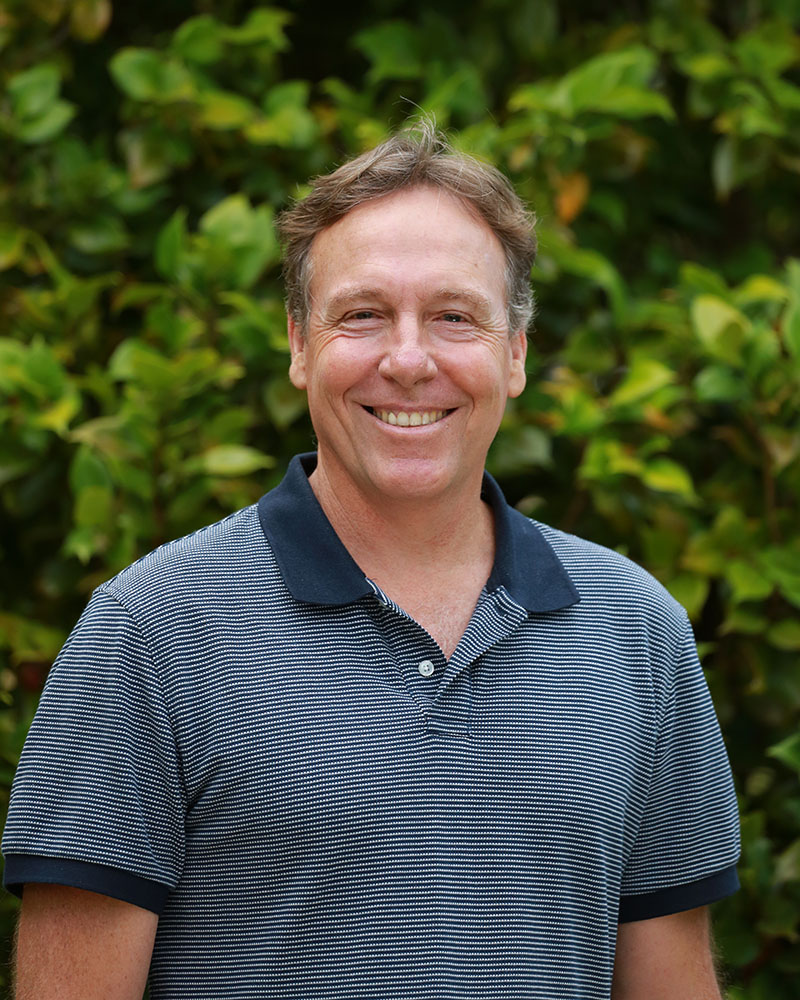 Mike Hulme - Director
Mike has been passionate about town planning and our natural environment since he was a teenager, spending most of his spare time in his adolescence riding his bike around the western suburbs of Perth, from Claremont to South Fremantle, exploring streets, landscapes and architecture, and the natural environment associated with the Swan River and coast in this region.
Mike was introduced to Permaculture in 1992 and soon after doing the Permaculture Design Course purchased a share in the Fremantle Permaculture Centre, where they sold productive plants and all of the resources available at that time to help people become more self sufficient and sustainable in suburbia, along with regular courses on Permaculture and organic gardening. He then travelled to Northern NSW in 1993 for a course on Sustainable Human Settlement Design and Development, with Robyn Frances and Peter Cuming. He had been looking for a way of marrying his passion for human settlements and the environment, and this course laid the foundation for the next 20 years of focus on designing and developing sustainable human settlements.
Mike put his first large residential development together in 1998 and was fortunate to gain support of the highly respected Perth businessman Stan Perron. Together with the Perron Group, he has initiated several large projects including the South Beach Village, which Mike was very disappointed not to be able to complete, followed by the highly successful Old Broome Estate, for which they won the 2005 Urban Development Institute of Australia Judge's Award.
Mike was appointed to the board of the West Australian Planning Commission in 2006, for three years, by the then Minister for Planning and Infrastructure, Alannah MacTiernan, to influence sustainable development policy at a State level. He has also been a member of the Broome Regional Planning Committee, SW Regional Planning Committee and WAPC's Sustainability Committee.
Mike and his partner Michelle, and their two daughters, moved to Margaret River in 2008 to fulfil their dream of raising their children in the country, in a beautiful environment with a high level of self sufficiency in energy, water and fresh food produce.
Mike had previously identified Witchcliffe as a good location to build a sustainable village back in 1995, and when Cape Mentelle decided to sell their organic vineyard abutting the township Mike and his partner, Mr Perron, purchased the farm in 2010. After gaining Council and WAPC support to include Mike's vision for a highly sustainable ecovillage, in Augusta Margaret River's Local Planning Strategy in 2014, they bought the adjoining farms, to enable them to build his most ambitious project to date, the Witchcliffe Ecovillage, a project that is set to become a fully integrated village and national model of just how sustainable our regional human settlements can be.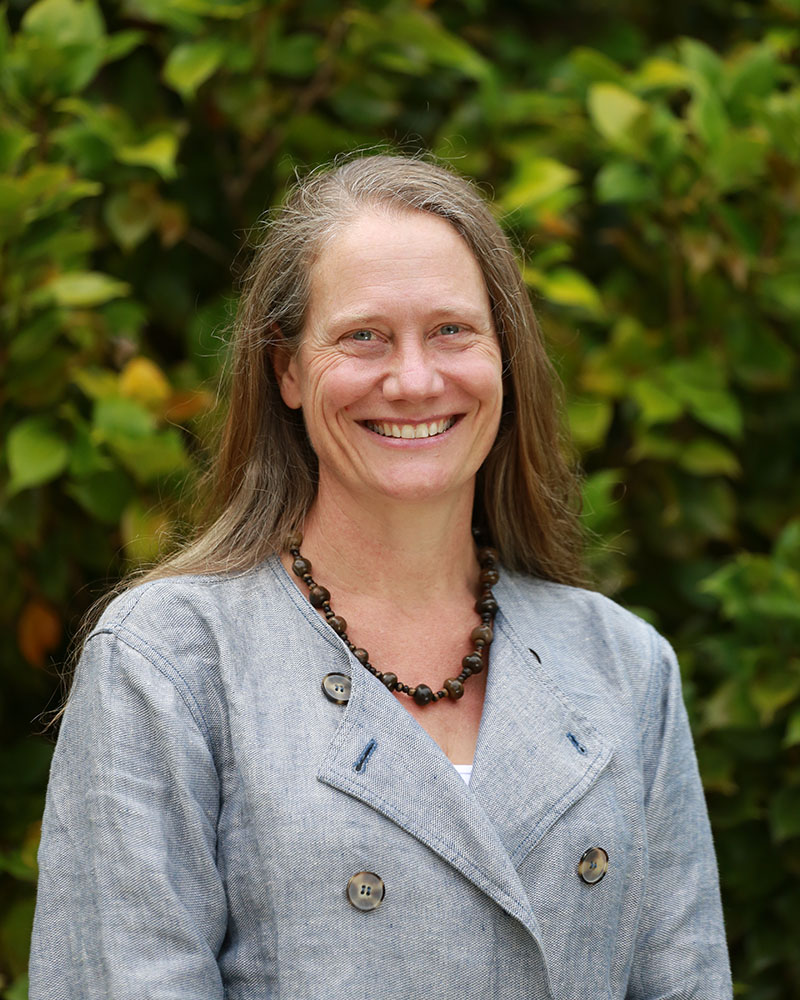 Michelle Sheridan - Community Liaison Manager
Michelle grew up in a tiny drought stricken town in the WA wheat belt, and fell in love with the tall trees and green vistas of the Margaret River region on her first visit here as a teenager. As a child, she tended a small garden of her own, and was surrounded by her family's menagerie of pets, farm animals, and rescued wildlife, instilling a lifelong passion for raising animals, gardening, and conservation.
Michelle met her partner Mike Hulme when she attended a Permaculture Design Course at his North Fremantle Permaculture Centre, and together they have lived a life devoted to the dream of creating sustainable human settlements—along the way raising 3 beautiful children. Living between Fremantle and Cottesloe, they have always lived as sustainably as they could in an urban environment, growing food in backyards, raising chickens and retrofitting their houses to use less power and water. They made their tree change move to Margaret River in 2007 with their 2 youngest children in an attempt to live a simpler, more sustainable life. While settling into country life, Michelle volunteered as a wildlife carer, raising orphan and injured possums for 5 years, spent 2 years on the board of the Margaret River Montessori Primary School, and 4 years as the school's voluntary librarian.
With a degree in Communication and Cultural Studies, and a passionate interest in sustainable living, social justice, organic gardening and animal husbandry, Michelle contributes her research and writing skills to the Witchcliffe Ecovillage team.
In her spare time, Michelle tends an organic kitchen garden and milks a small flock of Anglo Nubian goats.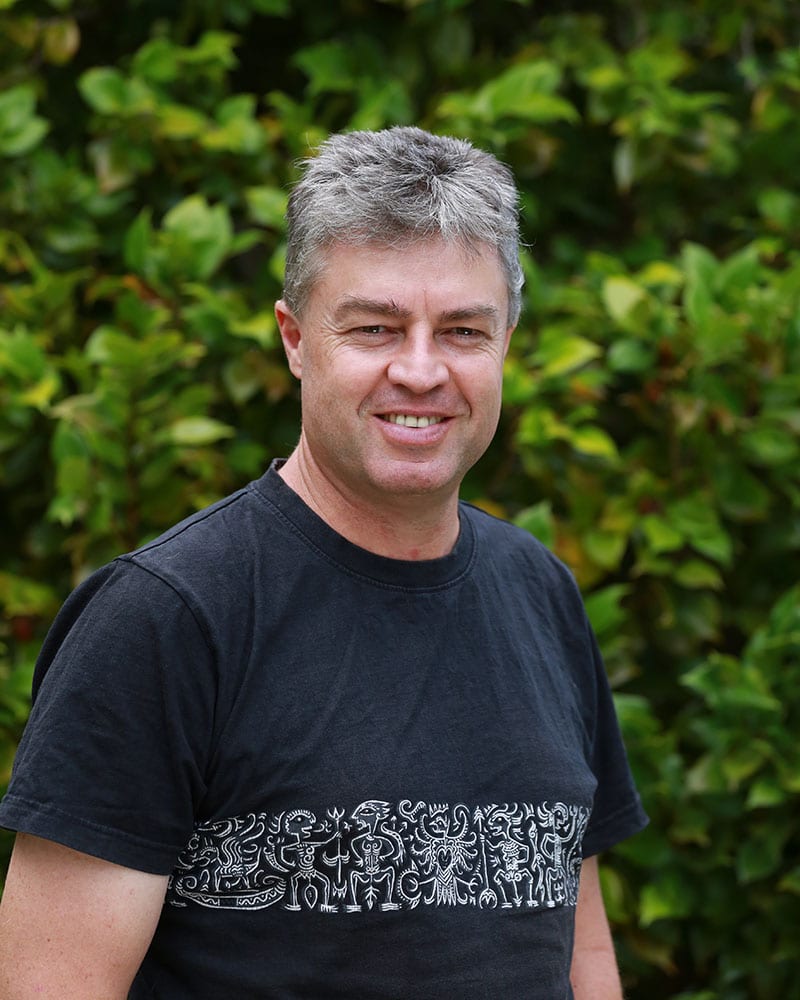 Wayne Prangnell - Project Engineer
Wayne's role as Project Engineer at Sustainable Settlements involves planning, design and project delivery of the Witchcliffe Ecovillage including water, movement and landscape elements.
He has experience delivering major projects within the region, including Augusta Boat Harbour, Surfers Point Precinct redevelopment, Margaret River Town Centre redevelopment and the Augusta Margaret River Shire Administration offices in Margaret River.
He was previously the Director of Infrastructure at the Shire of Augusta – Margaret River where he led the transport, water, environment and parks programs.  He initiated the introduction of Water Sensitive Urban design at the Shire of Augusta Margaret River and delivered projects including the Margaret River Rain Garden, Margaret River Water Recycling and planning for decentralised water recycling at Gracetown and Witchcliffe.
In 2010 Wayne was awarded the Water Professional of the Year at the Western Australia State Water Awards recognising achievements in water recycling, urban water management and promotion of water sensitive urban design.
He has over 20 years professional engineering experience in planning, design, project management and asset management of civil infrastructure and has worked in Local Government in Western Australia, New South Wales and Queensland.
He has a personal interest in sustainable energy technologies and has built several electric cars and competed in the Western Australian EV Challenge. His interests and accomplishments also include expanding his edible garden, oak forest and bamboo grove, building a house and making the largest siege engine in Australia.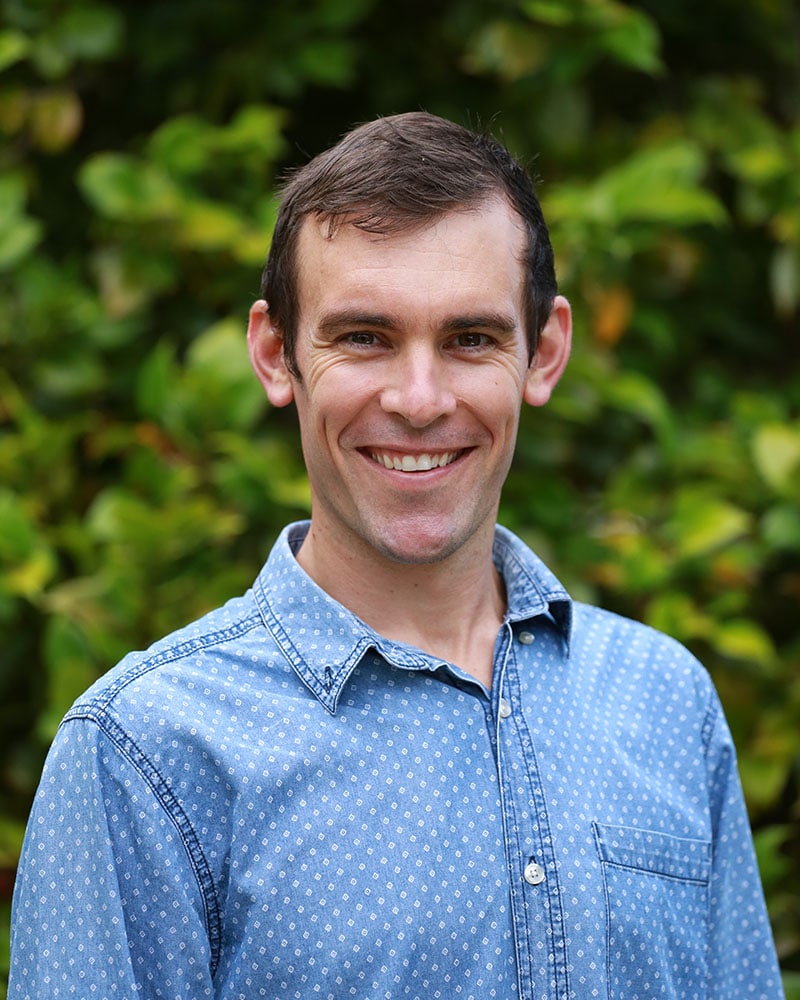 James Stephenson - Landscape Architect
James and his wife Amanda decided to make the move to Margaret River as a lifestyle decision in 2012. James had visited family in the area in 2010 and the region had left a lasting impression. Shortly after arrival James joined a local landscape architecture and environmental sciences consulting firm. During the preceding 5 years he gained valuable knowledge of the regions architecture, materiality, culture, history and native plant species.
Prior to living in Margaret River James completed his studies of Landscape Architecture in 2007 at Victoria University of Wellington, New Zealand.  James has been involved in projects located in several regions of New Zealand before transitioning to Queensland and now Western Australia. He has taken the time to travel North America, India, several pacific islands, parts of Indonesia, and South East Asia gaining valuable insight to culture and landscape architecture. James became a registered Landscape Architect with the Australian Institute of Landscape Architects in 2016.
James shares the passion of moving towards a higher level of sustainability in our day-to-day lives and is passionate about exploring these sustainability methods throughout the Eco Village project. It is hoped this is reflected in their home and landscape that James and Amanda have designed and is now under construction.
When outside of work James enjoys exploring our region by walking, hiking, cycling and mountain biking.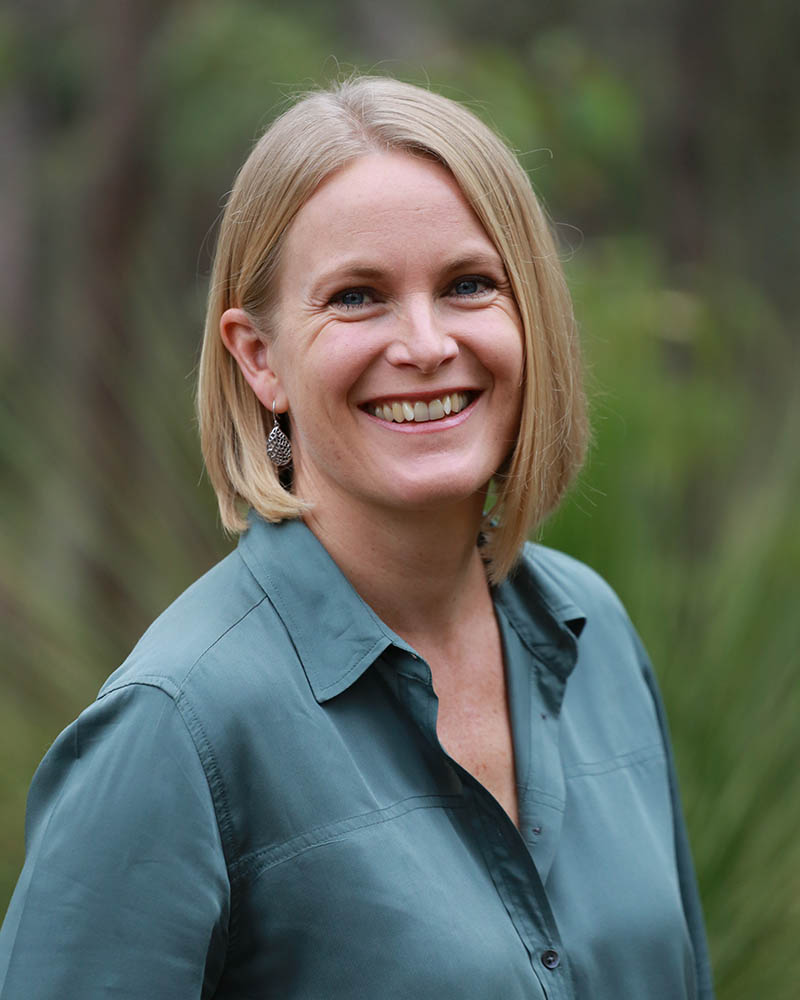 Jo Thierfelder - Communications and Marketing Manager
Jo likes to think of herself as having green blood given the significant roles horticulture, viticulture, farming and permaculture have played in her family history. Seeds were sown early during a childhood spent surrounded by plants in her father's successful family business, Waldeck Nurseries. They then flourished when she discovered permaculture in her early 30s. This epiphany led her to complete a PDC and Certificate III in Permaculture followed by plenty of homegrown practice. Growing food, cooking, eating, sharing and living sustainably are Jo's passions and all-consuming past-times.
Professionally speaking, Jo has a Bachelor degree in Journalism and Public Relations. She has spent her career working in communications, developing an expertise in the property, environmental and sustainability sectors. She held senior management roles in leading Australian project management, construction, and planning and urban design firms before deciding to strike out on her own in 2009. For nearly a decade, she ran her own communications consultancy working in communications, marketing, PR, stakeholder engagement and project management for clients ranging from corporate giants to small business and everything in between. This experience has enabled Jo to turn her hand to any task at hand and fuelled her enthusiasm for challenging and diverse roles. 
Jo's other important role is being a mum to two clever young boys and wife to Jeff (Project Manager, Architecture and Planning); her partner in dreams, schemes and adventures. Seven years spent living in the Perth Hills solidified their love of the outdoors, semi-rural lifestyle, which led them to jump at the golden opportunity to join the Witchcliffe Ecovillage team and live in Margaret River.
With a combination of solid technical skills, significant property and business experience, and a love of all things green and sustainable, Jo is thrilled to be leading the marketing and communications efforts on the Witchcliffe Ecovillage.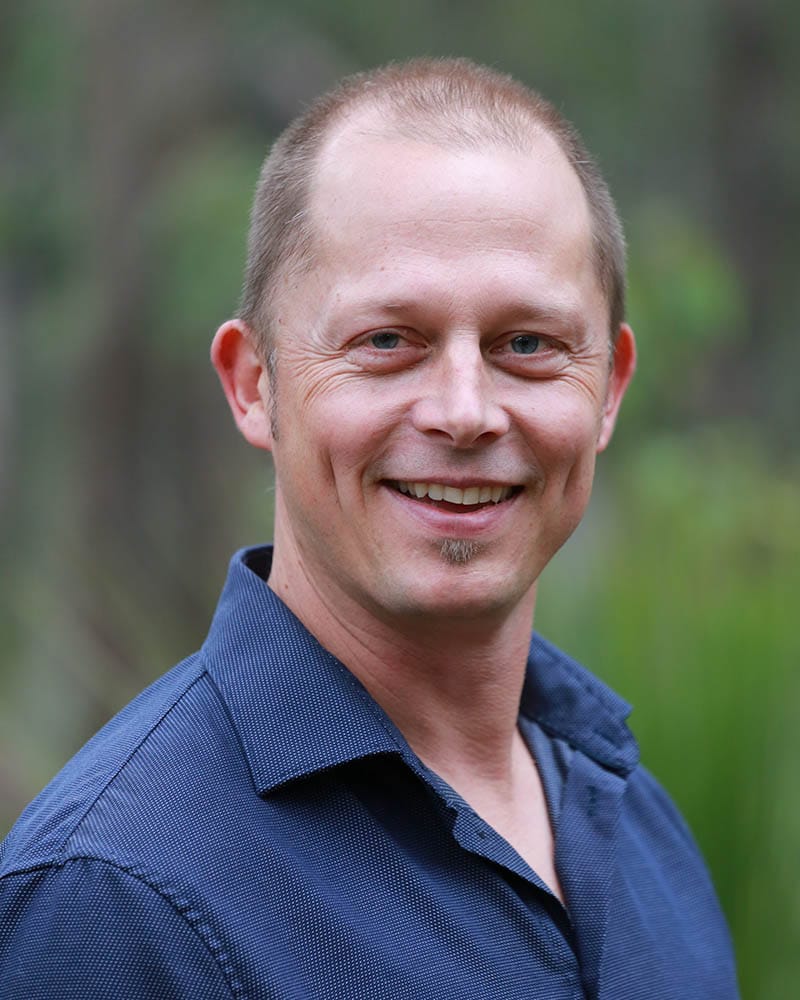 Jeff Thierfelder - Project Manager, Architecture and Planning
With two decades of experience in architecture and town planning, Jeff's technical skill set and passion for sustainable development fit perfectly with the Witchcliffe team.  Hailing originally from Oregon, he is thrilled to be living in the beautiful SW region and working on the Witchcliffe Ecovillage, a project he considers to be the pinnacle of his design aspirations.
Jeff spent nearly a decade at university, gaining a broad background in design, policy and social sciences.  This has allowed him to understand project objectives and test potential solutions from a variety of perspectives.  Jeff earned a Master of Architecture from the University of Oregon, one of the top sustainable design programs in the US, and a Master of Urban and Regional Planning from Portland State University.  He also has a graduate certificate in real estate development, a permaculture design certificate, and undergraduate degrees in economics and international studies.
In an effort to address the 'epidemic of loneliness' that seems to be the scourge of modern society, Jeff has long promoted projects that encourage social interaction between people (a specific objective of ecovillages).  At Portland State University, Jeff's thesis paper titled 'Shared Resource Housing' explored the opportunities for adaptive reuse of older apartment projects based on the communal principles of co-housing.  More recently, Jeff worked on two collaborative living projects in the Perth Hills (Somerville Ecovillage and the Chidlow Eco-Retirement Village).
Through professional development and project opportunities, Jeff has been fortunate to learn from a range of leading design thinkers.  These notables include David Holmgren (co-founder of permaculture), Stephanos Polyzoides (architect and urbanist), Peter Katz (author of The New Urbanism), and Dan Parolek (architect who coined term 'missing middle').  This exposure to global thought-leaders has given him a strong conceptual framework that helps drive decision-making in the design and delivery of successful, sustainable places.
Jeff has successfully run his own consultancy on two occasions, and has held senior positions with leading town planning, architecture, and development companies.  His passive solar residential designs have garnered a number of HIA Greensmart awards, including Custom Built Home of the Year (National, 2012).  Jeff was also lead urban designer for the WGV Estate in Whitegum Valley, a cutting edge infill project that won the Australian Urban Design Award (National, 2016).
Beyond work, Jeff enjoys a semi-rural lifestyle with his wife Jo (WEV Marketing Communications Manager), two boys Henry and Hugo, lazy labrador Zen, and 11 chickens.  A recent transplant to the Margaret River area, Jeff is looking forward to taking advantage of the region's excellent recreational and food / drink opportunities.  Don't be surprised if you bump into him at a local long-table lunch or on the river in a kayak!
Mark Tupman - Horticulturalist
Mark Tupman is the latest addition to the Sustainable Settlements team. He will manage the expansion of demonstration gardens and the development of the horticulture program for the Ecovillage.
Since completing his initial horticulture qualifications 25 years ago, Mark has been involved in a variety of projects throughout WA in the fields of organic gardening / farming, sustainability, permaculture, agroforestry, biodynamics and holistic management.
His primary work has been as a VET horticulture lecturer where he set up and coordinated the horticulture program at Denmark SRTAFE campus, establishing a certified organic market garden for training purposes.
Over the last few years Mark has been focusing more on his specialty – living production systems – consulting and running workshops under his business name, ProductivEcology.
He is on a mission to bring as much life to as many square inches of this earth as possible, working with living organisms to provide for a growing population at net benefit to the environment.
Mark is very excited about being part of the Witchcliffe Ecovillage team and the opportunity it offers to apply his experience in an area about which he is most passionate.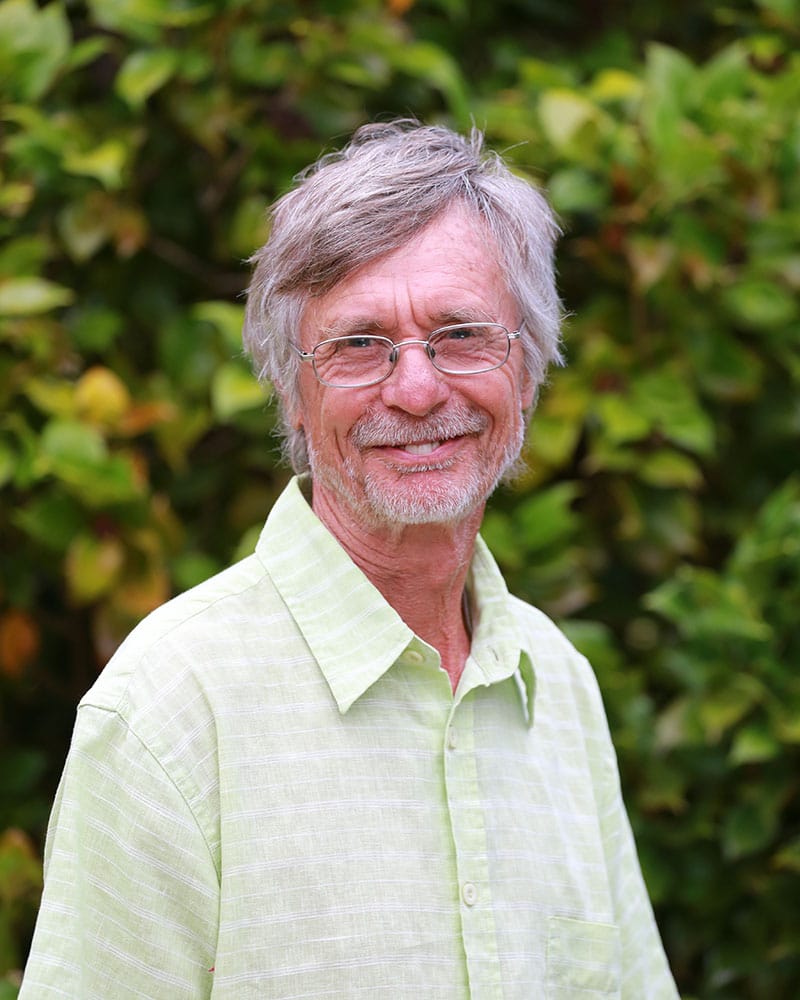 PB Foreman - Permaculture Design Adviser
PB trained and qualified in Horticulture at Adelaide Botanic Gardens in 1977 and has been actively involved with horticulture ever since. He has owned and run several businesses including landscaping and garden maintenance as well as commercial pruning and chipping, and has set up a permaculture nursery and consultation service.
He has always enthusiastically worked using organic methods of horticulture and embraced Permaculture in 1988 when he undertook a consultant design course. For the next 10 years he ran many Permaculture Design Courses in and around the Fremantle area including Murdoch Uni, Bentley TAFE, Apace and North Fremantle Permaculture Centre. Since moving to Margaret River in 1997 he has extended his interests widely to include Biodynamic agriculture and practises.
For 16 years, he worked at Cape Mentelle Vineyard taking care of the grounds and biological waste water treatment, which he instigated and set up. In 2015, he and his partner Swabodhi designed and completed their owner builder straw bale home, which gained a 8.5 NATERS energy rating. They are now well on the way to food self-sufficiency. In late 2015, he joined the team at Witchcliffe Ecovillage as Permaculture Design Adviser.
In 2018, PB was made a Permaculture Elder in recognition of his years of dedication and passion of permaculture.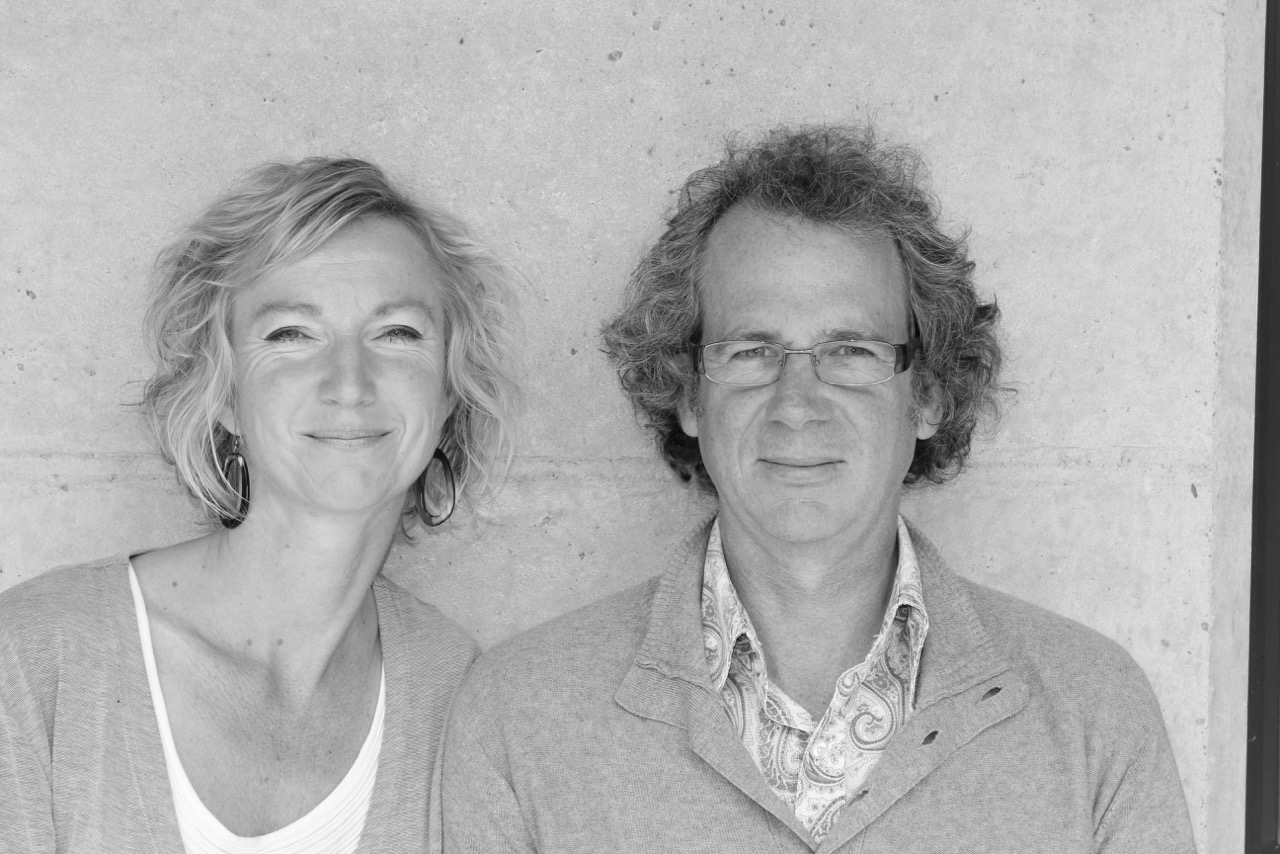 Michael and Britta Sorensen - Architectural Advisers
Michael and Britta have lived and worked in the Margaret River region for the last 21 years. Prior to that they worked together in architecture and design in Northern Europe. Here in Margaret River they have designed commercial and residential buildings from Perth to Walpole with an emphasis on innovation and sustainability.
Michael has been an independent self-employed architect for many decades, Britta is an artist, designer, horticulturalist and landscape designer. Michael and Britta have worked together in architecture and design since they married in Germany in 1991.
While living in the Margaret River region they have also designed, built and operated their own tourism business, established large productive gardens and had a local market stall with fresh produce, pickles and preserves.
Everything they do is part of a greater integrated aim to live sustainably, for example, they use their own designed and built home and garden as an educational showcase and regularly open it to the public. They grow most of their own food all year round and aim to foster neighbourhood and community relationships through sharing, swapping and enjoying good times together. Britta's other passion is contemporary artwork. She works mainly with textiles, focusing on recycled materials.
For their current home, Michael received an Australian Institute of Architects (WA chapter) award for Sustainable Architecture.
Acknowledgements
We would like to thank the following people and companies for their assistance and input over the past six years:
The late Director of Planning at the Shire of Augusta Margaret River, Geoff Broad. Geoff was so supportive of our proposal to build an ecovillage in Witchcliffe, right from the outset. He was a wonderful man and a great town planner who was also responsible for the excellent Hamlet Design Guidelines that he worked tirelessly to complete and have endorsed by Council, in an effort to ensure that the future growth of Margaret River wasn't more mundane urban sprawl.
Luke Petersen who was our project engineer for the first few years, for his consistent assistance and advice over the whole six years.
Brett Leighton, Leighton Drafting, for his patience and excellent drafting of countless numbers of plans to get to where we are today.
Nic Bowen-Sant, Bowen-Sant Design, for creating our wonderful logo.
TME – in particular Kim Muste, Steve Brake and Wayne Edgeloe for their assistance with our early feasibility and planning strategies.
Malcolm and Munira Mackay, Mackay Urban Design, for their invaluable design advice with the overall village layout.
Josh Byrne, Josh Byrne and Associates, for his assistance during the community presentations and overall commitment and passion for the project.
Tom Dowling, Tom Dowling Architecture, for his input into our design guidelines, which is still a work in progress, and his passion for the project.
Garry Baverstock, Ecotect Architects, for his huge support, both personally and professionally, for all projects that Mike has undertaken.
Dr Martin Anda for his advice on the various waste water treatment options that we have explored and consistent enthusiasm for the project.
Adrian Fini for his generous advice and encouragement.
Greg Rowe, Rowe Group, for his excellent statutory planning advice, particularly with regards to the proposed new Community Title Strata Scheme.
Ron Accott, Strata Title Consultancy Service, for his wealth of knowledge on all matters relating to strata by-laws and management.
Pamela Forward for the use of photos of the beautiful home she designed and built in Ashton St, Margaret River. A home that truly captures the essence of Margaret River.
Peter and Jenny Griffyn, from Cloudpress, for their invaluable assistance and advice during the creation of our website.