Coronavirus has hijacked the news cycle and social discourse so completely in the last four months that it's difficult to find anything to read that is not, in some way, influenced by the pandemic gripping our world. Indeed, the unfolding impact of COVID-19 is the catalyst for this article too.
However, we at the Witchcliffe Ecovillage have been following with interest the sustainability discussions germinating in the mainstream media around resilience, localised and DIY food systems, community-building, housing affordability, energy and water self-sufficiency, carbon footprint, work life balance, economic security … and so on.
Many of the daily routines we relied on, the entrenched domestic and work systems that form the backbone our society and our consumer-led lifestyle, vanished in a few strokes of the Prime Minister's pen. Life, suddenly, was not as we knew it. And the uncertainty and fragility of it was frightening. We saw that fear writ large on empty supermarket shelves when panic buying and hoarding swept through our community partly as a consequence of our heavy reliance on the industrial food system and its 'just in time' distribution model.
This is but one example of a problem we expect largely won't exist for many residents of the Witchcliffe Ecovillage. But it's not for one reason alone. We have designed and developed many overlapping and complementary systems to support rich, diverse, resilient, fulfilling lives in a community that we aim to make as accessible to as many people as possible.
As the world grapples with the fallout of COVID-19 and calls strengthen for a rethink of many of the laws and systems that support our fast-paced, modern way of life, we at the Witchcliffe Ecovillage think we have developed a holistic model of community living that supports a sustainable future.
Our objective has always been simply to be as sustainable as possible. This single-minded mantra belies an uncompromising determination to go further than any eco-development has ever gone: to research widely, dig deeper, expect more, and in so doing, achieve something truly special and unique.
We hope the Ecovillage will provide a sustainability roadmap for other residential developers to follow so that living in harmony with nature and each other in supportive, productive communities will become our new normal. Because, clearly, it's what the world needs right now.
So, you may ask: how does the Ecovillage address some of the problems highlighted by the Coronavirus pandemic?
Sustainability and resilience
The twin issues of sustainability and resilience sit at the core of our ability to protect ourselves from system shocks and create a lasting and healthy future. Our triple bottom line approach to decision-making is borne out in an almost forensic level of detail in every area of the Ecovillage development.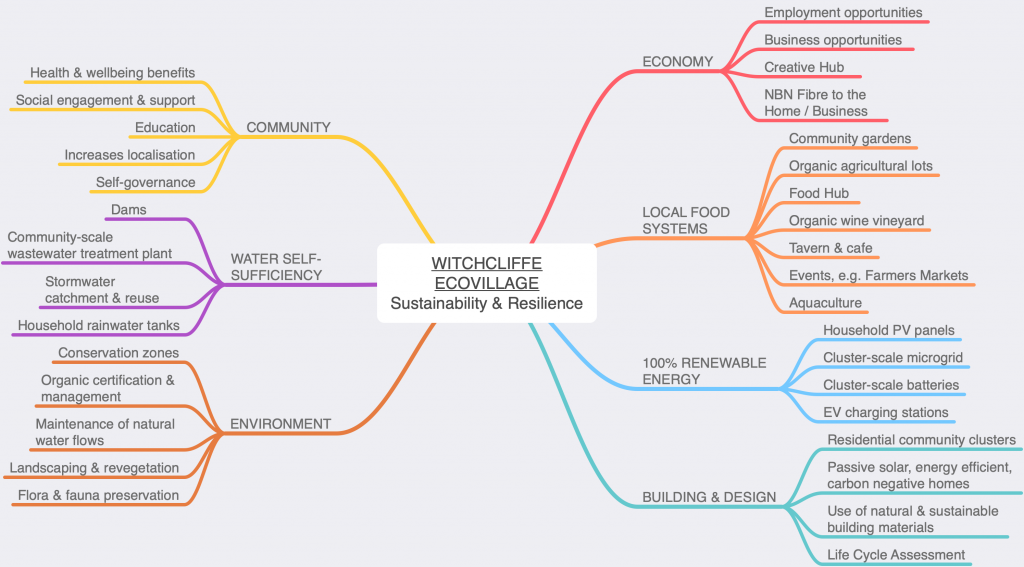 Local food systems are so important
Thankfully we have moved on from the bewildering toilet paper pandemonium that briefly gripped Australia. It's the subject of parody now in the safety of hindsight. But it had a momentous symbolic impact on our mental and emotional wellbeing. And despite not actually being food, the toilet paper chaos stimulated a myriad of questions about food security, globalisation and the fragility of our distribution systems. An almighty wake-up call, if you will.
We contend that the solutions to many of these seemingly intractable issues are neither national nor global in nature but can be best addressed at a local level: in a healthy, productive, supportive community like the Witchcliffe Ecovillage.
The Ecovillage's answer to limp, cold-stored, Mexican asparagus lying on a picked-over supermarket produce shelf is hyper-local, organic food production, processing, distribution and consumption including:
Community gardens – extensive, organically managed Exclusive Use Garden Areas (EUAs) that provide ample space for residents to garden productively, provide food for themselves and share surplus.
Agricultural lots – micro-farming opportunities for small-scale, high value, certified organic, commercial mixed crops.
Wine grape vineyard – an opportunity to run an established certified organic vineyard producing premium Ecovillage wine and sell through a local cellar door.
Food Hub – a diverse commercial complex offering processing, value-adding and distribution facilities, such as an organic packing shed and commercial kitchen, as well as food and health-focused retail stores.
Hospitality venues – neighbourhood pub with organic micro-brewery and café serving local organic food and wine.
Events – Farmers markets and community food events
These features go a long way towards creating food security and resilience against system shocks such as we've just experienced with COVID-19. They also improve physical and mental health, create deeper community connections and provide social and economic opportunities for residents.
You can afford a simpler life
Predictions have been rife in the Australian media lately of a regional migration wave in the wake of the pandemic for reasons of affordability and for those seeking a simple life. The Witchcliffe Ecovillage resolutely ticks both these boxes too.
In a region renowned for its beautiful natural assets but where house prices have remained stubbornly high, we have worked hard to keep our costs low because we believe an ecovillage has to be affordable to be socially inclusive and, importantly, to keep everyone's debt to a minimum. We have created nine different residential lot types to encourage a diverse demographic and price offering. We're proud to claim that our lot prices are some of the most affordable on the market and also offer an impressive array of included sustainability features.
Living simply is as much about mindset as it is about where you live. But a home in the Ecovillage supports this idea with tangible infrastructure and systems that facilitate the work life balance so many of us crave. For example, there will be a plethora of employment and business opportunities in the Ecovillage, which for residents means almost no commute leading to a host of benefits. Household costs will also be much lower in the Ecovillage as compared to an average home, the benefits of which can be realised in whichever way best suits you.
Social sustainability in the form of an active, supportive and like-minded community is one of the most important and sought-after aspects of the Ecovillage. At a time when mental health issues are on everyone's radar, this will be a vitally important part of our success and attraction.
There is no silver bullet for the issues raised in this article but we feel confident the Witchcliffe Ecovillage goes a long way towards addressing them and providing its residents with the foundation for an extraordinary life.