Office
Office 10437 Bussell Hwy, Witchcliffe WA 6286, Australia
The Vision
The Witchcliffe Ecovillage is a unique residential development that is set to become one of the world's first fully integrated villages that is self sufficient in renewable energy, water, and fresh food produce.
The small village of Witchcliffe is located only 10kms south of Margaret River and just down the road from the magnificent Redgate Beach, and many wonderful wineries like Leeuwin & Voyager Estates.
The Witchcliffe Ecovillage vision is to create a model of a highly sustainable, self reliant community in a regional village setting, with the best of 21st century technology that enables the community to produce as much energy as it consumes; be self-sufficient in water; care for the local environment; generate ongoing economic and social opportunities for the area, and be self-sufficient in fresh food produce. A place in which people live, work, socialise and provide for their material needs sustainably, where most of what they consume on a daily basis can be produced within the ecovillage, in harmony with the permaculture principles of "earth care, people care, and fair share.
The Witchcliffe Ecovillage is being designed and developed in a manner that will enable the community to be as harmlessly integrated into the local environment as possible. This means that the community's energy, water and fresh food produce will be produced and harvested on site without pollution, with an emphasis on restoring and protecting indigenous flora and wildlife habitat.
In time, it will grow to be a model demonstration site where people can come to learn how to live more sustainably.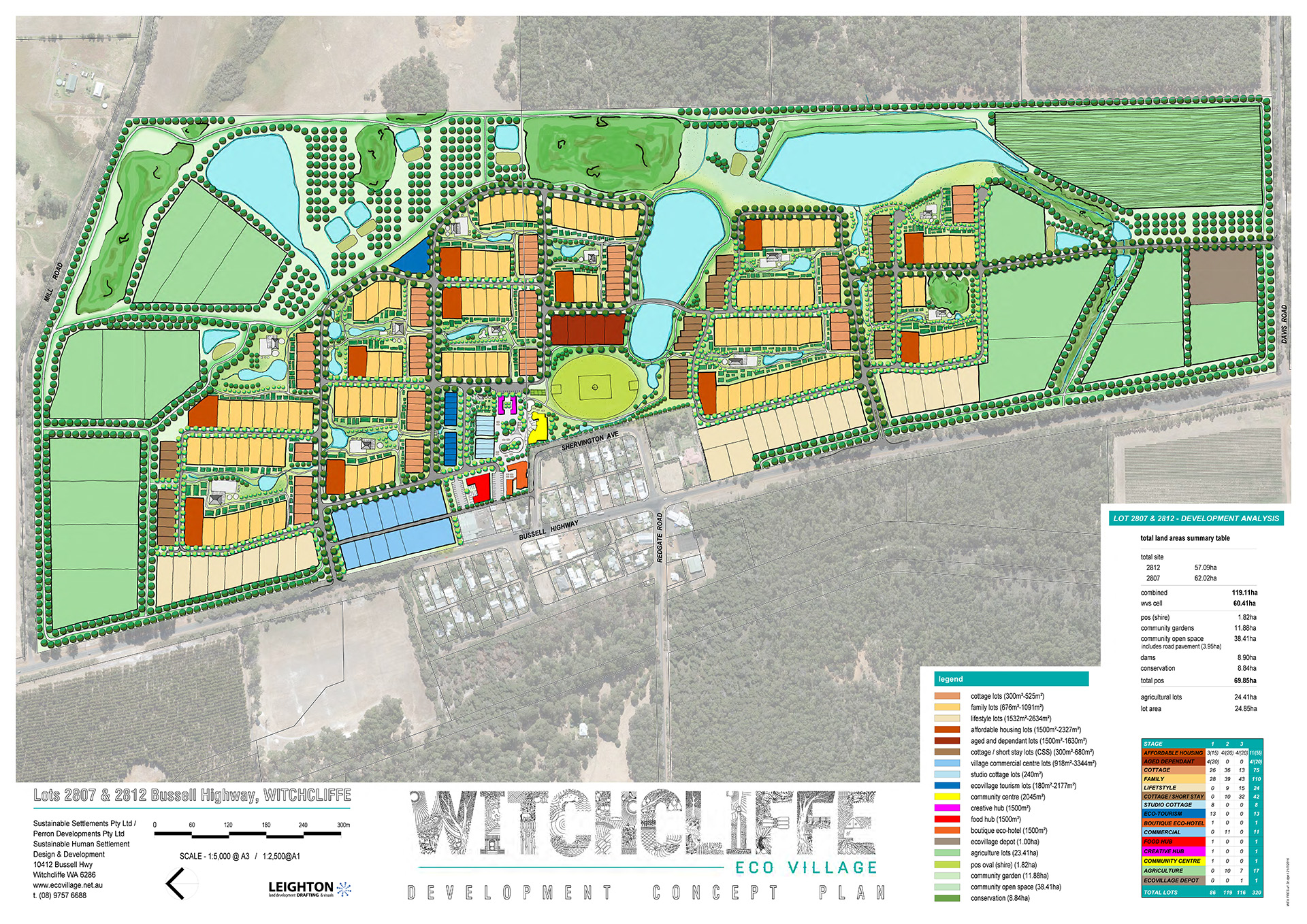 Energy
At the very least, the Witchcliffe Ecovillage will be 100% net neutral in renewable energy! This means that total renewable energy produced within the ecovillage will be greater than, or equal to, the total energy consumed.
However, it is our hope that we can go considerably further than this, and our goal is to be 100% self sufficient in renewable energy. We are currently exploring several opportunities to achieve this, including discussions with ARENA and leading PV, battery, inverter and micro-grid manufacturers around the world.
Water
Water, a fundamental need for life is provided by nature and recycled by nature in a natural ecosystem.  In western civilisation where water comes under central government control it is piped in clean, polluted then piped away. This requires extensive infrastructure, enormous amounts of energy and creates extensive impacts on the systems from which it is extracted and disposed.
At Witchcliffe Ecovillage we have modelled management of the water cycle on natural ecosystems where water is collected, used, cleansed using natural biological systems and reused on site.  The natural rainfall on our site will be used to sustain the healthy lifestyle of our community, our gardens, to produce our food, grow timber, sustain our wetland habitats and maintain the natural pattern of streamflow leaving our site. It will make use of natural flow patterns and biological processes that minimise energy inputs and enable the small amount of energy required to reuse water onsite to be provided by onsite renewable energy generation.
Stormwater will be collected and conveyed in surface water features that have been created to mimic natural ponds and streams
Households in the Witchcliffe Ecovillage collect and store rainwater from their roof to supply all household water needs.
Witchcliffe Ecovillage takes a completely integrated approach to managing water resources onsite.
Every household in the Witchcliffe Ecovillage will have a connection to the village wastewater treatment system.
In a climate with dry summers, water is required for productive landscaping, maintain public open space to a high standard and for many agricultural crops.
When land is developed for urban and agricultural use, the volume and peak flows from stormwater runoff increase.
Food
Growing food will be an integral part of life in the Witchcliffe Ecovillage. Not only is this the most sustainable way to produce fresh, healthy and nourishing food, it is also efficient and cost effective. Transport miles are non-existent and packaging and handling is minimal. Producing fresh food for residents on site is by the far the most important sustainability feature of the Witchcliffe Ecovillage. The average Australian shopping trolley has travelled 70, 000 kilometres, and the food that the average Australian eats in 10 days requires 100, 000 litres of water to produce! These figures are staggering, and we know that there has to be a better way to feed a village.
Each residential cluster will encircle a productive community garden, with veggie gardens, fruit orchards and chickens, and the entire Ecovillage will be surrounded by small scale intensive farms. All land within the Ecovillage will be certified organic, and all water needed for food production will originate on site, with around 93% of the water budget created by the increased stormwater runoff generated by Ecovillage roofs and  roads. In conventional subdivisions in the region, this stormwater is usually run through drains into the nearest watercourse, often causing erosion and damage downstream–here it will stay onsite and grow food for residents.
Community gardens don't just produce food: they provide education, exercise, social interaction, and community building. Children learn about nature, growing food and healthy eating, adults exchange and build up gardening knowledge, and people share and help each other. Everybody gets to know their neighbours, connections are made, friendships form.
Roughly 25 hectares of prime agricultural land in the Witchcliffe Ecovillage is set aside for small organic farm lots that will be owned by residents and worked to produce food for residents and the local community, growing market garden vegetables, berries, fruit orchards, nuts, olives, avocados, etc., that can be processed and sold in the Food Hub or local markets.
Food Hub
Making a living from a small farm can be challenging when there are high costs for transport and marketing and low wholesale prices paid to farmers. The Food Hub is the heart of our fair food distribution network, a collective space for organic growers to wholesale, retail, process and value add their fresh food produce.
Edible Landscaping
The Witchcliffe Ecovillage strata body will collectively own over 38 hectares of community open space outside of the community cluster gardens, which will include olive groves, nut trees for oil production, wood lots, a locally indigenous bush tucker garden in the Village Square, and a mix of native and productive street trees for all to enjoy and share.
Community
The most successful ecovillages around the world tend to attract residents who have a shared belief system, a common ground or social "glue" that unites people and gives them a sense of belonging and purpose. Bringing together a diverse group of people who share a common commitment to environmentally responsible living and the permaculture principles of "earth care, people care and fair share" will provide the foundation on which we build the Witchcliffe Ecovillage community. Residents will share a common desire to live more lightly and responsibly on the planet, no matter their age, race, gender, sexuality, religion or socioeconomic status. In time, we envisage the Witchcliffe Ecovillage as an inclusive, caring, respectful egalitarian community of people with green fingers, creative minds and kind hearts.
From the shared community gardens, to the shared management of conservation areas, to the public Village Square, the Witchcliffe Ecovillage has been designed to encourage the building of strong community relationships between ecovillage residents, but also between the ecovillage and the wider community.
Strata Ownership & Management
The best way to manage the sustainable energy and water infrastructure and community open space and gardens in the Witchcliffe Ecovillage, is through the organised structure of a strata development.
The Witchcliffe Ecovillage aims to bring together a wide diversity of people from all ages, cultural backgrounds and socio-economic situations, united by a common desire to live a simpler, environmentally responsible life, in a vibrant, caring community.
NBN
The Witchcliffe Ecovillage has been approved for NBN connection. The National Broadband Network will provide NBN fibre connections to every home and business in the Ecovillage. This means that Ecovillage residents will have guaranteed access to fast, reliable internet connections for all their household, educational, and business digital requirements. For general information, please visit the NBN website
Architecture
When it comes to the architectural sense of place in a village, we believe in the old saying "beauty comes from diversity with continuity."
The reason people find so many of the old villages around the world so attractive is that they were built out of a combination of local materials, usually stone, earth and timber, which resulted in buildings with strong continuity.
However, it can also be said that many of these buildings, while visually attractive, are also dark, cold and uncomfortable.
At the Witchcliffe Ecovillage, our team is developing Sustainable Building Design Guidelines to ensure that the public buildings and homes reflect the best of both worlds, i.e. solar passive, energy efficient buildings that are light and warm in winter and cool in summer, while being built out of a limited palette of materials to provide cohesion and develop a strong sense of place.
The Sustainable Building Design Guidelines will contain simple design principles and sustainability requirements that will guide the design of homes on each type of residential lot, to ensure that all homes are solar passive and energy efficient, requiring very minimal, if any, space heating.
In order to create a sense of architectural continuity and sense of place, and to promote sustainable building resources, there will be a strong emphasis in the Sustainable Building Design Guidelines on using local materials like local and recycled timber, stone (granite & limestone), rammed earth, earth render, and strawbale construction.
Movement
Conventional subdivisions in Australia prioritise motorised vehicles over other forms of transport. At the Witchcliffe Ecovillage, walking and cycling have been recognised as the most healthy human movements–healthy for people and healthier for the planet. Dedicated path networks which link all houses and community gardens to each other and to the Village Square, will mean that residents and visitors can safely traverse the whole village by bicycle or on foot (or by wheelchair or pram) through beautiful landscaped gardens with minimal interaction with cars. 
Witchcliffe is linked to Margaret River via Bussell Hwy, a quick 10 minute drive,  but it is also connected to Margaret River and beyond by the beautiful Wadandi Trail, a bushland bike and pedestrian path that follows the old forestry railway tracks. Cycling to Margaret River is an easy 45 minute ride, with access to tourists attractions like Leeuwin Estate, Yahava and Amaze'n along the way.
Paths
The primary movement network in the Witchcliffe Ecovillage is the path network. Paths link each household from their front door within the community garden to the Village Centre.
Trails
In additional to a comprehensive path network linking residential clusters and the village centre, trails linking agricultural lots through the hedgerows, woodlots and buffer strips will provide an excellent recreational trail network around the village.
Roads
Road access is provided to the Witchcliffe Ecovillage from Bussell Highway with an internal road network providing access to parking areas within the village centre and connecting to every household.
Education
Education for a sustainable life means teaching the life skills needed to live lightly and consciously on the earth, and nurturing the knowledge and innovation needed to create a strong, sustainable future. As an international model for sustainable development, the Witchcliffe Ecovillage has enormous educational potential, providing sustainability workshops and courses for residents and the wider community, opportunities for postgraduate monitoring and research projects, and permaculture design certificate courses. For the younger members of the Ecovillage, the Margaret River area is well resourced with government, private, and alternative primary and secondary schools, with a school bus service available to transport students to and from Witchcliffe.
To make the transition to a more sustainable life, future residents will need to learn about how energy, water, food, waste and community activities are managed within the Ecovillage, and how to best design and maintain their sustainable home.
It is possible that the development of a truly sustainable ecovillage is the highest expression of the permaculture ethics "earth care, people care, fair share." In the Witchcliffe Ecovillage, people will have the opportunity to live in harmony with the environment and each other, conscious of how the choices they make effect the world around them.
The Margaret River region is home to a wide selection of excellent public, private and alternative primary and high schools, and a regional school bus service will transport children living in the Ecovillage to and from all of the local schools.
Conservation
Part of the appeal of the Witchcliffe Ecovillage site for a sustainable development was that it was already cleared farmland, with all significant pockets of remnant bushland and the major creek lines ideally located outside of the development footprint. 
Although degraded by clearing and historical agricultural practices, the remnant bushland areas have great habitat value, and have been set aside as conservation zones to be rehabilitated and preserved for future ecovillage residents to care for and enjoy. Wildlife habitat will be protected and enhanced by the project, and potential human impact on wildlife will be minimised through strata bylaws.
It is envisaged that the Ecovillage will become a place where local birdlife and marsupials will return and flourish, not just in the conservation zones, but throughout the landscaped community open spaces and gardens.
8.84 hectares of remnant bushland and revegetated creeklines have been set aside as conservation zones in the Witchcliffe Ecovillage plan, to provide protected habitat for local flora and fauna species, and for the future Ecovillage residents to care for, monitor, and enjoy.
With rehabilitation of conservation zones, landscaped habitat planting throughout, and responsible management of domestic pets, we hope that the Witchcliffe Ecovillage can become a place where endangered Western ringtail possums, Baudin's white-tailed black cockatoos, and many other local fauna species can flourish.
The Witchcliffe Ecovillage is currently applying for NASAA organic certification for the entire project site, and hopes to be the first organically certified subdivision in Australia!
Stage 1
The Witchcliffe Ecovillage has been designed with a variety of lot sizes and uses in order to encourage the building of a diverse community, including mature couples and singles, established families, and young people moving into their first homes. A range of different lot products will provide opportunities for those who work at home, artists and artisans, and those who wish to run a small business or organic farm enterprise. Stage 1 of the Ecovillage will begin in the centre of the development and will include 3 residential clusters, the Village Square and the public oval. It is expected that construction of Stage 1 will begin in 2017.
The Village Square is the social centre of the Witchcliffe Ecovillage, the place to go to meet friends, to hang out, have coffee, chat, exchange, learn, play, and have fun. Development in the Village Square includes mixed use Cottage Studio lots, the Community Centre, Food Hub, Creative Hub, Boutique Eco-hotel and public oval and park facilities. 
Stage 1 contains 3 residential clusters, each surrounding a beautiful productive community garden. Each cluster will include a mix of cottage, family and affordable lots, all orientated to maximise solar access, and all with direct access to the community gardens and internal path networks.
Stage 1 Residential Blocks
Residential lots released in Stage 1 include: cottage lots, cottage studio lots (mixed use), family lots, affordable lots, and aged and dependent care lots.
Ecovillage Tourism
Ecovillages worldwide create a huge amount of interest and tourism. Stage 1 of the Witchcliffe Ecovillage provides for a variety of highly sustainable tourist accommodation opportunities which will allow people to experience Ecovillage life.
Village Square
For people living in the Ecovillage, but also the wider community and tourists, the Village Square will be an exciting and stimulating cultural oasis that caters for all ages in a flexible and lively but safe environment. On the south side of the Square is the Community Centre with public facilities, child care and a café; to the west is a boutique Eco-hotel consisting of a restaurant, bar, café, function room and accommodation; to the east is a building forming the Creative Hub which is a place for studios, offices, IT-hubs, shared and individual work spaces; and the north is bordered by 8 small Cottage plus Studio lots where creative makers can live and have their in-house workshops/studios facing the Square interacting with the public.
The Village Square itself will be a pedestrian only space, landscaped with shade trees, public art work and street furniture, with plenty of spots to tie up your bike, sit and have a chat, play chess, picnic, or listen to some busking. We envisage regular food and crafts markets, performances, exhibitions and other small-scale events. Accessibility will be a feature of the Village Square design, to ensure that people of all ages and abilities can enjoy the public facilities. Adjacent to the Square is a beautifully landscaped park with flowing pedestrian and cycle paths, more seating, shade structures and bbqs for picnics, an adventure play area for smaller and larger children, a skate park, tennis courts and a petanque area. The rear of the park connects to the oval and the beginning of the longer Ecovillage walk trails.
In the Village Square, activities for the whole family can happen simultaneously – kids can play sports on the oval, skateboard, or play in the playground, while parents can visit the markets, go to a yoga class or have coffee. The aim is to eliminate the common stress caused by the need to drive between five different places on a weekend morning. Instead this concept brings people together in a more relaxed and flexible fashion. We envisage the Village Square to be a lively place that is enjoyable to visit, catch up for a coffee, have a meeting, go to a function, see crafty makers in their workshops, do some research in Community Centre library, check out the Creative Hub and more. It will form the public face of Witchcliffe Ecovillage – here we share our resources, ideas and culture and invite in the larger community and visitors from near and far.
The heart and soul of the ecovillage… a place for sharing, enjoying, meeting, learning and celebrating together.
A connected, collective workspace which will nurture creative enterprises, artistic projects, and sustainable technology and services within the Ecovillage, providing opportunities for collaboration and innovation. 
The Food Hub is central to our food distribution network, a collective space for organic growers within the Witchcliffe Ecovillage to wholesale, retail, process, and value add their fresh food produce.
Fun and funky short stay accomodation and organic wine bar for Ecovillagers, locals and tourists, the perfect place to get a taste of Ecovillage life.
Suitable for a funky shopfront, studio, consulting rooms, or offices downstairs, and European style sun drenched living upstairs
Looking for a small environmentally friendly home, but still love to garden and want space to grow your own food? The Cottage Lots are a fantastic opportunity for first home‐buyers, small families, retirees and empty nesters!
Cottage lots will range in size from 300-525m2 and are expected to be priced from $140, 000 in Stage 1.
Mixed use lots in the Village Square suitable for a funky shopfront, studio, consulting rooms, or offices downstairs, and European style sun drenched living upstairs.
Cottage Studio lots will be 240m2 and are expected to be priced from $140, 000 in Stage 1.
Do you want to be part of Ecovillage life, but don't have time to garden? Maybe you like to travel or you work away? Or you're looking for the ultimate eco-friendly holiday home?
Cottage plus short stay lots will range in size from 300-680m2 and will be available in Stage 2.
Sustainable Enterprises
A thriving and prosperous community creates a wide variety of work that engages residents in running the community and to provide income. This is also an essential part of creating a sustainable community, reducing the need for people to travel away to find work to provide more time to be part of living within the community and reducing costs and energy use.
At the Witchcliffe Ecovillage we have planned a wide range of enterprises the support the goals of living sustainably, growing our food locally and organically and will enhance the productivity and income from our agricultural land. We have also planned enterprises that will cater for visitors to the Witchcliffe Ecovillage providing jobs and income from accomodation, education and expand opportunities for artists and makers to live and work within the Witchcliffe Ecovillage.
Commercial
A full featured ecovillage doesn't just provide fresh food, energy and water for its residents—it can also provide their work and livelihoods. The Witchcliffe Ecovillage has provided opportunities for a diverse range of sustainable enterprises and employment that will create a strong local economy, a sense of community, and reduce resident's reliance on vehicles and fossil fuels.
Agricultural
The Witchcliffe Ecovillage residential area will be surrounded by small farms that are part of the Ecovillage and will produce food for residents and the local community. These certified organic and small scale intensive farms will buffer the village and preserve the rural amenity and character of Witchcliffe.
Ecovillage Tourism
Ecovillages around the world generate a lot of public interest and a high demand for onsite tourist accommodation. The Witchcliffe Ecovillage will be no exception, so we have provided a variety of ecotourism and short stay opportunities to be developed as the Ecovillage grows, to provide visitors with a taste of ecovillage life, without intruding upon the quiet enjoyment of residents.
Ecovillage Depot
A lot set aside on the edge of the Ecovillage for a depot facility to house some of the essential products and services needed to make the ecovillage run smoothly: bulk landscape supplies for community gardens, compost and biofuel production, waste management, storage and maintenance of farm vehicles, and workshops, as well as boat/trailer/caravan storage for residents.