We are delighted to announce that Redink Homes Southwest is joining the Ecovillage guild of builders, commencing immediately. Redink is a large project home building company with a substantial presence in the South West. This new offering is a welcome addition to the Ecovillage, giving buyers access to a company with significant resources, established trade networks and solid administrative support.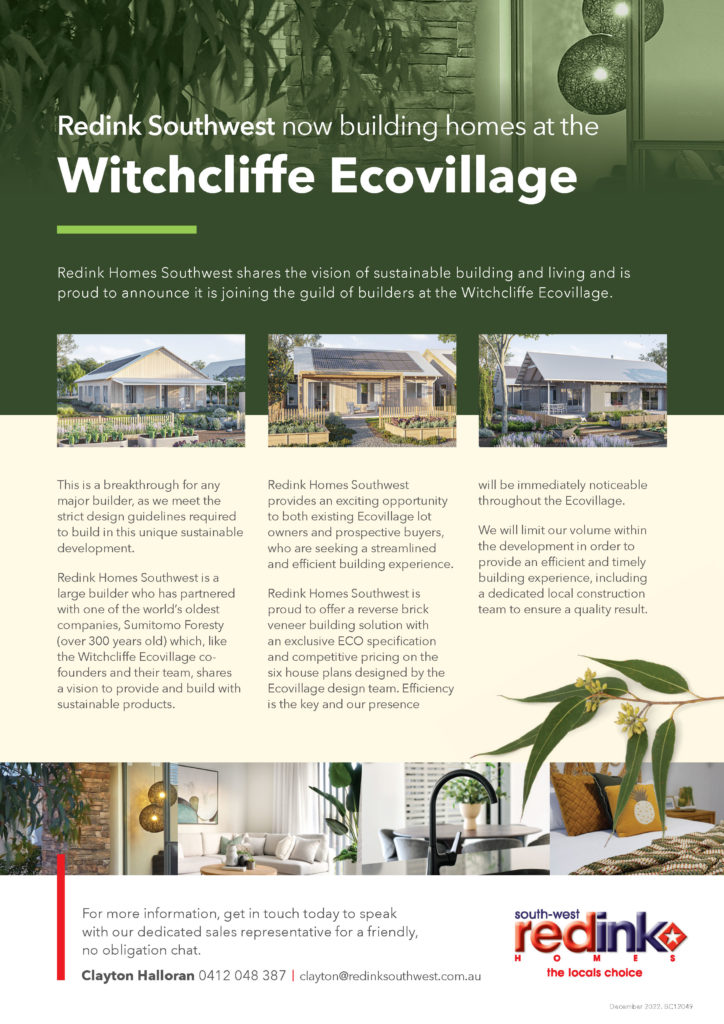 Redink will be offering our six Ecovillage designed homes exclusively in reverse brick veneer construction for a fixed price contract at competitive market rates. The company has also said it will guarantee build timeframes, which is welcome news for buyers.
GROUPIE LOT – THE PIONEER $324,990*
GROUPIE LOT – The Settler $378,990*
COTTAGE LOT – The Pavillions $506,990*
COTTAGE LOT – The Bungalow $436,990*
FAMILY LOT – The Shervington $479,990*
FAMILY LOT – The Foxcliffe $419,990*
*All prices include GST, but exclude some provisional costs.
Redink Homes Southwest will be held to the same building standard as all Ecovillage builders. It will be required to meet the Ecovillage Building Design Guidelines, undertake the design review process and life cycle assessment, and meet our minimum 8-star NatHERS energy efficiency rating (5 of the 6 are 9+ stars in reverse brick veneer).
The six Ecovillage house designs will remain listed on the Predesigned Homes page of our website without pricing, as we are now simply confirming builders that can offer these homes in a range of materials (timber, hempcrete and reverse brick veneer). This enables buyers to contact these builders for a quote and specification options.
The WEV team will no longer be providing any pricing or building specification information for any homes.
Download the Redink Homes Southwest flyer here. All enquiries for Redink Homes Southwest should be directed to Clayton Halloran on 0412 048 387 or email [email protected].